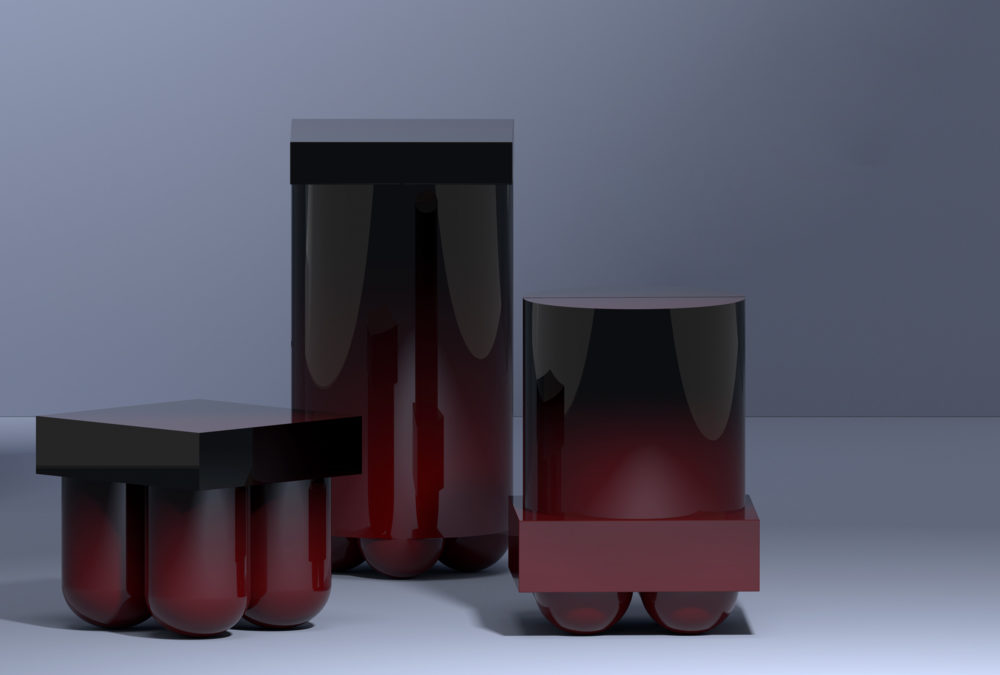 Müsing-sellés is a design collaboration started in New York in 2018, by Spanish architect Álvaro Gómez-Sellés and Canadian architect Marisa Müsing. They are interested in exploring and re-interpreting the relationships between form and utility, moving away from expected functionality in everyday objects. The practice focuses on relationships of materiality, forms and the unity in designing through sets. You might have seen their first designs from set no. 5 at Palazzo Cusani for Milan Design Week 2019. Below you will find other two project, Set No. 6 and Set No. 7
Set No. 5 explores and re-interprets the relationship between form and utility, moving away from expected functionality in everyday furniture. The set aims to create new domestic environments, where units are homogenized through physical and visual similarities. Together they build an autonomous setting independent from its context. The collection consists of three pieces which perform social and domestic activities based around entertainment, including a place to leave your coat, to serve yourself a drink and to gather around. The pieces are fabricated from plywood and finished with a gradient car paint gloss. The reflective finish gives the set an inherent softness by revealing the overall geometries of the form through the subtle changes in color.
c
Set No. 6 reconsiders the roles materials play in the domestic environment, placing the hard and the soft in new arrangements and orientations. As users, materials provide cues for our interactions; softly rounded forms imply suppleness and give, while stone and glass present a stability and weight. Set No. 6 sets out to reframe typical notions of where hard and soft go, how they behave, and how they come into contact.
Set No. 7, Laced Bodies, is a series of glass objects which takes inspiration from the human body and the formal language of coupling limbs. Taking the medium of glass, the project investigates the behaviour of the material when it is bent and wrapped. The deformations of the glass have very similar characteristics to linking body parts, like laced fingers, crossed legs, twisting arms. The details that perform through the glass, like wrinkles and bends mimic the human figure when it is wrapped together. The glass works through a pairing of two vessels, the folds and bends of one glass limb is coupled through the other.
Photography by Mishael Phillip
Visit Müsing-sellés to know more about the studio!
C