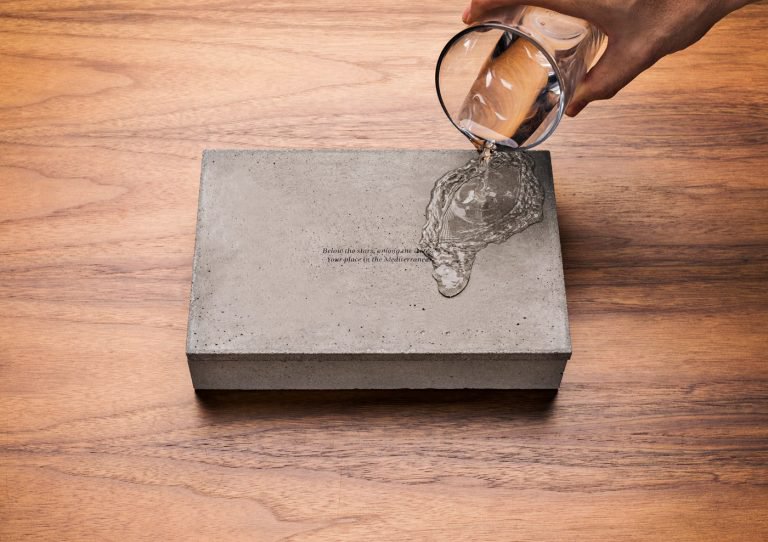 Bruketa&Žinić&Grey is part of the global Grey network since 2017. The agency is a Brand, Product & Retail Design Hub and also a Digital Shopper Hub for Grey network.
The agency Bruketa&Žinić OM was founded by Davor Bruketa and Nikola Žinić in 1995 and since then it has been pronounced the second Most Effective Independent Agency according to the Global Effie Index (Cannes, 2012); the best international small agency according to Advertising Age magazine (Portland, 2013); one of the 17 world's leading independent agencies according to Campaign magazine (London, 2014); among the 200 best packaging designers worldwide according to Lürzer's Archive (Vienna, 2015).
Designed by Bruketa&Zinic&Grey, this publication for the premium urban revitalization project Nikola on the Adriatic coast is the first book made of concrete that reacts to water.
"The publication is embedded within the concrete block representing a cornerstone, a pledge of an edifice or infrastructure that is yet to take its physical shape as a result of an architect's vision. The visionary in this particular case is Nikola Basic who is acknowledged and acclaimed by the public chiefly for his works the Greeting to the Sun and the Sea Organ in Zadar. This cornerstone is actually given into the hands of investors inviting them to make an investment in the 'Nikola' project."
All Rights reserved to Bruketa&Zinic&Grey