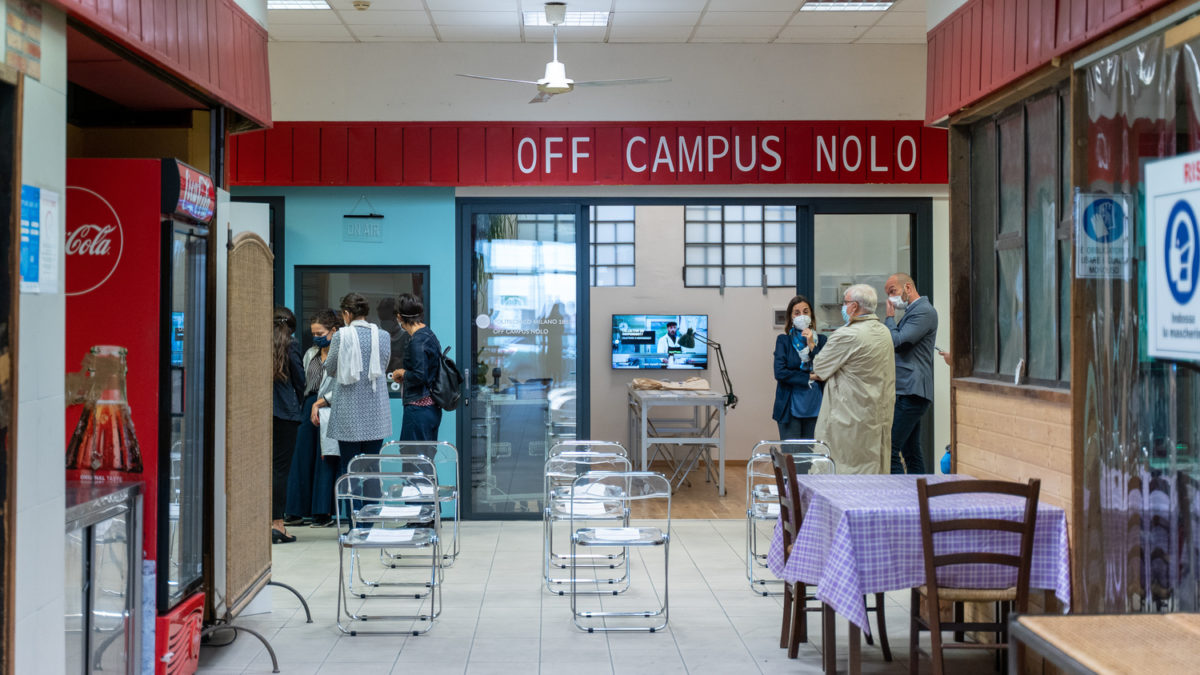 OFF CAMPUS, local Milanese social innovation workshops
This article was written for Salone del Mobile.Milano and previously published on salonemilano.it digital platform
The covered Mercato Comunale in Milan's Viale Monza doesn't simply contain commercial enterprises, it is also home to a local Milan Polytechnic University workshop, Off Campus Nolo. Opened in September 2020, this space follows in the footsteps of the first satellite campus, Off Campus San Siro, launched in 2019. It is a place for teachers, researchers and students to carry out research and educational activities as well as joint design projects and field work. Davide Fassi, Associate Professor in the Department of Design at Milan's Polytechnic University, and the Polimi DESIS Lab research group into social innovation that he coordinates, work on local district projects in the Viale Monza space.
The Off Campus workshops are local initiatives that work actively with and for the community. How did the idea of creating actual offshoots within the city arise?
The project comes under the umbrella of Polisocial, the Milan Polytechnic University social responsibility programme, set up over 10 years ago now. The idea was to set up a range of educational and research activities around the area, linked to the university's field-based design, architecture and engineering activities. The concept was for widespread spaces, satellite campuses around the same size as offices or shops, that could give continuity to local activities while also being part of a system, operating (almost) 365 days a year in a portion of the city.
I'm not sure I'd describe it as a trend, but this sort of initiative, setting up spaces outside university campuses is also being seen internationally, it's not as developed but there are some interesting cases.
For example?
There's the urban architecture world, with universities such as Harvard and Yale setting up actual open-air workshops where people are involved in producing fresh food. There are virtuous examples in China too, where the Tongji University in Shanghai has "adopted" the district in which the design school is located, setting up spaces for planning with local people. On one hand, it's a bid to raise awareness of certain issues, linked for instance to social sustainability, equity, resource distribution and the fight against poverty and, on the other, designers attempt to dispel their "superstar" image in favour of being seen as activators of good practices, process facilitators, while conserving their fundamental design role.
c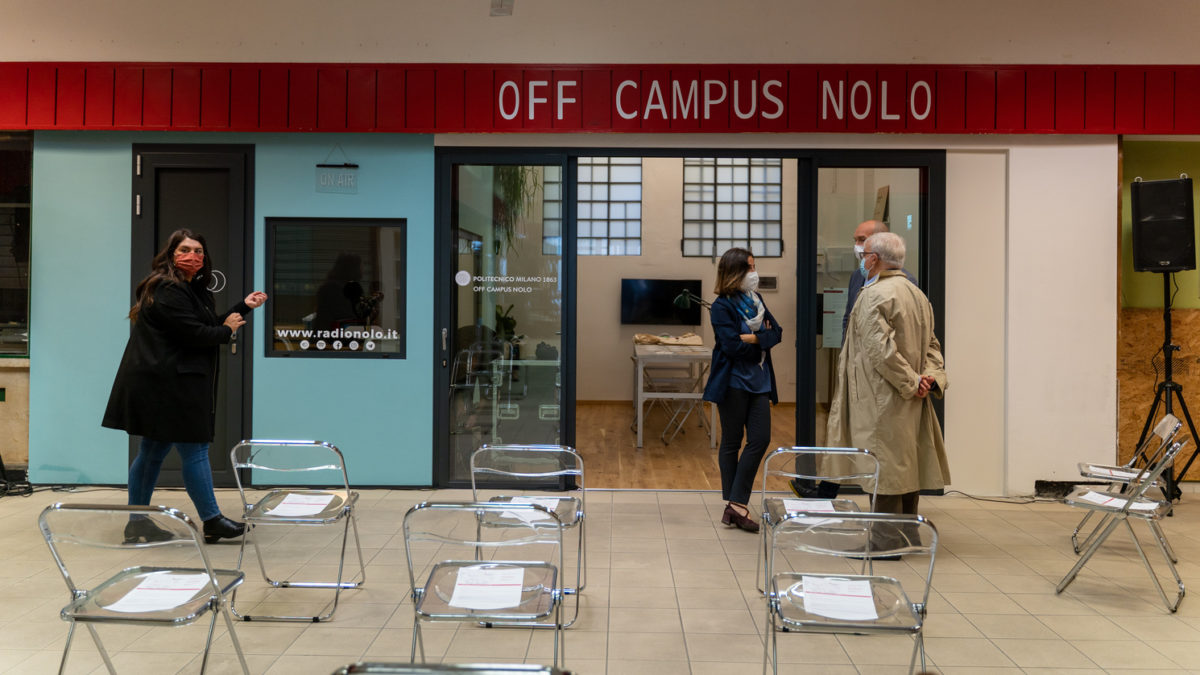 What do people who live in the city think of Off Campus?
We've built up relationships through a series of initiatives over time: in NoLo, we started working with the incredibly active local social street (the Nolo Social District) in 2015/16. Over the last 5 years, we've managed to forge a connection, because when you embark on a shared planning project, empathy with the area is fundamental. After years and dozens and dozens of interviews and co-planning sessions, our launch didn't come as such a surprise. Plus, the fact that we brought Radio NoLo with us and created a communal space with them has helped us become known around the area. Not everybody knows us but we've been well-received.
An example of the actors involved with NoLo?
Our early activities were connected with the media coverage of the area as a creative place and the home of hipsters. We involved local artists in a bid to work together on exhibitions of their work in unconventional art display places and this helped us get to know the creative sector and a range of commercial actors, and to understand that the coverage actually had far deeper roots that went way beyond this most recent phenomenon. Also, given the proactivity of the people involved, we carried on with the project and initiated a collaboration with the NoLo Social District. This meant that we had a huge range of people we could work with together on issues relating to food, to the rehabilitation of public spaces and finally the Market, where we are today.
First San Siro, then NoLo and Corvetto next. Three areas that are the protagonists of change, from the new stadium to the 2026 Olympic Village. Where does the Off Campus intervention stand with regard to these new urban developments?
It's a complex subject that raises some considerations. We think of cities as living organisms, nowhere can stay the same for ever, and that wouldn't even be desirable. Just as society continues to evolve and we can't just keep people corralled in the places they go to and keep them static. From this point of view, therefore, one of our missions is to understand and help the ongoing processes with the competences the Polytechnic has to offer, and to see which actors there's margin for dialogue with, even with political actions. We also have to take on board the fact that there are some aspects that go above and beyond any choices. For example, after some intensive work we progressed some initiatives for transforming public spaces, also known as tactical urbanism, which some have seen as gentrification. There are projects that improve the fruition of certain places. It doesn't mean "making places for the wealthy" but improving the quality of everyday life for everyone, without necessarily creating divides. These "bottom up" processes do have to be matched by "top down" actions, geared to creating the conditions for guaranteeing access to housing, to homes, to the basic needs of a wide range of people.
Milan and the 15-minute city. What does the future hold for the Off Campuses?
Like all systems, this too has development limits, I find the idea of having 88 Off Campuses for the 88 districts into which the city is divided unthinkable. The idea is to set them up where there's a need, planning opportunities and a proactive community. Proximity cities work like this: trying to subdivide a very large area such as the Municipality of Milan, into components that are autonomous as regards certain types of services, while remaining part of a system that benefits what is going on inside it. I hope and imagine that there's a desire to introduce these workshops in many other districts, we don't need them everywhere, just where there's a need and a desire to pull together.
Still on the subject of the future, how will relations between the university and Milan's institutions evolve? What could be improved?
There are already good relations and good practices among the various institutional bodies involved with design. The Milan Polytechnicwith all the design system, School, Design Department and Poli.Design have a series of collaborations with ADI and the other design schools in Milan, with the council, with the Salone del Mobile and with other culture-producing places such as Base and Mare Culturale Urbano.
We can do even more and Milan is a system that works. The real challenge lies in bringing design, meaning not just design but also the art of design and process, into places where these practices are still lacking. Small, remote places, distanced from creativity. That's where the real challenges lie, there's so here much already. What Milan and these relationships need to do is to address what's happening outside.
Cover Off Campus Nolo, photo courtesy Politecnico di Milano
c