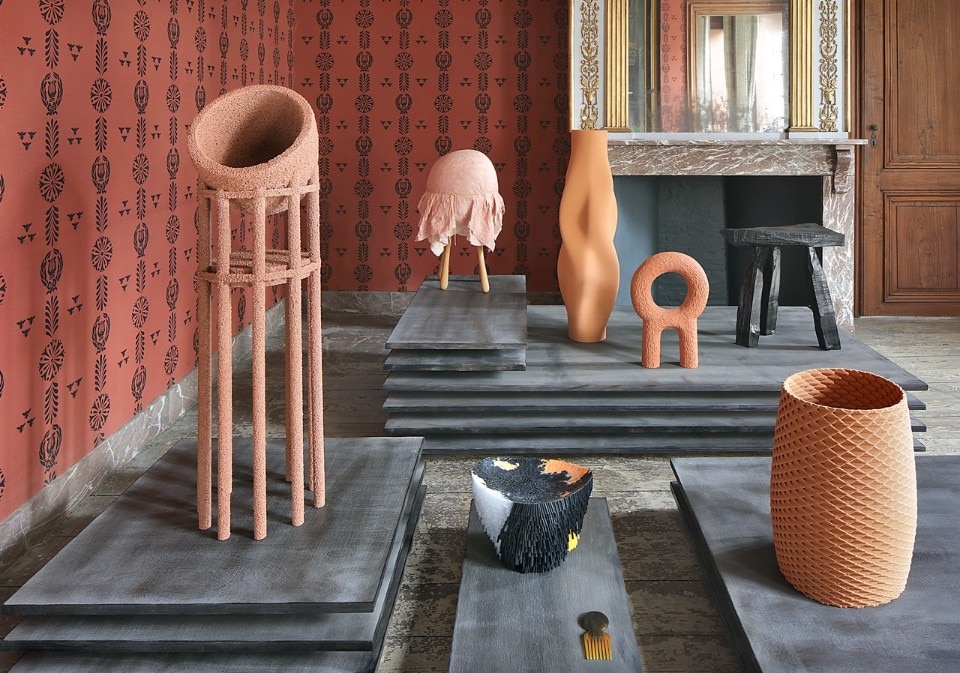 Poème Brut is an ongoing exhibition at Design Museum Ghent which brings together designers and studios who have had a strong influence on the aesthetics of design, by introducing clay blends, organic shapes, natural pigments, human hair and methods that are no longer in use. Chosen by the curators Siegrid Demyttenaere and Atelier Lachaert Dhanis, the name "Poème Brut" refers to objects with an underlying poetry and a rough and unfinished language, behind which lies a designer alchemist.
The central theme in the exhibition is the outcome of the research into materials and techniques. Some designs use old, forgotten materials and new techniques or technology to process them, while others are the result of an old craft in combination with a new material. The curators selected international iconic designers, as well as emerging young talent. The ensembles show surprising combinations, atypical confrontations and new insights.
Designers: Anne Marie Laureys Ceramics; Atelier NL; BELéN; Ben Storms; Bram Vanderbeke; Carlo Lorenzetti; David Huycke; Dirk Vander Kooij; DWA; Ferréol Babin; Formafantasma; Hans Henning Pedersen; Jólan van der Wiel; Jonathan Muecke; Kwangho Lee; Lisa Ertel; Matthias Kaiser; Max Lamb; MdSt; Michael Young; Nendo; Olivier van Herpt; Roxane Lahidji; Rudolf Bott; Sigve Knutson; Sophie Rowley; Studio Furthermore; Studio Mumbai; Studio Swine; Tamara Orjola; Thomas Ballouhey; Tom Price.
"Poème Brut", Design Museum Gent, 30 March – 2 September 2018
All Rights Reserved to Design Museum Ghent
Images by Filip Dujardin