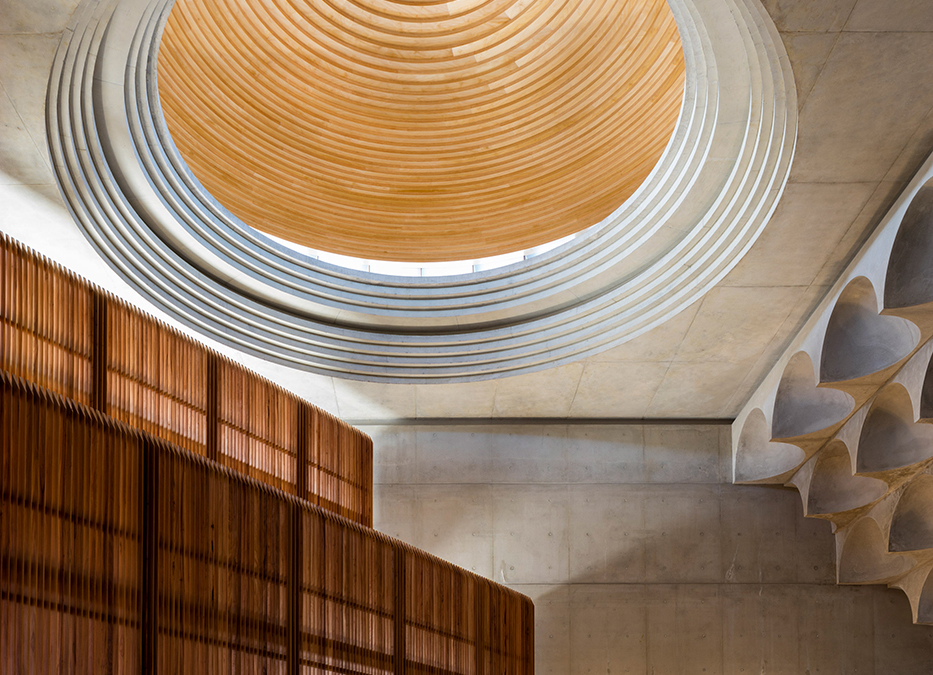 Local architecture studio Candalepas Associates has completed a mosque with a decorative concrete-vaulted roof in Sydney, Australia. Located in the suburb of Punchbowl, the religious building provides space for 300 men and women worshippers to congregate.
The studio designed the mosque with a rectangular layout that has two adjoined but separate courtyards. These provide segregated gender-specific routes to perform required ablutions before prayer.
Once inside, the worshippers face a sculptural, stepped wall of ornamental vaulting on the prayer space's south and west walls, orienting them towards Mecca. The 102 half-domed forms of the cast in-situ pattern allude to honeycomb structure of muqarnas – ornamented vaulting seen in traditional Islamic architecture. Streams of daylight extrude through a 30-millimetre hole in the centre of each of the concrete muqarnas. These are designed to illuminate the space throughout the day for the five prayers. Above the prayer hall, a plywood clad dome with an oculus feeds daylight into the space.
Split into multiple phases over more than 20 years, the second construction phase will include a school for up to 175 students and offices around the larger courtyard. The Australian Islamic Mission (AIM) is a community based organisation, established in 1973 and based in Sydney, which fundraised to pay for the project.
v
Photograph is by Brett Broadman

Photograph is by Rory Gardiner

Photograph is by Rory Gardiner

Photograph is by Rory Gardiner

Photograph is by Rory Gardiner

Photograph is by Rory Gardiner

Photograph is by Rory Gardiner

Photograph is by Brett Broadman

Photograph is by Brett Broadman
All Rights reserved to Candalepas Associates
via dezeen