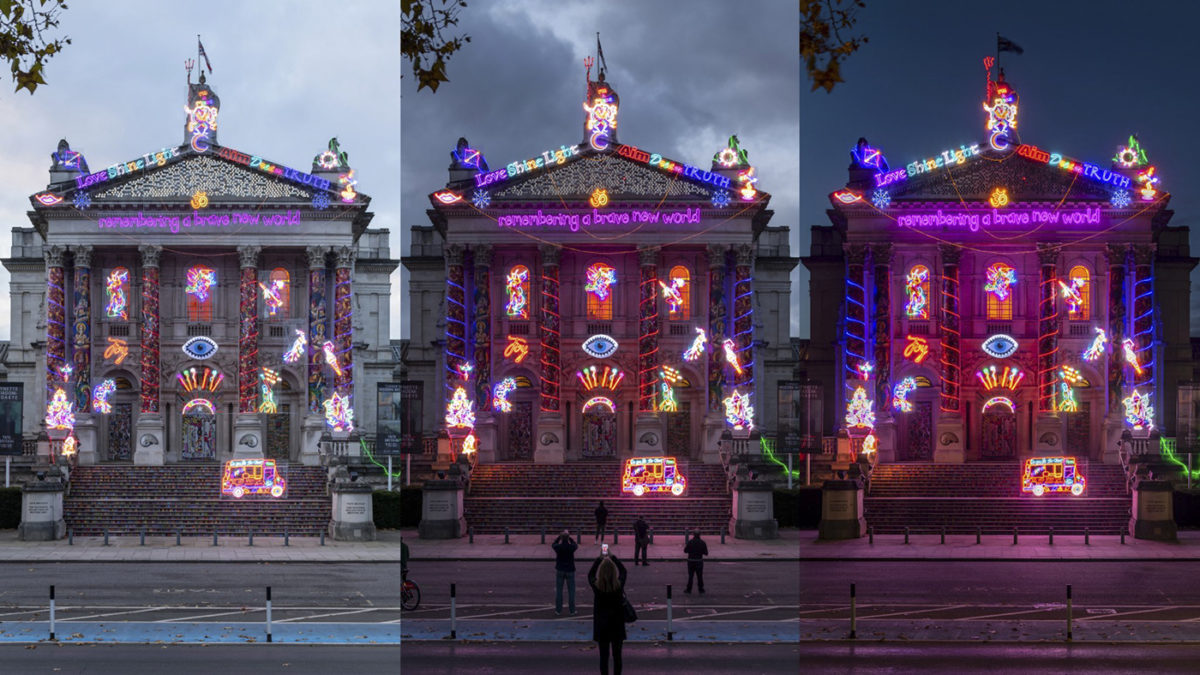 REMEMBERING A BRAVE NEW WORLD, Chila Kumari Burman
Since the mid-1980s Chila Kumari Burman has been exploring the experiences and aesthetics of Asian femininity in paintings and installations, photography and printmaking, video and film. Challenging stereotypical assumptions of Asian women, her work is informed by popular culture, Bollywood, fashion, found objects, the politics of femininity the celebration of feminity; self-portraiture exploring the production of my own sexuality and dynamism; the relationship between popular culture and high art; gender and identity politics. One of her latest works is Remembering a Brave New World, a beautiful neon installation superimposed on Tate Britain's portico, for the museum's fourth annual winter commission. The design was unveiled to coincide with Diwali, the five-day Indian festival which celebrates the triumph of light over darkness.
In this spirit, Burman clad the museum's facade in a menagerie of multi-coloured neon lights, which penetrate the darkness of London's shortening days, overshadowing the building's traditional, neoclassical architecture and its historical connotations. As Burman said, for the artist is important to critique those kind of buildings because they're Eurocentric.
To contrast its aesthetics, she created a bricolage of cultural influences, which merges Indian mythology with pop cultural references, inspirational slogans and cherished childhood memories: the luminous silhouette of an ice cream van, positive exclamations like joy, love, light and truth, spiritual imagery such as the third eye, the Om symbol and various deities such as the elephant-headed god Ganesha.
At the top of the building the iconic statue of Britannia is overlaid with an image of Kali, the Hindu goddess of destruction but also a saviour and protector who has come to be viewed as a feminist icon. Emblazoned above, in playful subversion, are the words "I'm a mess".
To create a technicolour spectacle even during the daytime, the Corinthian columns are wrapped in fairy lights and larger-than-life versions of Burman's artworks, including the collage Punjabi Rockers, while doors are pasted over with posters of Bollywood stars.
The installation will be on display until the end of January, with London mayor Sadiq Khan saying he hopes it will cheer up the capital's residents during the coronavirus lockdown and beyond. "Chila's colourful tribute to her Punjabi and English heritage is a great way to mark Diwali's celebration of light over darkness and will be a symbol of hope during these difficult times".
All images were taken for Tate by Joe Humphrys.
c
via dezeen