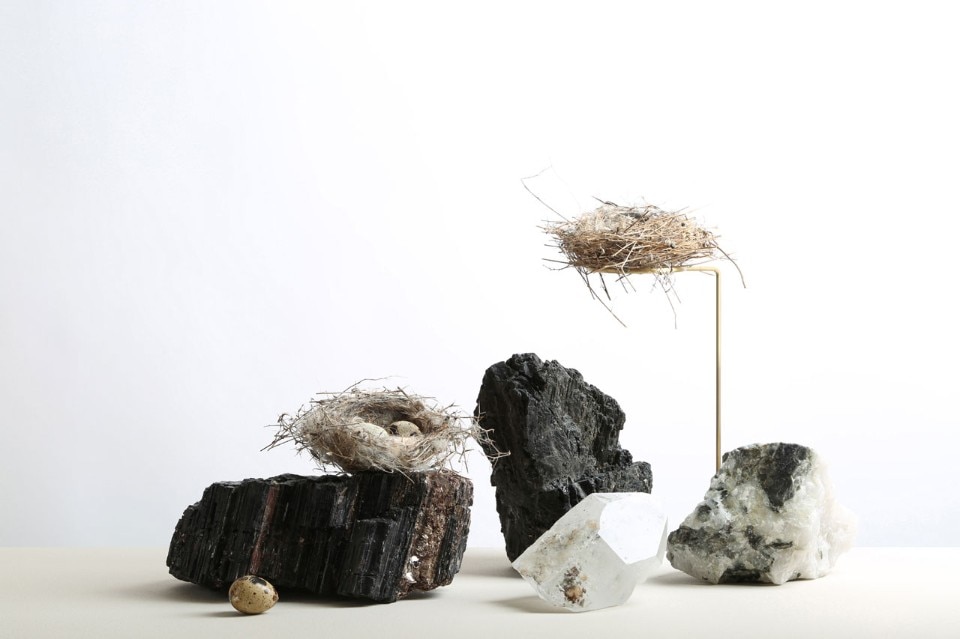 Born and raised in Beirut, Richard Yasmine is an interior architect and product designer. One of his obsessions is the overall aspect of his design which should be minimal and simple, a direct message combined with a drop of surrealism; for this reason Richard practices his imaginary world as a simulation to try out new ideas and create new objects. His ultimate concern is to keep integrating the Middle Eastern / Lebanese soul in the procedure of each product.
For this edition of Milan Design Week, Richard presented "Wake Up Call" and "Hawa Beirut". The first one is a limited edition of table lamps composed of brass structure and hand blown organic shaped sandblasted bulbs emphasizing the light on a landscape of multiple types of semi-precious rocks while highlighting on abandoned bird nests.
"Our natural environment is a priceless part of the universal heritage, all animals, forests, plants, minerals, soils, etc have a role to play for our healthy natural atmosphere and all are fundamentally important in every eco-system, therefore it is our responsibility to save it…. We can maximize actions by raising awareness of local environmental challenges among our communities, and push for policies that protect nature…"
HAWA Beirut is a collection of very light or airy furniture inspired from the Lebanese architecture and specifically the arches, trade mark in Lebanese cultural heritage. HAWA in Arabic language means a light summer breeze or even a deep love, a passion towards someone or something.
The collection is composed of 2 chairs, a low flippable central table/coffee table and a "paravent" or a decorative separation panels including multiple materials, the whole items are made of powder coated colorful steel with fabric, adding decorative handmade silk braiding cords and tassels, with treated pink marble including traditional craftsmanship technique blown stained glass inserts.
Visit Richard Yasmine's website for more projects!
All Rights Reserved to Richard Yasmine
Photos by | BizarreBeirut