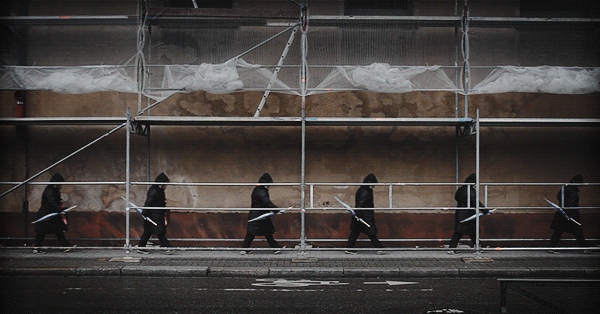 Cos'è la routine? Un'azione ripetuta, regolare, standard. Un' insieme di procedure quasi meccaniche, una serie di istruzioni per svolgere un compito. Tendiamo ad odiarla, e appena non ne abbiamo ci manca. Ma cosa resta di quelle azioni che ripetiamo ogni giorno e magari più volte al giorno? Cosa ne rimane del tempo speso in quelle azioni?
Se l'è domandato anche Julien Douvier ( di cui avevamo già parlato in passato ) un giovane grafico francese che ha deciso di cristallizzare la routine nelle sue GIF. Quei tragitti che facciamo ogni giorno, sempre uguali, sempre dallo stesso lato della strada, che saremmo in grado di percorrere anche ad occhi chiusi. Questo è il soggetto da lui scelto per questa serie di immagini. C'è ripetizione, ma anche ritmo ed armonia, si osservano l' andamento delle persone e quello delle facciate dietro di loro.
"One day, I realized that I was making the same trip every day for almost four years.
Waking up at the same time, taking the same routes through the same streets, on the same sidewalks,
in front of the same buildings… This is why I wanted to find a visual way to represent this phenomeon called routine.
That's how this project was born." J.D.