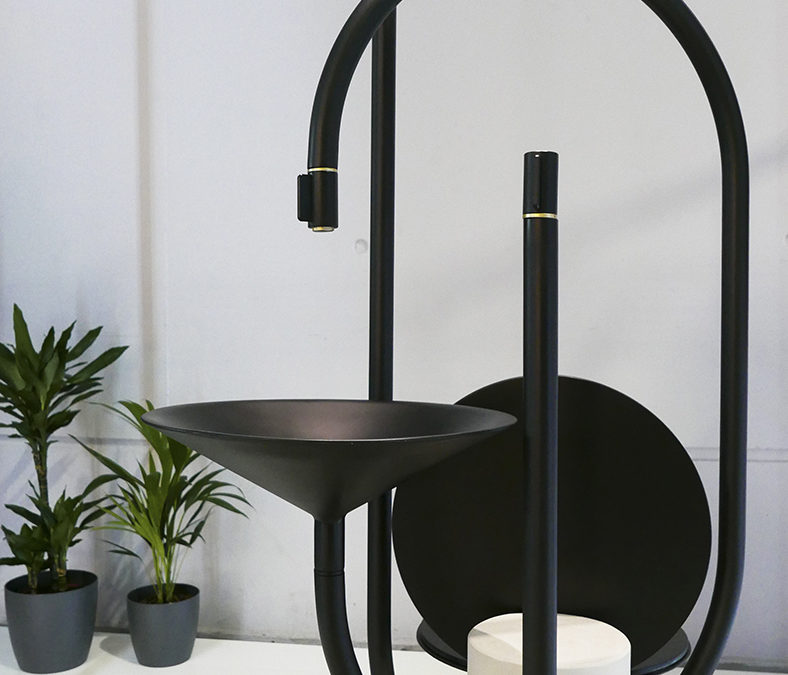 The experimental bathroom design SAGUARO by the students Vitalij Krist and Florian Wagner is inspired both visually and in terms of its construction by the eponymous Saguaro cactus plant. With a slightly surreal appearance, several metal pipes sprout from the central base, which is positioned on a shower base, vertically upwards, imitating the vertical arms of the saguaro. The idiosyncratic appearance supports the impression of a sculpture. The concrete surface of the shower base and the base stand out in high contrast from individual segments and fittings made of black-oxidized stainless steel, some of which are decorated with golden decorative elements and set special highlights.
SAGUARO is an experimental bathroom study that was created as part of the "burgbad lab" workshop series organized by burgbad AG and started by the global bathroom furniture manufacturer in 2017. The workshop series is devoted to promising topics such as sustainable and universal design and, in cooperation with their universities, invites students to design products that take these topics into account. In order to present the results from the burgbad lab, the company from Schmallenberg also created the burgbad campus platform. It thus offers students the opportunity to show their designs to a larger specialist audience at trade fairs such as the ISH.
In the idea of ​​the two designers, their bathroom, whose shapes are based on simple geometric basic bodies, replaces an entire (bathroom) room. The idea behind it: to detach the bathroom from the wall and make it architecturally independent. For this purpose, the two design students at the Hanover University of Applied Sciences centered all inflows and outflows at one point. There are three areas of use: the sink, the toilet and the shower, which are arranged in a circle at an angle of 120 degrees to each other. The overall concept of SAGUARO also mimics the ability of the cactus plants to save water. To do this, the bathroom uses vacuum drainage technology, which saves more water and wastewater than conventional methods. SAGUARO was presented in Frankfurt, at ISH 2019.
c
burgbad ISH 2019 | Messestand von Bottega + Ehrhardt Architekten
via press.burgbad.de