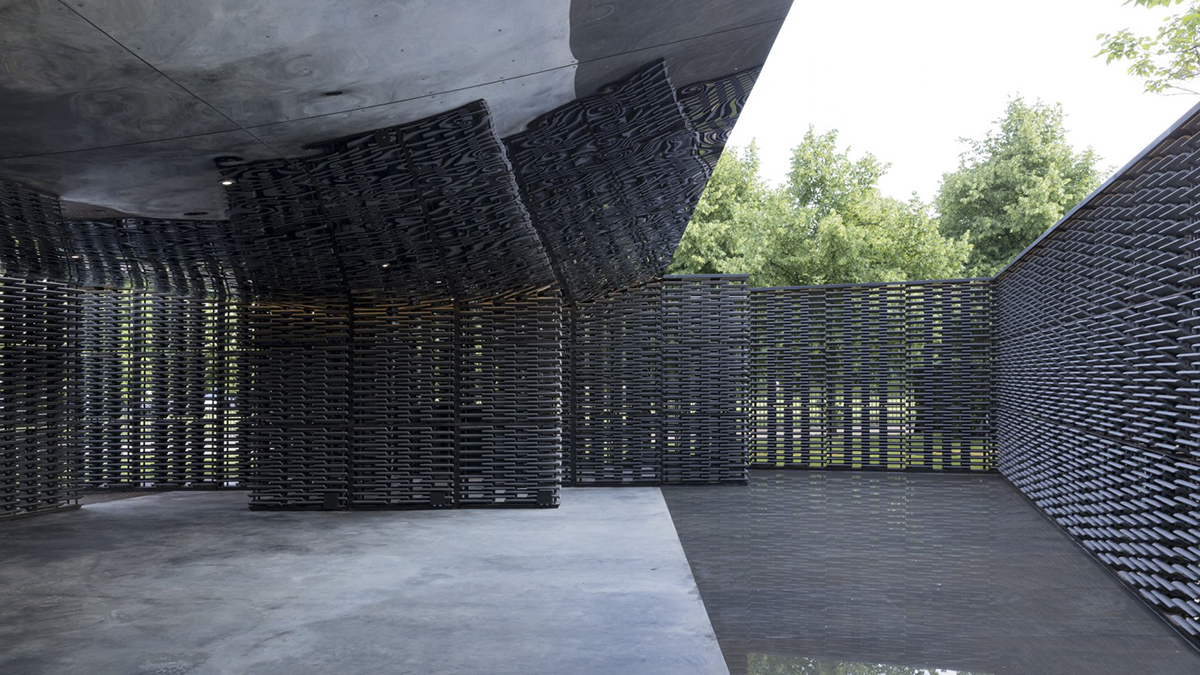 After Diébédo Francis Kéré 's 2017 pavilion, 2018 is Frida Escobedo's turn to realize her work for Serpentine Gallery in Kensington Gardens, London. The Mexican architect has completed this year's Pavilion, a secluded courtyard framed by walls of concrete roofing tiles, a curving mirrored ceiling and a shallow, triangular pool of water.
The aim was to reference the courtyards that are a common feature in Mexican residential architecture, and to frame these with a reinterpretation of the "celosia" – a breeze-block wall that allows light and the breeze to filter through. Here, the celosia is recreated using concrete roof tiles manufactured in the UK.
"The materials are quite simple," explained Escobedo during the press launch on the 11 June 2018. "This is something that we usually do – we know how to work with simple materials and simple geometries but in complex ways," she said. "These concrete tiles are woven, like a tapestry, in a very specific pattern that becomes becomes transparent when the light is behind the wall." In plan, the pavilion comprises two overlapping rectangles. One of these runs parallel with the Serpentine Gallery behind, and the other runs parallel to the Prime Meridian, the longitudinal axis established at nearby Greenwich, which is used to measure time all over the world.
"A pavilion, especially one like, has a very dual nature," said Escobedo. "On one hand it is very site-specific to Hyde Park and the gallery. But it only has a temporality of four months here, then it becomes permanent structure in a new home… We had to deal with this – knowing where the pavilion was going to be, but not knowing where it was going to go next," she continued. "How to resolve this contradiction? Anchor it to space, but also make it spaceless… It's meant to be a compass that allows you to locate yourself, not just geographically, but to give you larger understanding of what social space and can be."
All Rights reserved to Frida Escobedo