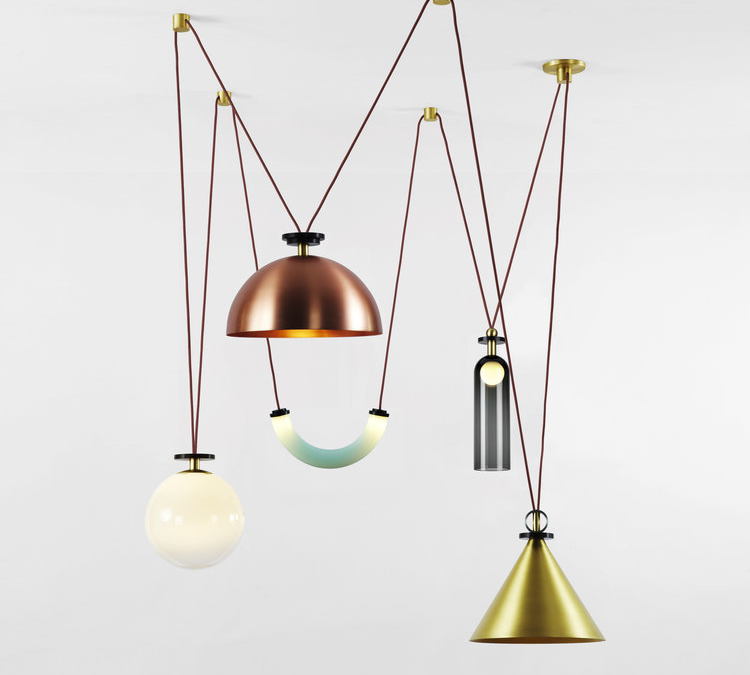 Ladies & Gentlemen Studio is a Seattle-born, Brooklyn-based design studio with a diverse focus. Founded by Dylan Davis & Jean Lee in 2010, L&G Studio's playful explorations in materiality blend their resourceful curiosity with the desire to find unexpected pairings of material and function. The results possess an expressive purity, and range from jewelry to home furnishings. Their open, multidisciplinary approach to design yields an ever-evolving set of ideas collected from their daily experiments and discoveries.
SHAPE UP for Roll & Hill is a versatile lighting series in celebration of geometric shapes, and materials. These playful collages upend traditional notions of symmetry in favor of a dynamic spatial harmony. The collection's abstracted lampshade forms are networked via connecting cords and hubs. The resulting modular system allows the shapes to be suspended and composed indefinitely in response to a space's architecture and function. As if connecting the dots, the cord network graphically expresses the light sources' formal and electrical connection to each other.
SHAPE UP is skillfully crafted in Brooklyn by Roll & Hill with hand-blown glass shades by Northwest glass designer John Hogan.
x
All Rights reserved to Ladies & Gentlemen