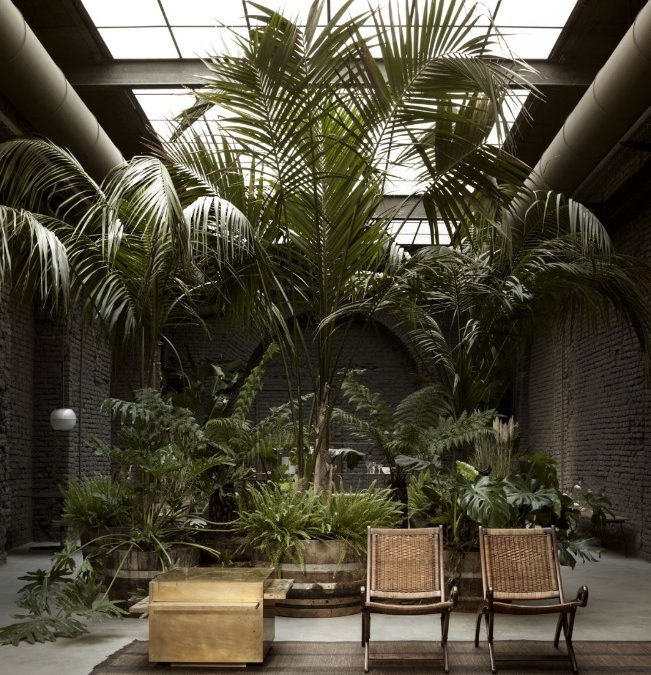 Six Gallery was founded by Mauro Orlandelli as part of SIXprojects, a space in the heart of Milan dedicated to food at bistrot Sixieme and to design at SixGallery. It is curated by David Lopez Quincoces and Fanny Bauer Grung the duo behind the architectural office Quincoces-Drago & Partners.
SIX is set up around a courtyard, a combination of typical Milanese elements and exotic accents of riad. Located behind a large doorway on via Scaldasole, dotted with elements of tropical vegetation, the space offers intimacy, balconies overlook the patio and large open arches, from the sixteenth century building, bring to mind its monastery past-life. The idea was born by Mauro Orlandelli who worked together with art director Samuele Savio, architects David Lopez Quincoces and Fanny Bauer Grung, musician Sergio Carnevale and landscapist Irene Cuzzaniti.
The renovation project removed the plaster layers from the interior and revealed the original brickwork and floors. "We wanted everything, from the furniture to the plants, to look like they had been here forever", Bauer Grung explains. The overall mood is the result of a play with contrasts: smoky grey walls, furniture featuring classic design, and attention to details. The space hosts the Six design Gallery, the Sixième bistro and the green design boutique Irene. The gallery mixes together Vietnamese vases and modern Scandinavian furniture, nomadic rugs from Altai and tables by Gabriella Crespi, chairs by Gió Ponti and armchairs that Le Corbusier and Pierre Jeanneret created for Chandigarh in India.
All Rights are Reserved
(via domus)