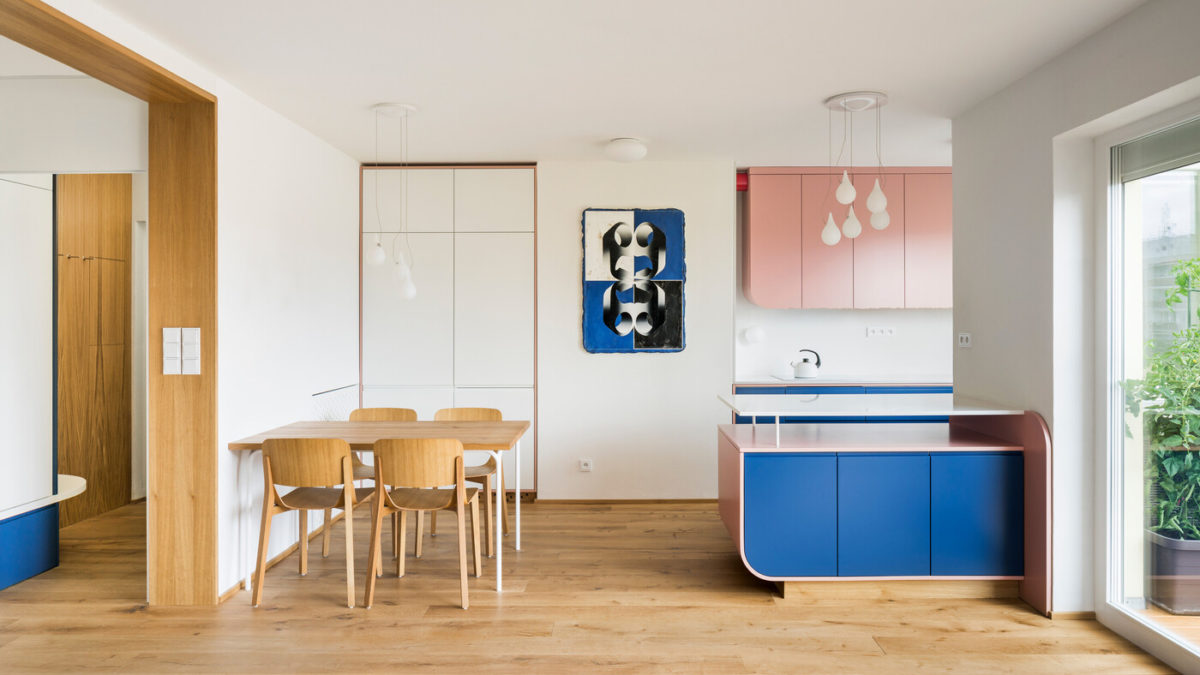 SIXTY-NINE project, No Architects
Previously on WeVux with the Apartment in Dejvice, Prague, No Architects studio was born from the collaboration of an architect and a visual artist who, together with their team, work on detailed solutions that reflect the stories and emotions of each client. The inspiration for one of their latest projects, Sixty-Nine, the maisonette reconstruction in Prague Žižkov, comes directly from contemporary art.
Although not necessarily collectors, the clients have pieces of art that bring them joy and pleasure. The house in Žižkov was re-designed to give these pieces a respectable living space. One of these painting, in which the number sixty-nine is represented, is by Vladimír Houdek and has a special meaning for the owners of this space. This inspiration is evident in the furniture and specially designed heating covers. The unusually rough edges of the paintings are reflected in the kitchen cupboard doors and the colors of the art pieces match the interior.
c
The second painting is by the artist Josef Bolf. The elegant melancholy of this piece is thematically referenced by the teardrop-shaped lights and the placement of this painting. From this area is access to a new set of stairs that connect the floors, illuminated with some sacral lighting. The furniture is custom-made, starting from the bed, through to the cupboards and dining table. With the project Sixty-nine, Studio No Architects has managed to design an interior that seems to come out of the owners' paintings, but which, at the same time, dialogues with these pieces of art and amplifies their strength.
Visit No Architects to know more about the project or follow them on Instagram!
Texts by Jakub Filip Novák, Daniela Baráčková, Ján Šefčík
Photography by Studio Flusser
c
c
Do you want to see your project featured on WeVux? Feel free to send us an email at [email protected] to know more, or visit our About page