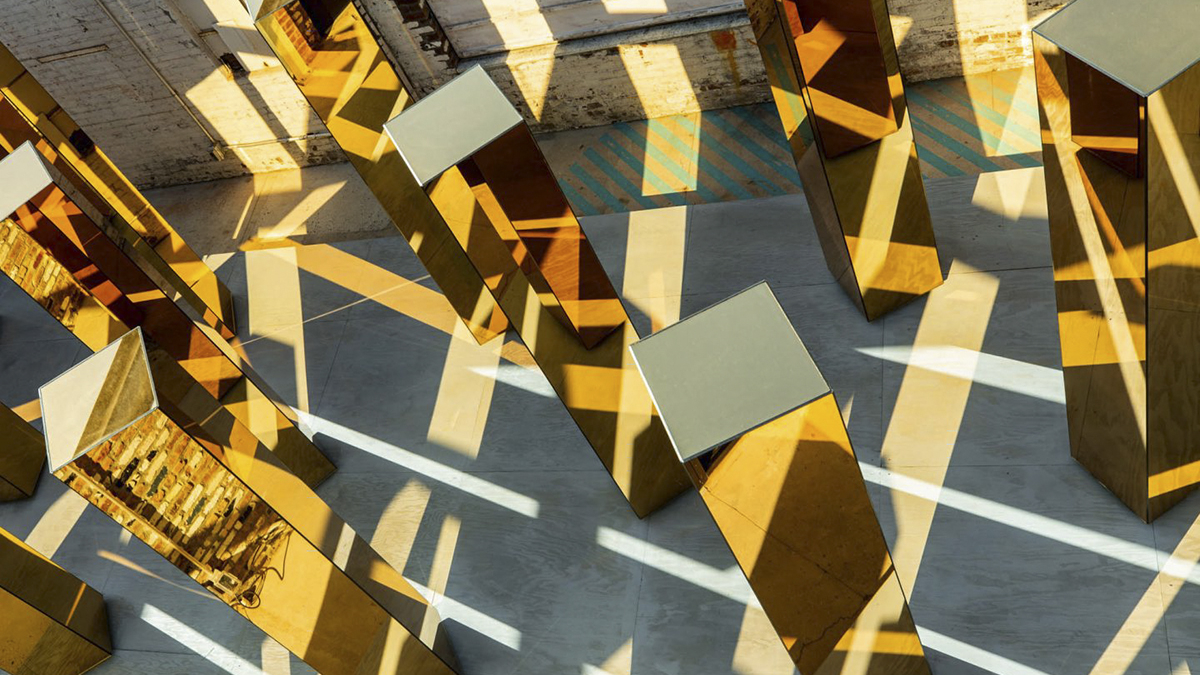 UVA (United Visual Artists) is a London-based practice founded in 2003 by British artist Matt Clark (1974). UVA's broad body of work encompasses wall-based artwork, sculpture, site-specific installations and performative projects. The practice has an open and inclusive approach to collaborations, the practice has worked with artists like choreographer Benjamin Millepied and the Paris Opéra Ballet, filmmaker Adam Curtis and musicians Massive Attack, Battles and James Blake. The ethos for UVA is to create work that can transcend the physical and question the relativity of an audience's experience.
London-based collective, United Visual Artists, have just opened their most recent work, 'Spirit of the City' in the Brooklyn courtyard of MINI's A/D/O Space.
Inspired by the experience of living in a metropolis like NYC, the bright architectural installation comprises of reflective rotating columns "Our goal was to create a simple, yet transformative experience that metaphorically and physically reflects the surroundings of A/D/O and New York City at large", explains Matt Clark. This reflection is enacted by the golden installation, each nine-foot-tall column splitting and refracting its surroundings as it rotates. These movements have been determined by research into human activity in the city; the algorithm illustrating when the crowds are most frantic, and most calm throughout the day.
At night the installation is illuminated, as lights from within the columns flood the space. Its location is appropriate for such an innovative piece of art: A/D/O was a warehouse until New York studio nArchitects reimagined it as a creative hub, restaurant and start-up incubator for MINI. Spirit of the City was unveiled to correspond with the annual NYCxDesign Festival, and is on display at A/D/O until the second of September 2018.
All images by © MINI
(via ignant)