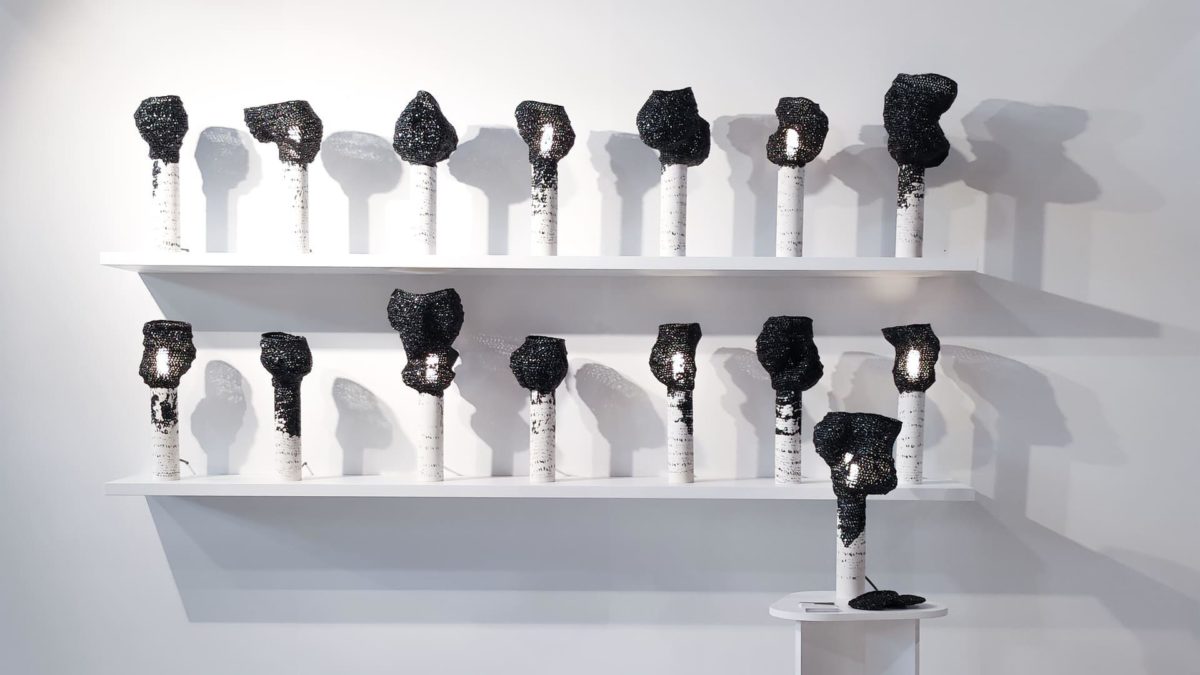 STUDIO GILLES WERBROUCK, furniture and knitwear
This article was written for Salone del Mobile.Milano and previously published on salonemilano.it digital platform
In 2018, after two master's degree in the field of fashion, to be more specific, in knitwear design, and international and non-international experiences, in Como, Shanghai and Antwerp, Gilles Werbrouck founded the homonymous studio in Brussels. The goal of his production is to keep the focus on yarn by applying his knowledge to the world of interiors.
A clear example of this method is the Lamp project, a limited series of lamps produced in collaboration with visual artist Hugues Loinard and winner of the second prize of the SaloneSatellite Award. A limited collection created thanks to the union of two different techniques and materials, plaster and video cassette tapes (VHS).
c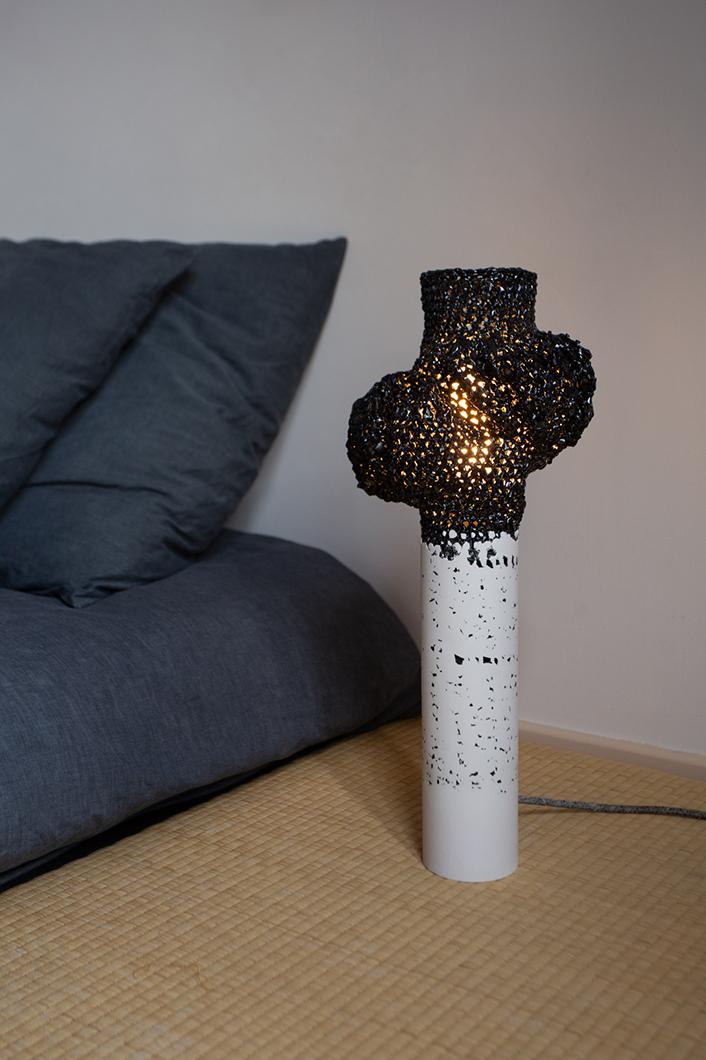 c
With a background in Fashion and Knitwear Design, your studio is specialized in "knitted textiles for the interiors", from accessories to large pieces of furniture. How did fashion shape your practice?
It all started with fashion design, that's what I studied as a bachelor's degree. It's during my last year that I interned for a fashion designer in Brussels specialized in knit and thanks to her my interest in knitwear started.
I then decided to get two Masters degrees in Knitwear Design, one from the Royal Academy of Fine Arts in Brussels and the second one at the Nottingham Trent University in England. That gave me all the knowledge necessary to experiment with knitting with all different techniques (crochet, domestic knitting, industrial knitting, finishings).
After having worked for 4 years in the fashion industry I decided to venture on my own but to take all I learned in fashion and apply it to the interior. The interesting aspect of that shift was to experiment on bigger scale, incorporate knitted fabric in the space and not limit the design to a garment. Also working on experimental pieces allows for a broader choice of yarn or other type of material.
c
What is then the value of the yarn in your design process?
It's one of the biggest decisions in my process. Going back to my previous answer, that is the biggest reason why my interest in knitting started.
The alluring part of knitting for me was how close the designer is to his work. You choose the yarn, the color, the way it'll be knitted, the technique used and the finishing. Instead of choosing a ready made fabric, you make the fabric exactly the way you want it to look in the end.
c
As a designer, what does it mean to design contemporary furniture today? What is your point of view?
Quite quickly when I started creating furniture, I liked the idea of creating collectible pieces. No mass production, each piece is unique, handmade and created with either dead-stock yarn collected from fashion designers at the end of their season or with unconventional material such as VHS tape.
With the VHS tape in particular, the idea was to create a new object with an obsolete one, give it a new space and function in the interior. I find it important to create sensibly, as a designer my goal is to create new pieces that I will put out there in the world, therefore it is important to think about how I will make them, what materials will I use and how can I create while being sustainable.
c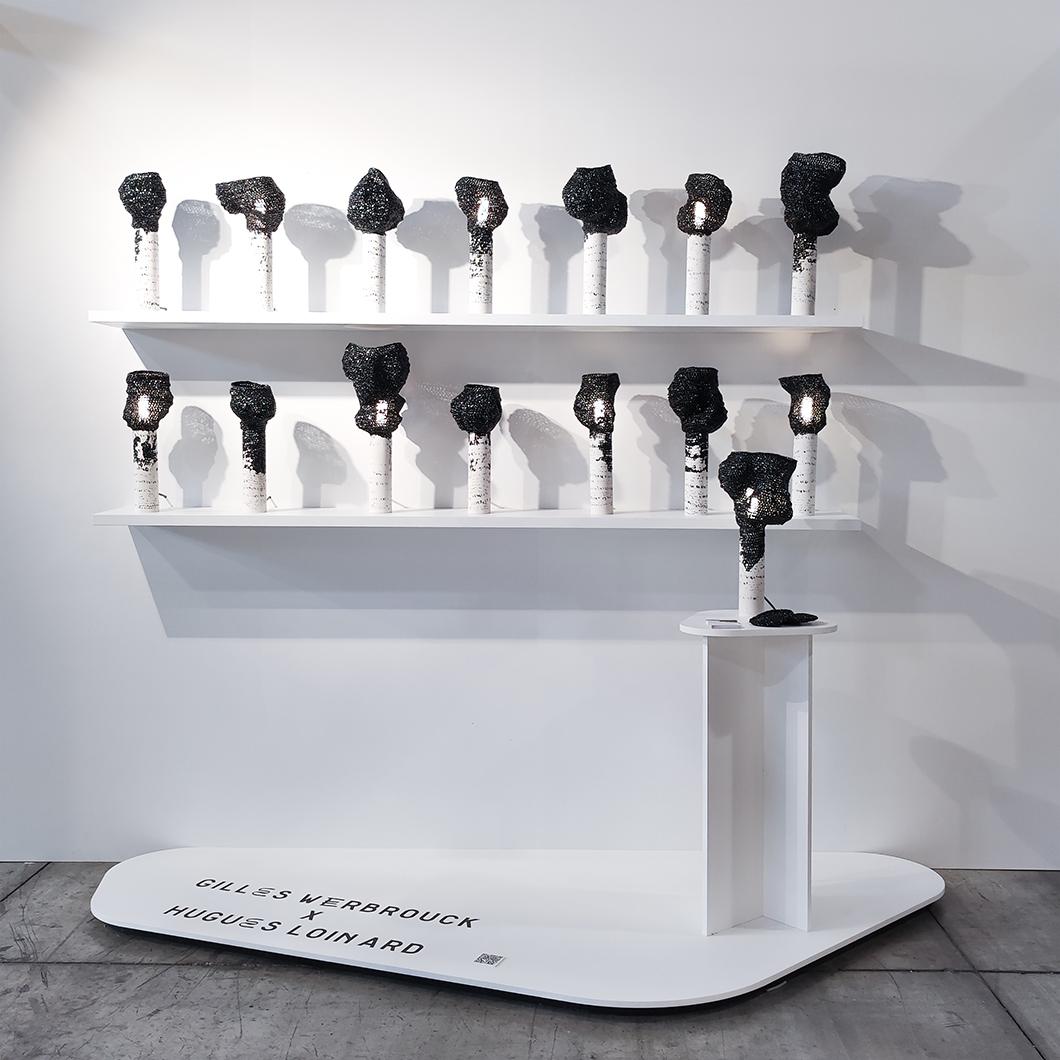 c
In Milan you presented the Lamp collection, tell us a little bit about your approach to design through these products.
The Lamp collection came about quite organically after lockdown in Belgium. I was working on a series of pieces using VHS tapes when I met Hugues Loinard.
Hugues is a visual artist who worked at that time on a series of plaster and jesmonite moldings. After a little while we started talking about collaborating on pieces merging both our crafts.
First we were going to do one lamp, which turned into a limited series of lamps and from there the rule became to use 1 movie for 1 lamp. If the movie is short, so is the lamp and vice versa, that means that I wouldn't be able to create the same shape twice.
What is so interesting in using VHS tapes is that they hold memories, of watching a movie with your family, having to rewind a tape, fighting over which movie to rent from the video store, taping an important event etc Unfortunately overtime we stopped using VHS tapes and they would either collect dust in the house or get thrown out. This is a way to give them a new use.
The reason why we used jesmonite for the base of the lamps is for its ability to harden quite rapidely. So once I finished with the crochet sleeve, Hugues would cast the base by pooring the jesmonite, when he would get to the top, the material was hard enough not to get through the crochet. This would create a random pattern making each lamp even more different and unique.
c
The Salone del Mobile ended more than a month ago, what did it leave you with? What was it like to participate in the SaloneSatellite?
It left me with good perspectives for the future. A lot of contacts were made which I am now following up on. There are a couple of projects for the future which is what I was hoping for. The focus now is to work on new pieces alongside.
About SaloneSatellite, I'm not going to lie, winning 2nd Prize was a big surprise and such a blessing! We are young designers and we have to prove ourselves, being part of SaloneSatellite gives us credibility. It attracted a lot of attention on my work and on the work of the other Belgians of the Belgium is Design booth which is awesome.
c
What are you currently working on?
Currently I'm working on a new version/series of the original Lamp series that I showed at SaloneSatellite and on new murals as well.
c