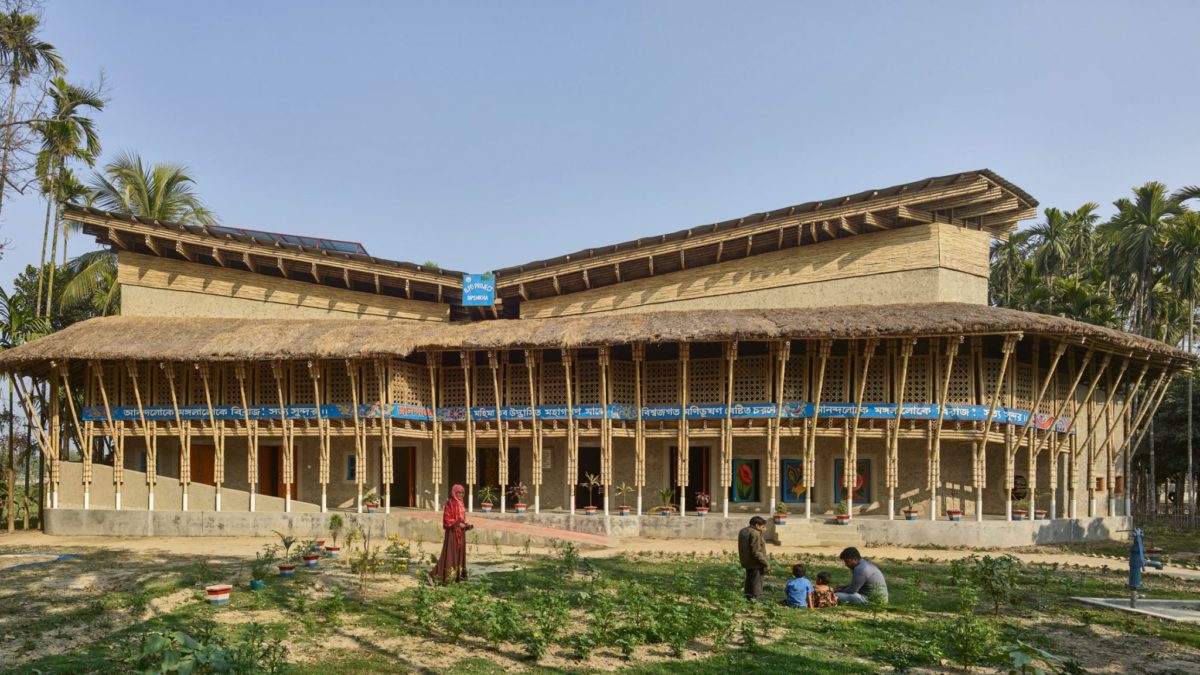 The Anandaloy Building is a community center in Bangladesh, designed by Anna Heringer. It hosts a center for people with disabilities combined with a small studio for the production of fair textiles (Dipdii Textiles).
The project won the second edition of the Obel Award, which is presented annually by the Henrik Frode Obel Foundation to honour "recent and outstanding architectural contributions to human development all over the world".
For Studio Anna Heringer, architecture is a tool to improve lives. The strategy of all of the projects no matter if in European, Asian or African context is the use of local materials + local sources of energy (including manual labor) + global know-how. Because the Anandaloy project is mainly built out of mud and bamboo from local farmers, the biggest part of the budget was invested in local crafts(wo)men. Thus, the building is much more than just a structure, it became a real catalyst for local development.
Often disabilities in Bangladesh are seen as a punishment and therefore places for therapy are rare in the country and not existing at all in that rural area of Rudrapur.
In the beginning the building was planned as a therapy center, but the studio was able to extend it into another story, hosting Dipdii Textiles, a studio for the female tailors in the village. The concept was not only to provide therapeutic treatment for the people with disabilities, but also give them an opportunity to learn and work in that building and engage in the community there. As a visible sign of this inclusion a big ramp winds up the first floor. Already during the construction, it has been topic of discussions among the many local visitors that are coming to see the site. "What is the reason for that ramp? Why is it important to guarantee access to everyone, no matter if healthy or not? How can the lives of people with disabilities be improved? How can inclusion be incorporated?"
The building's architecture explores the plastic abilities of mud with a particular mud technique, called cob.
Visit Anna Heringer's page to know more about the project!
Photography by Kurt Hoerbst
c