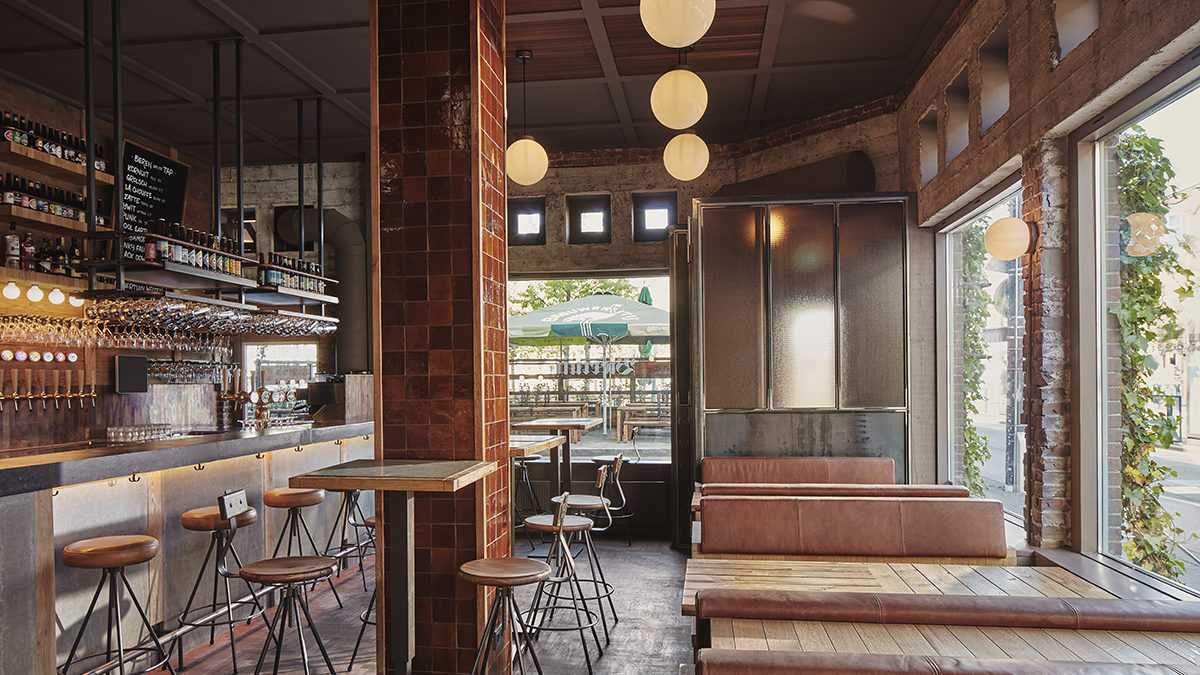 The new DE BIERTUIN WEST, Studio Modijefsky
After the successful renovation of De Biertuin East in 2015, Studio Modijefsky was commissioned to design De Biertuin West on the other side of Amsterdam. The concept is inspired by the German biergärten, an outside open area usually surrounded by trees, where beer and food are served on long communal wooden tables. As De Biertuin West has both inside and outside space, the Studio decided to bring the biergärten atmosphere indoors.
Linearity, togetherness, and warmth are the concept's main components. These abstract elements are translated into an interplay of raw, rough materials such as concrete, wood (sourced from parts of old wagons), aged red copper, and oxidized green copper – the copper alludes to the traditional tanks in which the craft beer is brewed. The walls are covered with a soft touch of recycled oak to enable the leather on the customed furniture stand out and highlight the bar's dark grey concrete texture. Detailing is inspired by the building's original architecture: the irregularity of the dated red bricks is counteracted by the geometry of the lined-up light bulbs and the rhythm of the square wooden elements that rebound from the ceiling to the tables.
c
Moreover, a typical biergärten has a lot of lines: the rows of tables and benches; the planks the tables are made out of; the lines of ceiling lights. This geometry is applied by the Studio in a variety of ways throughout the interior: wooden planks climb halfway through the walls to serve as wall panelling and a structure for the signage boards. One large column stands in the middle of the left side of the bar, covered in red tiles whose glossy texture is intensified by the reflection of the luminous spheres hanging from the ceiling.
Outside, the terrace is defined by a composition of twelve wide customed wooden benches and tables, some of which are detailed with a layer of dark grey concrete on top. A grid of warm light bulbs connects the terrace to the main building's front façade. The terrace's wild nature is characterized by a thick portion of ivy bushes that defines the perimeter of the patio. These bushes introduce visitors to De Biertuin West's defining feature: the plants and greenery spread liberally throughout. They unite the interior and exterior and imbue both with the biergärten feeling that forms the project's backbone.
By balancing reclaimed materials and harsh textures with warm tones and gentle lighting, Studio Modijefsky has once again given a sophisticated yet original touch to a pre-existing architecture: a place that is clearly part of De Biertuin family but has its own unique character.
Project: De Biertuin Amsterdam West
Location: Amsterdam, The Netherlands
State: Realised June 2021
Areas: 89m² interior / 52m² terrace
Client: 3WO
Design: Studio Modijefsky; Esther Stam, Natalia Nikolopoulou, Christel Willers, Aurélia De Chevigny
Photography: Maarten Willemstein
c
c
Do you want to see your project featured on WeVux? Feel free to send us an email at [email protected] to know more, or visit our About page