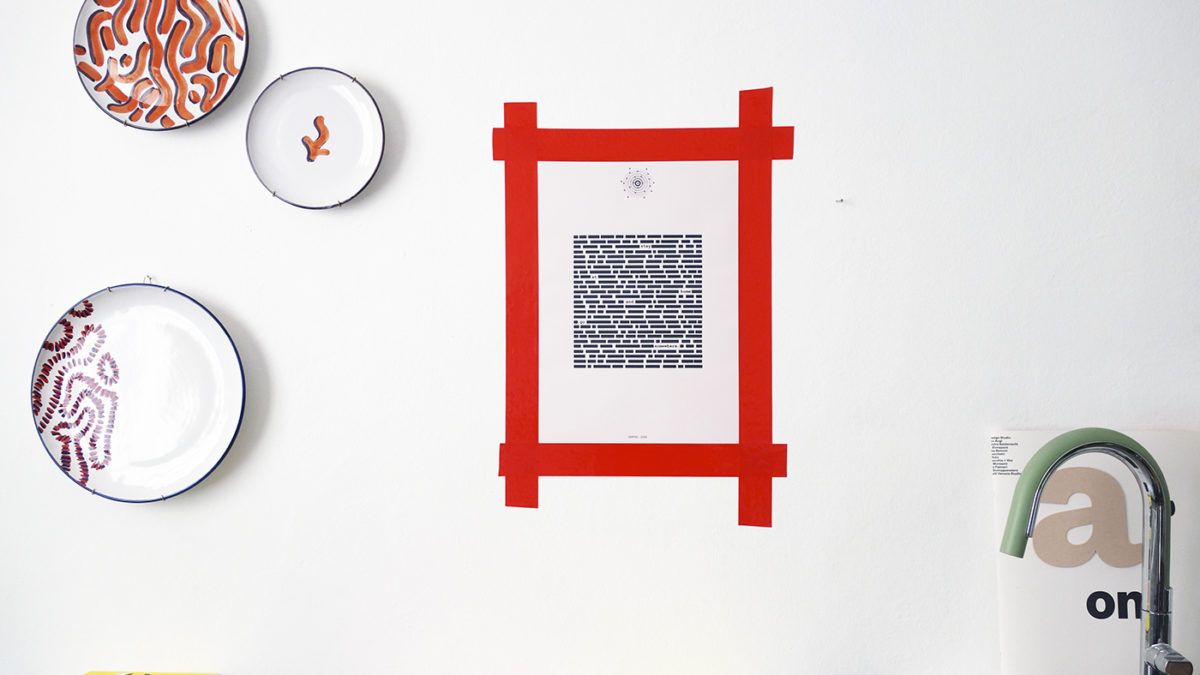 TIPS FOR BEATING LOCKDOWN BOREDOM
This is an article different from usual. Everyday we try to offer you a design/ architecture or art project as inspiration, but given the times, it is not enough. We are based in Milan and we're lockdown as you are. In these weeks we find ourselves forced to stay at home and too much time available could create anxiety and panic, especially if we are home alone.
Today we want to offer you some ideas to entertain you. There will be no solutions, but many small distractions that can make you forget the situation for a few hours: we thought to brighten the day and the future lockdown days with a list of contents that can inspire you – interactive sites, films, games, books.
We want to start with a beautiful project that will make you explore stunning places, staying at home. Designed by Sovrappensiero (previously on WeVux), "Somewhere" is an augmented reality experience: through the help of Artivive (AR app) a drawing is transformed in an open window overlooking a virtual landscape that can change every day. The drawing comes from Emilio Isgrò's erased words: the ones that remain compose the sentence "stay at home and go somewhere". A simple yet powerful project able to create a narrative and "get people out of their house". As Sovrappensiero says "small motions and a little colour that bring us back to the worlds we'll crowd when the quarantine ends". You can ask the original drawing to Sovrappensiero on their Instagram!
v
b
The COVID-19 pandemic is causing a global shutdown of our fragile economy and it is a critical moment to reflect on the broken systems that run our world. This is the right moment to watch INHABIT. The goal of this film is to inspire and empower people (yes, it's free). This is the link: http://inhabitfilm.com/?fbclid=IwAR05xpvb1b4YJ4WAe5V92q06spOM8qB_68sLHat60qVxEXThzY6LxwOmxwM
Another project (old but gold) is Dawdle. Created to fight distraction while online, the website is meant to help you spend your time wisely: just roughly select the amount of time you are going to waste on the green wheel and Dawdle will provide you with inspirational and design oriented contents. Link here: http://it.dawdle.altervista.org/
Another similar website is: https://theuselessweb.com/
Are you into music? This is a list of online music generators: Typedrummer, Typatone, Google MusicLab, Incredibox, Patatap, BeatLab.
If you love documentaries, here's a list of 8:
– Chronos / Baraka / Samsara by Ron Fricke,
– Koyaanisqatsi by Godfrey Reggio,
– Into the Abyss / Into the Inferno / Lo and Behold by Werner Herzog
– Pina by Wim Wenders
If you don't know yet, there are also two interesting youtube channel that want to unfold the worldwide mysteries of politics and socio-economics issues for you:
– Vox
– Kurzgesagt
This is also the right moment to learn something new, on Lynda.com (online tutorials) or discover new things on Ted.com (you know it). If you want to see and discover more about webdesign and website we suggest awwwards.com, the Website Awards that recognize and promote the talent and effort of the best developers, designers and web agencies in the world.
Are you into drawings? Well, in this Drive folder (https://drive.google.com/drive/u/0/folders/1x71ZidnwZwt_7Ic9nyBGMDUk9_7pbtdY) you can find a lot of drawings to color, created by Ale Giorgini, Francesco Poroli, Elena Pedroli, Luca Font, and many more.
Last but not least, books: if you are into colors, graphics and visuals, we suggest Riccardo Falcinelli's books, "Cromorama" and "Critica Portatile al Visual Design", and Josef Albers' "Interaction of Colors".
Another book related to graphics is "How To" by Michael Bierut.
Other must-read design books are:
"Design as an Attitude" by Alice Rawsthorn,
"Lo-Tek" by Julia Watson,
"The System of Objects" by Jean Baudrillard,
"The Laws of Simplicity" by John Maeda,
"Cradle to Cradle" by M. Braungart and W. McDonough
and we also suggest you other authors (and designers) that you already know, such as Bruno Munari, Ettore Sottsass and Enzo Mari.
We are facing this crisis together, stay at home, stay safe and use this time wisely, for you and for the others around you. If you have more tips, ideas or projects to share feel free to contact us at [email protected]!
c