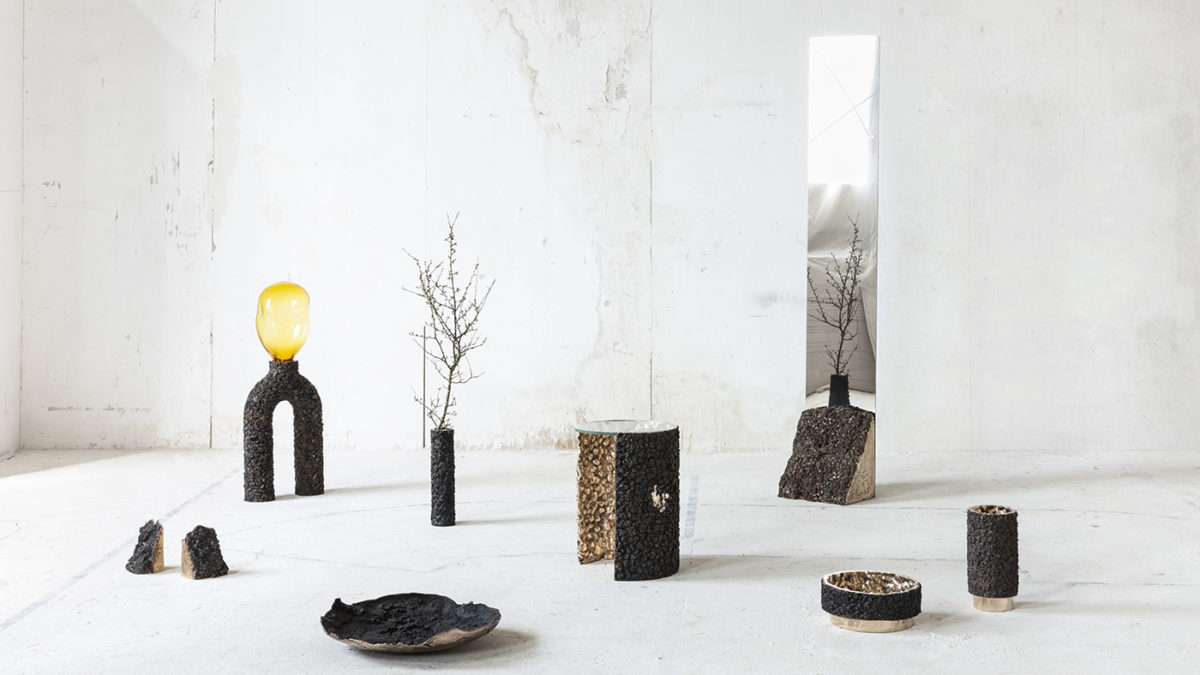 TIPSTUDIO, where poetry and materiality become one
Co-founded by Imma Matera and Tommaso Lucarini, Tipstudio was born from the union of a more poetic-narrative vision of the project with a more material-artistic one. Florentine by adoption, the creative duo operates in different fields of design with an experimental, yet contemporary approach. With a different background, the designers met in 2017 within the Viareggio Gumdesign studio, with which they both collaborated.
Imma was born in Matera and has always been fascinated by the traditions, rituals, and poetry of her land. She attended the faculty of architecture at La Sapienza in Rome, where she received an Industrial Design degree and then a Master in Product Design. Before moving to Florence, where she initially collaborates with IED Florence as a tutor for the Master of Design for High Craftsmanship, she worked for several design studios in Rome. These experiences allowed her to refine her practice, with a strong link to the narrative and emotional aspects of the project. Tommaso, on the other hand, grows up in the family artistic foundry surrounded by workshops and art. This led him to have a greater interest in the more manual aspects of the project. He attended ISIA in Florence and then participated in study experiences in Finland. After his graduation, he first collaborated with several studios and after that, he moved to New York where he had the opportunity to work in Gaetano Pesce's studio. On this occasion, he was able to deepen his artistic, critical, and experimental vision of the design world.
Tipstudio was born from the meeting of these designers, and the studio's works are precisely characterized by the peculiarities of both. As they told us, their approach is almost complementary and creates good complicity and balance at the design level. While Imma manages to bring a more emotional and poetic vision to the project, Tommaso contributes in a more material and sculptural way, creating a unique and original result. Although the projects are constantly different, a synthesis of daily experiences, of confrontation, dialogue, and mutual criticism, the duo tries to adopt a method that almost always remains the same:
"… we base our work on continuous research where the strong narrative component – linked to the social and cultural aspects of a place – is intertwined with the direct experience that matter and the sensations generate".
c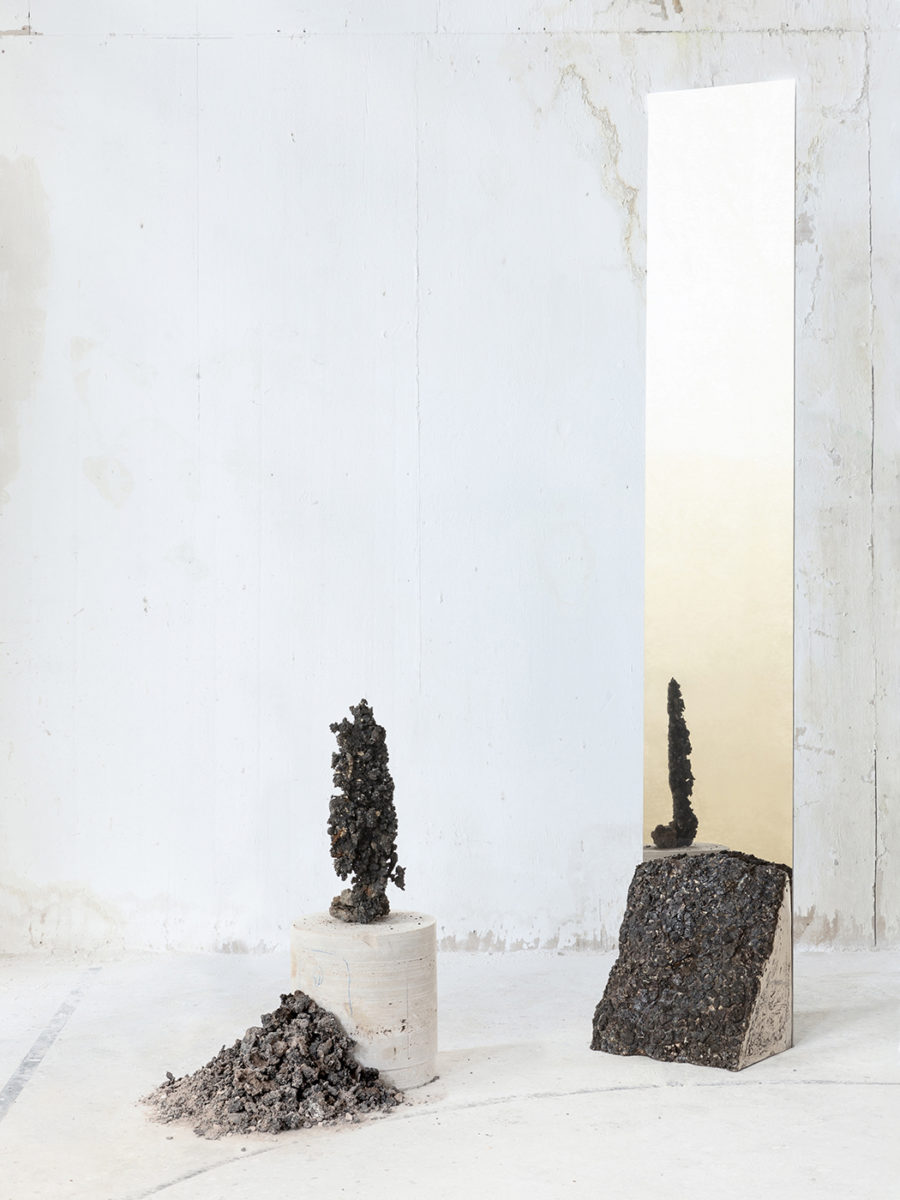 c
To better explain their approach, we have selected three projects to show you. The first two are AFFASCINO and APOLLINEO, both are strongly inspired by the traditions of Southern Italy. Affascino is a bronze and borosilicate collection designed to transform everyday objects into a ritual of purification for man and the home. The collection is composed of a charcoal burner, a salt shaker, and a magic glass. The objects, rich in symbols, refer to the ritual of fascinazione – you can read Tipstudio's explanation here. Apollineo, on the other hand, is a real tribute to the Mediterranean: it's a collection characterized by warm colors, as the Southern sun, and by pure volumes, shapes marked by time, corroded by water and wind. Its surfaces are decorated by hand with bright majolica tiles with geometric patterns. These create an original play of reflections, lights and shadows, grooves, and three-dimensional facets, with fresh, marine aesthetics. As we can see, for Tipstudio the territory represents an infinite archive from which to draw inspiration, "… it is the beginning of every project we design."
Affascino and Apollineo are the reflections of this vision. They are projects born from a folkloristic and architectural reading of the place, but not only. When it comes to the territory, we must also consider the manual knowledge typical of that area, and that's exactly what Tipstudio does. They love the idea of encountering new local artisans and working with them on new projects. In Apollineo, for example, the studio investigates the territory also from a production point of view, combining digital and analogue: the stone from Lecce, worked with CNC machinery, is combined with ceramic tiles made and decorated entirely by hand.
c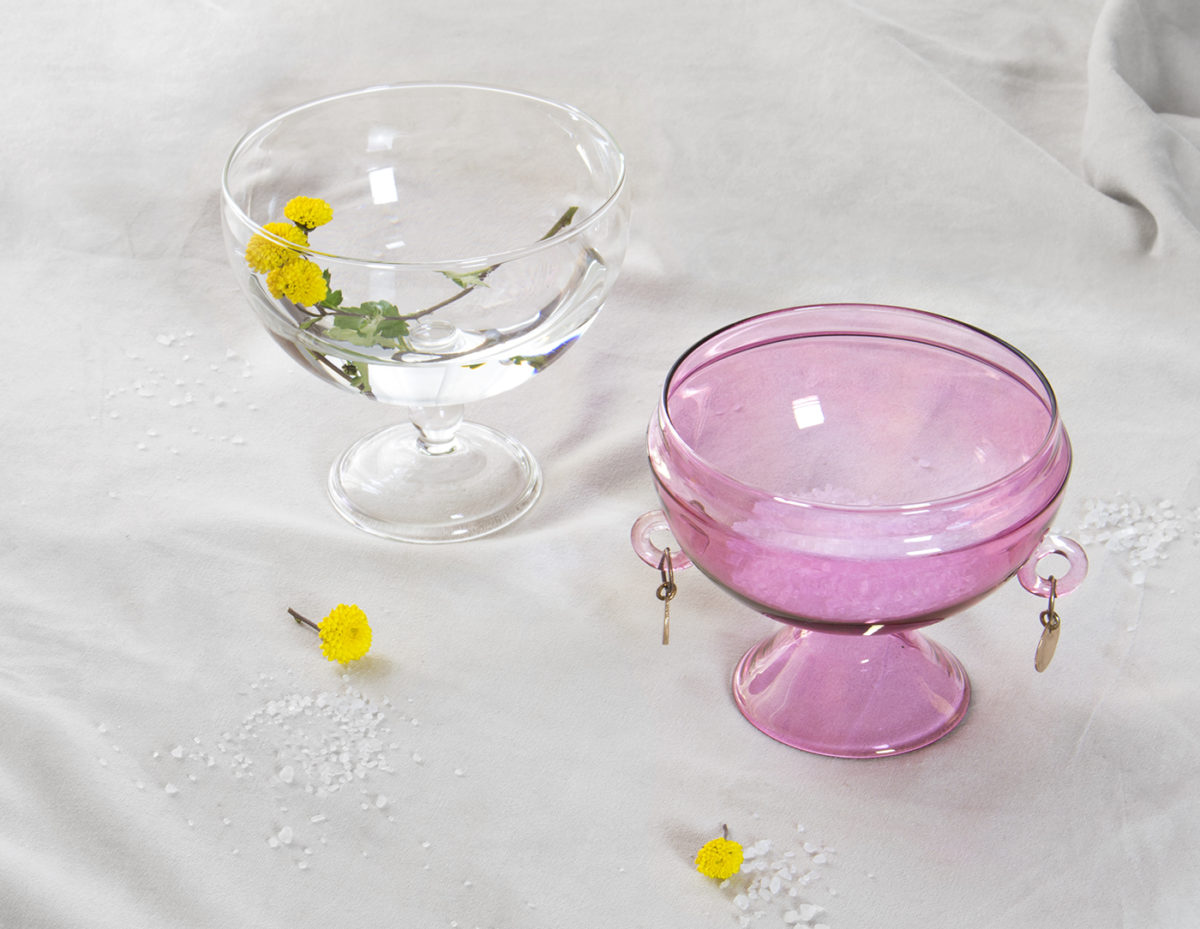 v
Another very interesting collection is Secondo Fuoco, created in collaboration with Fonderia Artistica Versiliese. It's a collection in which the real project is the research itself. This investigation aims to revalue slag – production waste considered hazardous – trying to preserve its conformation, and its aesthetic, material, and sensorial aspects without altering its state or nature. The objects created so far are the result of a journey that began over a year and a half ago and is still ongoing. The first phase of the project was fundamental, made up of tests on samples and processes aimed at identifying their limits and possibilities. Therefore, the pieces of the collection are made with different processes, some faster, others more complex and long but also more versatile. The study describes the research as a continuous, changing project. As proof of this, the new Secondo Fuoco collection will be presented at Alcova during the next Fuorisalone in Milan, September 2021.
Like other contemporary design projects, this one also aims to revalue industrial waste. Tipstudio told us where this interest comes from: "A little by our nature, a little by material / physical attraction but above all by criticism of a production system, the past one and partly the present one, aimed at excess, the intensive exploitation of resources and, more generally, at the little respect for the environment. Today, we believe that the role of the designer and of the project is also to sensitize people, to invite them to reflect on the state of things in a more or less conscious way. Scrap, slag, leftover, are only names that we give to materials considered as such by the system within which they are exploited. In reality, these preserve unique aesthetic qualities: small treasures that deserve to be revalued, included again in the society that discarded them. Some of our projects are born with this concept in mind, such as the Rugs or Perpetua collection, where, instead of using raw materials, we recover waste from the artistic marble supply chain."
As we can see, Tipstudio is composed of two designers who, despite their young age, have already built an original and rich portfolio in four years of practice. Their projects have a personal strong language, not only from an aesthetic point of view but also from a critical one. The collections, some more decorative and others more material, harmoniously narrate the collaboration between Imma and Tommaso. Their critical spirit and their passions are united by continuous research, which helps them to develop products that speak for themselves.
This year we'll have the chance to see Tipstudio attending several events: in April, together with the Nèo Design Italiano, the duo will be part of the 5Vie Digital Exhibition in Milan. In August they will be between Puglia and Basilicata for an artistic residency where they will experiment with local techniques and materials. The following month, in September, in addition to Alcova's event in Milan, they will present two new collections in stone and wood, designed for an exhibition to be held in Rome.
Meanwhile, if you want to know more about the studio or discover their projects, you can visit their website or their Instagram. Cover and photos by Nicolò Panzeri
c