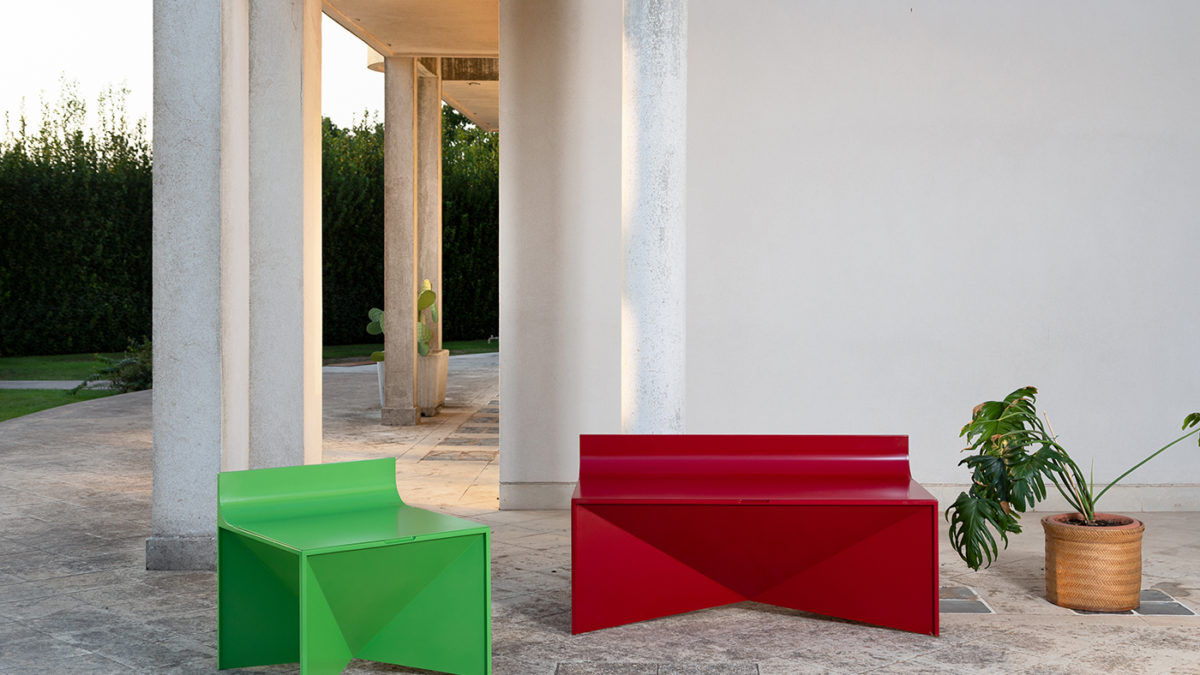 TRAMOGGIA, Giuseppe Arezzi
Giuseppe Arezzi (Ragusa, 1993) is the founder of the homonymous Design Studio that deals with product and interior design, and is based between Milan and Ragusa – previously on WeVux.
Together with the Parisian gallery It's Great Design, a project by Margherita Ratti, they present Tramoggia, a contemporary reinterpretation of the Italian traditional Cassapanca (chest).
In painted steel and available in two different versions, the product stems from Giuseppe's interest in multi-functional and hybrid furniture. The aim is to create useful furniture for our changing contemporary domestic spaces, becoming more and more temporary and "nomadic".
Cassapanca is one of the oldest pieces of furniture: it was used since the Middle Ages, when it was often the only piece in the house, and had various functions depending on its size: container for valuables, travel suitcase, table, chair, or if long enough, a guest bed.
"This piece was initially structured in wooden boards, panels and a flat lid, so to be opened thanks to metal pins. The chest can be defined as the ancestor of all "chest furniture".
Tramoggia proposes, from one side, a new kind of aesthetic, revisited in a contemporary way, far from its old appearance (related to a vernacular culture). From the other, it remains the same in its functional and spacious purposes. This new version is realized with a 1.5 mm thick steel sheet which makes the archetype of the cassapanca more contemporary and light – thanks to its thin sections and a slight detachment from the ground. The design is developed around the pyramid shape, then ended into a solid form and presented in fresh colors, available in single or double seat, perfect for being placed both in indoor or outdoor spaces.
Tramoggia anticipates the further exploration of the designer among traditional pieces and their reinterpretation through contemporary materials and means of production. Giuseppe does not limit himself to revisiting an archetype in a modern key, for materials and production, but lays the foundations for further explorations that can satisfy a different market, a different target and another production methodology, therefore different costs and investments. An interesting experiment, we can't wait to see the results!
giuseppearezzi.com / IG @giuseppearezzi
greatdesign.fr / IG @so_great_so_design
Ph. Credit: Melissa Carnemolla
c
Do you want to see your project featured on WeVux?
Feel free to send us an email at [email protected] to know more, or visit our website and click on "Send your project" at the bottom of the home page.