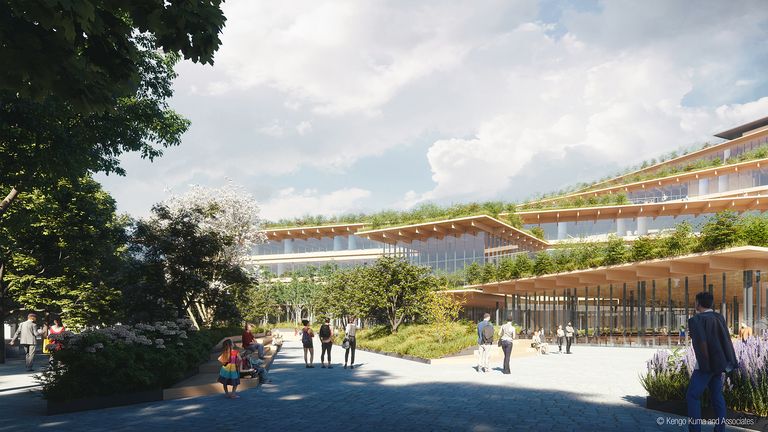 WELCOME, FEELING AT WORK. Kengo Kuma, Milan
The new project by Kengo Kuma and Associates in Milan is called Welcome, feeling at work and will overlook the Lambro Park, in the former Rizzoli industrial area, along the M2 subway line. Despite its size, it will be an example of human-scale architecture: zero CO2 emissions, careful to control consumption, with a water recovery system and the integration of greenery and endemic species. The work was commissioned by the independent platform Europa Risorse and financed by a fund managed by PineBridge Benson Elliot. The project will aim to combine the well-being of the person and respect for the environment with the workspace.
Welcome will feature horizontality and will spread over an area of ​​approximately 50,000 square meters, with six layered bodies overlooking the park. Inside there will be offices, auditoriums, co-working spaces, halls for business meetings, but also restaurants and lounges, shops, a wellness area, places for temporary events and exhibitions. The green project will be the binding element: from open-air courtyards for informal work to terraces for vegetable gardens, flower gardens, and walkways, from artificial hills to greenhouses with work, and leisure functions. As Yuki Ikeguchi, partner of Kengo Kuma and Associates explains – "Welcome offers a working environment model that promotes corporate innovation in favor of sustainability".
Steel and wood will be the main structural elements. Speaking of energy and consumption, on the other hand, Welcome will be equipped with an energy generation system for heating and cooling and photovoltaic panels. The project already has some certifications, including Well Platinum for people's health and well-being, Leed Platinum for energy efficiency, compliance with anti COVID19 guidelines (Ashrae, Rheva, Aicarr and ISS Report). We just have to wait until 2024, the year by which the project should be completed.
Renderings © Kengo Kuma and Associates
C