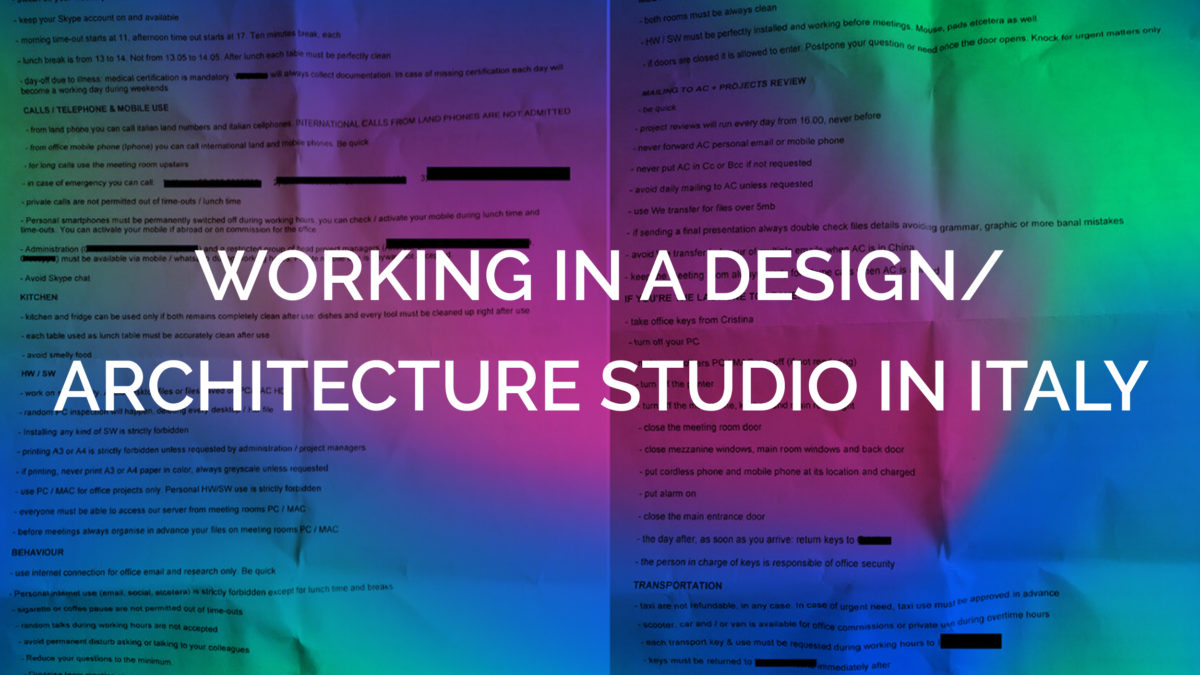 WORKING IN A DESIGN/ARCHITECTURE STUDIO IN ITALY
On July 3, a post with some rules for the staff of a famous architecture firm appeared on Instagram. You can find the name on @Riordine_degli_architetti, so we won't mention it. We decided to write this article because, among many architecture and design firms, the one mentioned is not one of the worst in terms of conditions, we can guarantee it by straight-knowledge. As always we will not mention any names, but we will try to analyze the root of the problem, especially in Italy. It's not about the rules to follow in a particular place, but about the conditions that we may find in a studio that operates in the design/architecture sector.
Without going into details, working in a design/architecture studio can be stressful: excessive workload, low wage, just like many other jobs in Italy. The problem is that studios favor the use of freelance designers rather than employees. A cost-effective decision for them. At the same time, the freelance should have more rights, however, this doesn't happen: the work rhythms don't allow this kind of flexibility. Therefore, we find ourselves working as a freelancer, with its negative sides (e.g. taxes, unpaid vacation, retirement?, …), but working also as an employee, without the advantages that this role brings (the thirteenth-month salary, paid vacation, retirement fund… ).
Perhaps this is where the problem lies. As we said, it's not about the rules, every office has its own, and sometimes they are old and obsolete. The problem is the conditions we have to face. Let us give you some examples: real stories and testimonies, even a little crazy, collected over the years throughout Italy.
Job advertisements. In this case, with quick online research, you can see how many times 3/5 years experience is required for an internship, most of the time unpaid. You will also notice how very often the company associates an infinite number of tasks unrelated to that role, we have not yet understood whether it is to save money or to the inability of the recruiters to keep up.
Salary. Between promised and unseen payments, projects worth thousands of euros, paid for a few hundred, here we would have to write a book. Perhaps the most ridiculous thing is that in order to offer something, there are those who are so desperate as to offer hundreds of euros… in meal vouchers. Maybe they have too many expiring.
Job interviews. Sometimes it happens to do job interviews for a specific role and the following day to work in another. From the simple intern who takes care of photocopies and phone calls to real "scam wizards" who, after a personal job interview, divide the employees into men and women. The women stay in the office, close to the boss, and the men outside to set up, regardless of their studies and experiences. (True story)
Skills. The figure of the designer is relatively young so very often we find ourselves working for architects in the graphic/product/design sector. If on the one hand Italian Design was created by some of these, who have become its Masters, it doesn't mean that everyone has the skills to work as a designer. The strangest thing is that many of them continue to design as if we were in the 70s and 80s and few have the desire to learn and update their practices through the eyes of their younger "employees" (freelancers). A lack that many studios are paying a high price.
The design/architecture sector is a bit saturated, but the conditions are the same as in others. We have examples like the ones mentioned above but also positive conditions such as super flexible hours, adequate wages, competent people who want to share their knowledge and work with a real collaborative approach. The main problem is that the sector is suffering a crisis and there are few projects for too many professionals – and what's more, they are always entrusted to the same well-known names, especially in Italy. There is a need for renewal and a more meritocratic system, which we Italians lack.
As for the working conditions, there are problems and criticalities but the harder it is, the more it will bear fruit over time. The wrong aspect is the psychological pressure that an "employee" can suffer: many responsibilities and low wages, and throughout Italy, there is a condition of widespread precariousness that began in 2011 and resumed with the present crisis. If you are looking for a job in design/architecture we can give advice: avoid being a number in a large studio. Look for a young, small studio that deals with many aspects of the project and if you don't get paid, at least you will learn something and gain a lot more experience in a short time. Like many other issues, working conditions do not depend only on the owners of the studios, but on the rules and regulations that our country imposes.
c