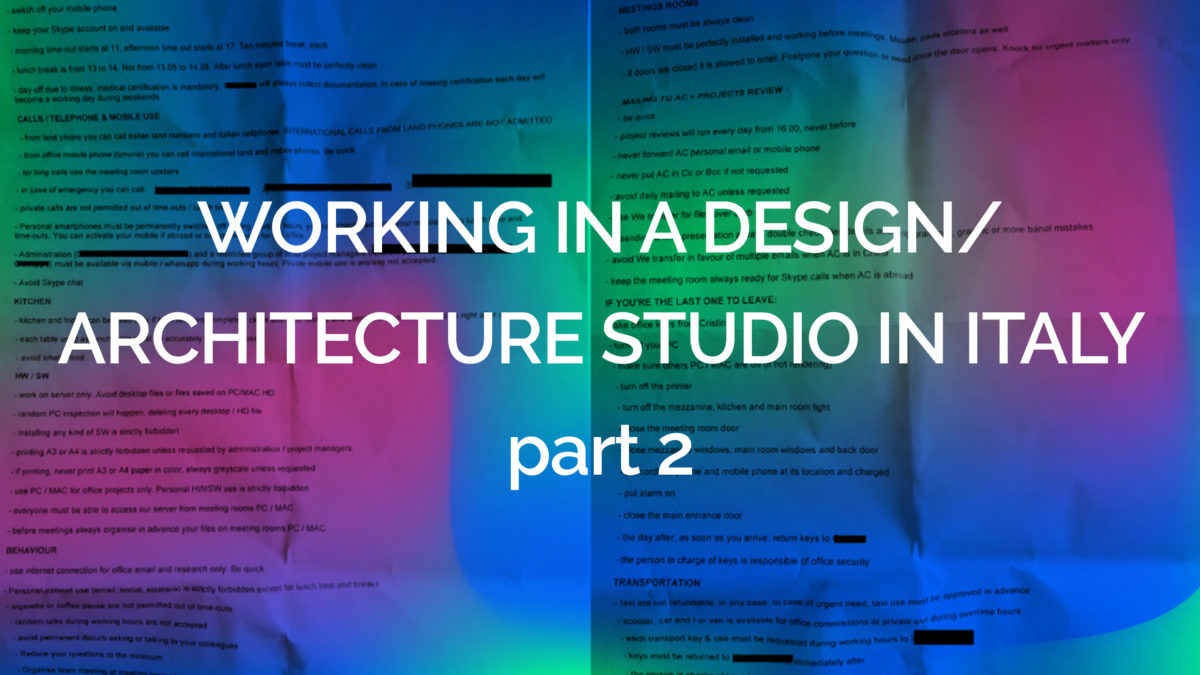 WORKING IN A DESIGN/ARCHITECTURE STUDIO, ITALY pt.2
We have already talked about this subject in another article, but unfortunately, there's more bad news, such as the case of the Milanese studio Piuarch. After closing 2020 with 833 thousand euros of cash at the end of the year, the so-called "difficult moment" saw the 4 owners of the firm distribute a dividend of 160 thousand euros among themselves. Decision that was taken on the 7th September 2020. Despite having tripled their profits, the following year they asked their external collaborators to apply for the € 600 government subsidies for freelancers and give the money to the studio. The reply was even more disconcerting. Chiara Gibertini, Business Development Manager of Piuarch, and Gianni Mollo, Project Leader Engineer, said they were "surprised by the controversy that arose with the publication of that meeting" because "we are proud to be still here, all together, with all our collaborators" despite the "difficult period" in which "all projects were on stand-by". Adding that to those who stopped collaborating with Piuarch "those 600 euros have been returned". (source)
The problem is not so much the sum, as the request itself: when you have profits like those aforementioned and you continue to have external freelance collaborators – because they are economically more advantageous than the employees – you can't ask them for money. It's not ethically correct. As already mentioned in this article, this is just one of the things that can happen in a studio (in Italy). There is the need to report these situations and be better protected.
Fortunately, with the era of social media, we have haters and those who make "criticism" in their own way, from @riodine_degli_architetti page to #deforestami hashtag, but this must not be enough. On one hand, there's the need for a Professional Order for designers (Architecture and Engineer have one). On the other, everyone needs to learn his/her rights and duties (we invite you to read articles on the difference between self-employment – VAT / freelance – and dependent work). As with many other issues, working conditions do not depend only on the studio holders, but on the norms and rules that our country imposes and on the awareness that one has of his/her own work.
Taking concrete realities as an example, such as Artworkers Italia, and with the help of institutions involved in the topic, ADI (Association for Industrial Design) to name one, the time has come to reform the rules that regulate design labor, in order to create an ethical and dignified working relationship.
We wonder what Enzo Mari would have thought today.
c