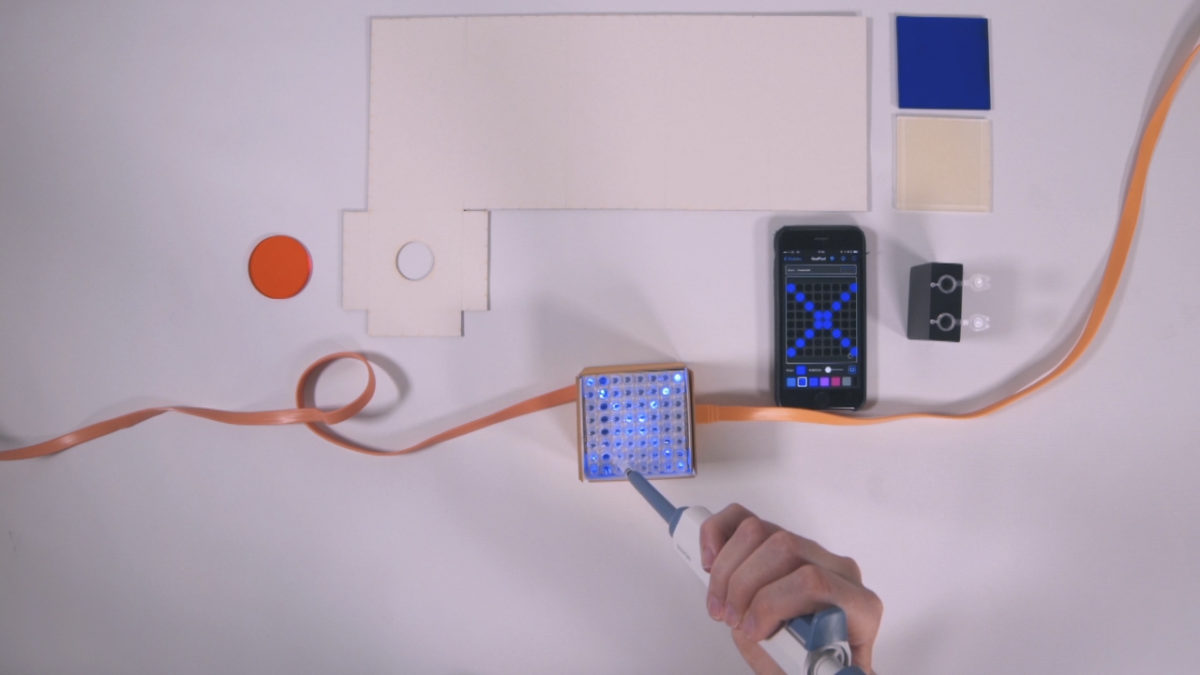 Bixels is a project that meets at the junction between coding, design and biology, its name is inspired by the words "biological pixel", and it is used to play, create, explore and learn. Its 8×8 bio-pixel display allows you to visualize fluorescent pixels programmed using DNA. For example, through a DNA circuit you can produce green fluorescent protein (GFP), the same material that give jellyfish their colour, and have fun with it! With Bixels you can even run your own biological experiments. It follows a STEAM education approach: combining electronics, coding, biology and creativity. It lets you design and test your own bio-display idea while showing you the diversity of pigments and fluorescents you can design with.
The project started with a biodesign challenge with Genspace NYC at the Royal College of Art, in April 2017. The purpose was to create a curriculum which makes biology more accessible. The first tests were just made of an old transilluminator – sponsored by the Plant Science Department in Cambridge – some lasercut, and 3D printed parts. This encouraged the team to make Bixels into a truly accessible and affordable way to become a bio-hacker and start the learning journey!
Bixels is an easy to use plate reader and transilluminator for running fluorescent assays. It is built with cell-free technology that pulls the molecular machinery (or transcriptional/translation TXTL machinery) outside of a cell meaning there is no regulation or restrictions to use outside a lab. The project team is composed by specialists in design, biochemistry, computer science, robotics and physics with the goal of using biology to create products for consumers, designers and creatives.
The project will be on Kickstarter until the 18th of January, what are you waiting for!? Help Cell-Free Technology and buy a Bixels Kit, the perfect tool for DIY Biohackers, university labs, science/community labs!
All Rights Reserved to Cell Free Technology
Please seek permission before using