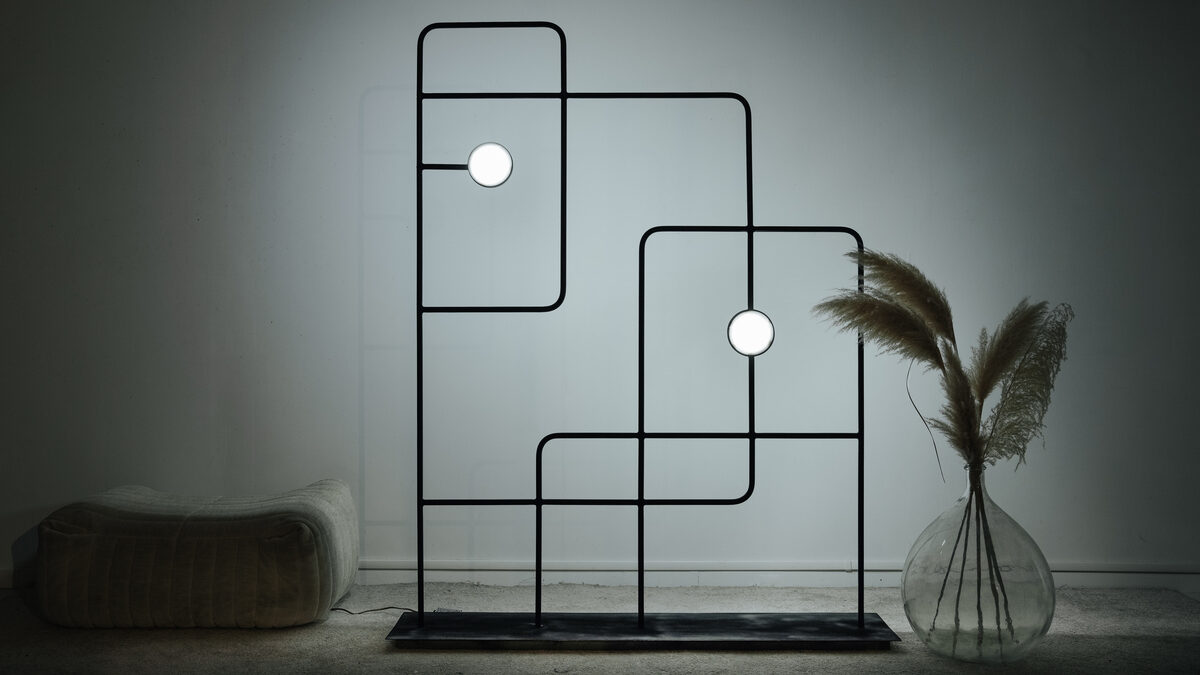 DESIGN that reconnects us with the world, interview with Malacou Lefebvre
We met Malacou Lefebvre, designer and founder of Atelier Malak, at the last edition of Edit Napoli. Today we meet him on a tour of the industrial space where he has been setting up his atelier for the past two years – inside a former textile factory in Lyon – to understand what lies behind his essential yet mysterious furnishings and delve into an idea of design that focuses on the body and its contact with matter.
c
Before you started your design career you worked in finance. What brought you to your current job?
I started producing objects for myself, researching the emotions I felt as a child, when I was free to create anything. I was very creative as a child, I was passionate about plastic arts. Four years ago, after spending five years in finance, I rediscovered the pleasure of designing independently and set up a small workshop in my parents' garage. I was working all the time, day and night. Eventually I thought to myself: I like this work, I have to keep doing it. I started with metal because it allows me to go fast: I studied and learned on my own how to work with it. At the same time I had to find my own way, my own aesthetic path.
c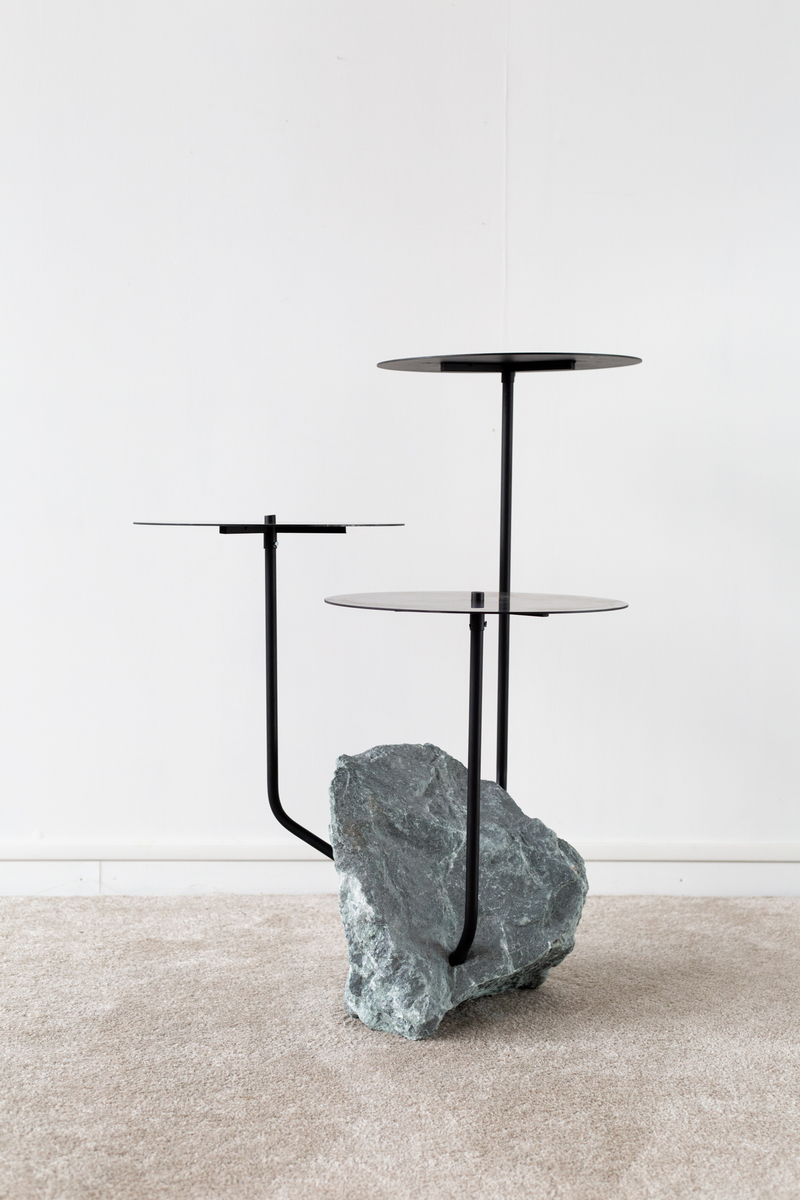 c
What are your favorite materials?
Besides steel, I like to work with wood or leather. But what I'd really like to explore – actually, I already have, but in a minor way – is rocks.
Why?
There is something very powerful about it, given that rocks remain as I found them in their place of origin, in the Alps. I drill them and put steel components in them, contrasting their solidity with very light elements. Rocks are also interesting in physical terms: they are very heavy and make it possible to create very tall lamps. I made a three-meter one for the mayor of my city, who now keeps it in his office.
c
His element, however, remains metal, and the instinctive, simple and sculptural way in which Lefebvre handles it is among the most recognizable stylistic features of his work. It is precisely on the use of steel – which is in abundant supply in the atelier – that the designer is basing his latest collection on, due in February. It will be called Entr'Act – in Italian, Intermezzo – and it already includes about ten pieces, all different but based on the same principle: they were designed and made (handmade, of course, because Malak does not want any filters or middlemen) in an hour each.
In a preview, he shows us the first furnishings of the collection: a seat with armrests and backrest, fantastic in its polished steel body before painting; a small coffee-table -"That you can put anywhere"- also made of steel, painted yellow and blue; a floor lamp, whose body is an interweaving of cold-bent metal tubes, a technique often used by the designer. Finally, a three-tiered sculptural piece of furniture, a freestanding structure in blue, which could fit anywhere and on which anything could be placed.
"This is a more fun, disengaged and accessible collection than the previous ones."
c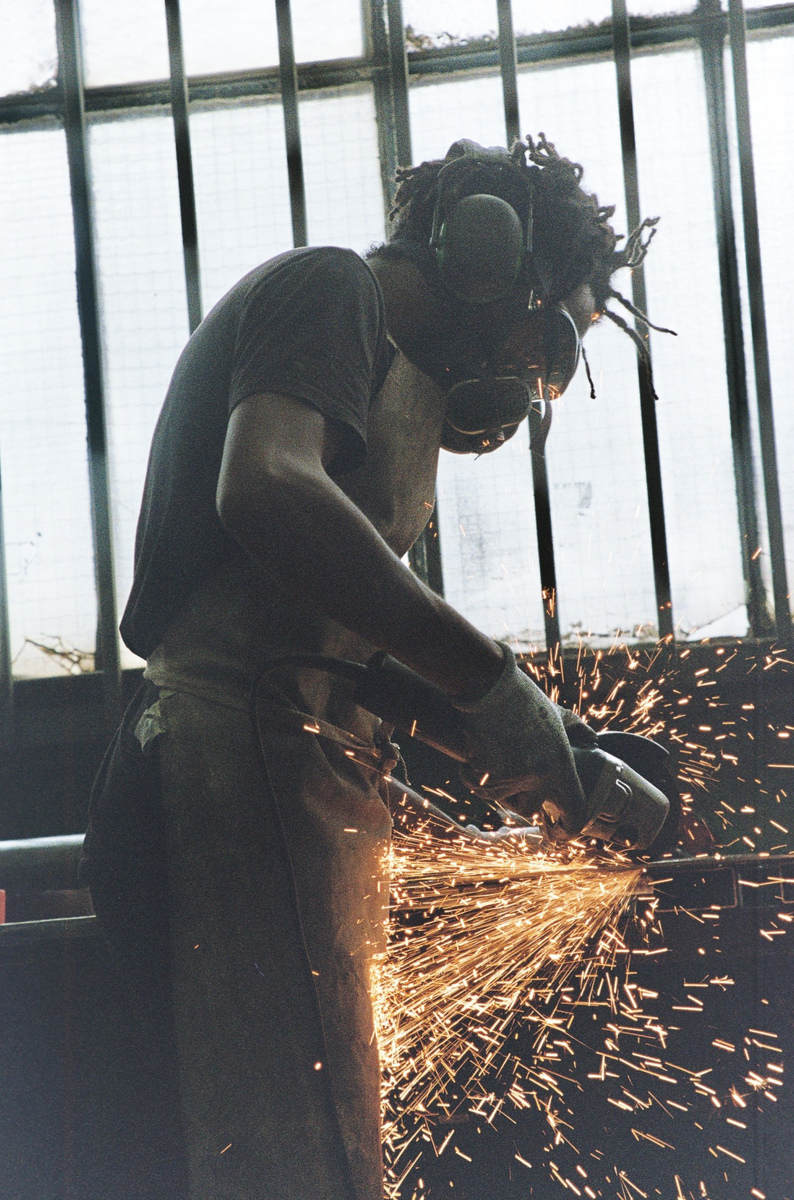 c
Why more accessible?
More accessible in terms of price, and simpler in terms of form. It's uncomplicated furniture that you can put anywhere, you don't need to have a big or special house.
Easy furniture.
Yes, and for everyone. I make expensive furniture that many people can't afford, so I wanted to do something different this time.
When is a piece of furniture expensive, in your opinion?
It used to be that our parents were comfortable with investing a lot of money in furniture, but this would last for twenty or thirty years and then be left to their children. Today we have become accustomed to 'fast furniture,' to moving often from one house to another, and the industry has transformed accordingly. I think we should go a little "back" and cherish our furniture longer. Then the price won't seem too high: I "divide" the price by the time I own the item. We can buy a piece of Ikea furniture for 200 euros and throw it away after two years, or invest 800 for something that lasts twenty.
It is when you spend a lot of time with objects that you develop an attachment.
That's right. You get attached to objects and develop a deep bond when you keep them over time. I think time is very important in relationships. And it's exactly the same with objects.
c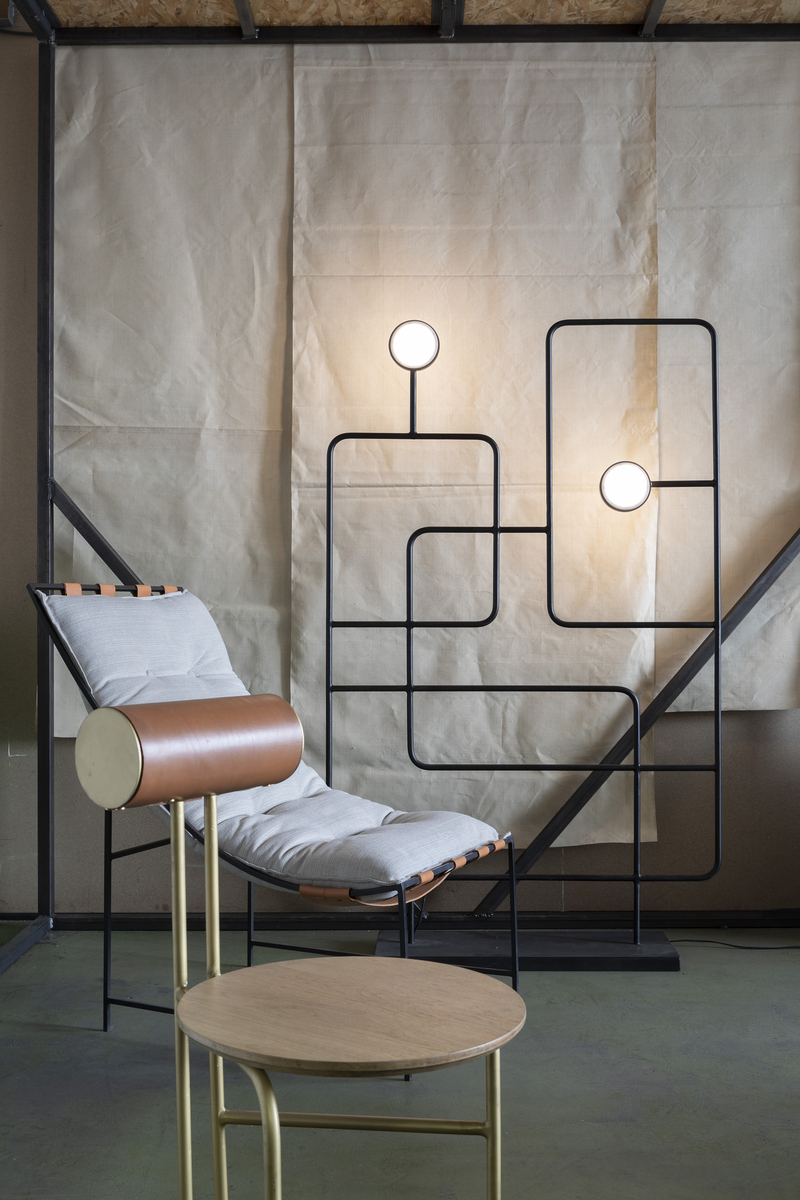 c
What was the first object you designed?
(He shows us the first prototype of the Eclipse lamp – cover image – which has been exhibited before but not yet on his website because – he says – he would like to feature it into a more structured collection.)
It is inspired by the work of Italian philosopher and botanist Emanuele Coccia, according to whom everything is interpenetrated. According to Coccia, one also lives in the world of others.  The idea of Eclipse is that of paths that intersect and by meeting produce light.
Let's talk a little bit about your creative process. How do you transition from idea to product?
I do a lot of sketching. But I don't use computers or other algorithmic stuff because in the end it's a binary process, by which you always get 1 or 0. Although you can do a lot of things with it, to create it's not good, it's too normative a method. So I do a lot of sketching, everywhere. On the floor, on the walls, I'll show you now.
Your studio is becoming a sketchbook.
That's right (he says, framing a wall where, just above his chaise longe Oisif No.3, you can see the outlines of some chairs drawn in black chalk). When I have interns and I ask them to design, for example, a table, they directly use the computer. Then I give them a craie – a chalk – and they start drawing on the floor. I believe that to make furniture you have to put your body into it. If you are behind the computer, your body is not there. And if you want to feel good about spaces, proportions, etc., you have to put your body there first. I don't finish the sketches, they are 60-70% complete, because right after that I use the raw material. I start grounding it, trying to feel the textures and volumes, the lines.
c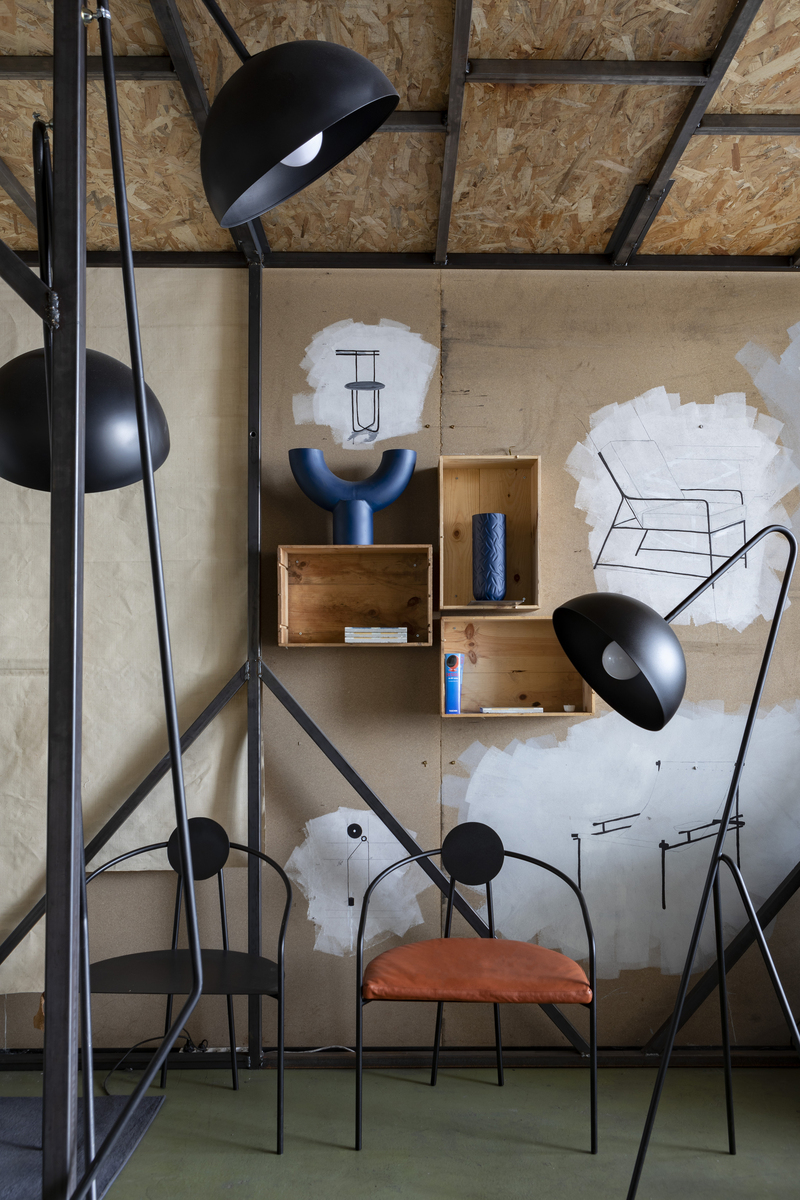 c
How should design evolve today in your opinion?
When you put your body first you use a part of who you are. Today we have lost touch with physicality also because of the culture we live in, which is very much influenced by religions that see the body as the home of the most negative, low and dirty things in human beings. We have lost the ability to perceive, look and listen. Design can evolve in a positive way by making connections with what is outside ourselves, recovering a physical sensibility. For me, ecological problems stem from this separation between our bodies and the world around us.
What are your references in the design world?
Louise Bourgeois. I like her creative process, everything is very interesting and powerful. And there is something zoomorphic in everything, which is an inspiration for what I do. In Kafka, there is always an ambiguous mix of animal and human – a powerful anticipation of something very contemporary. Much of my design has these zoomorphic features that I think embody a generational feeling.
c
Through details, silhouettes or games of perception, Atelier Malak's furnishings gently evoke the animal world, starting with Exopode, the series of chairs inspired by the exoskeleton of arachnids, or the Cyclopedus lamps, which seem to turn their long steel necks to look at you through the plunging lampshade. The forms that Malak sculpts are the expression of a truly contemporary thought – and design – borne out of the need to blend, to break down categories and boundaries between inside and outside, between what is human and what is not, all sublimated into simple objects for everyday use.
c
What is your greatest achievement as a designer?
Two years after I started my business I met my first gallery owner, in Paris. I still didn't know what I was doing, I was just exploring. One day, she told me, 'Don't worry. We know it when it's Atelier Malak." And I said, What do you know? I was designing instinctively, without a common thread between one product and another. But to hear me say, "We know it," was very powerful.
He recognized your signature.
Yes, when I didn't know I had it yet.
c