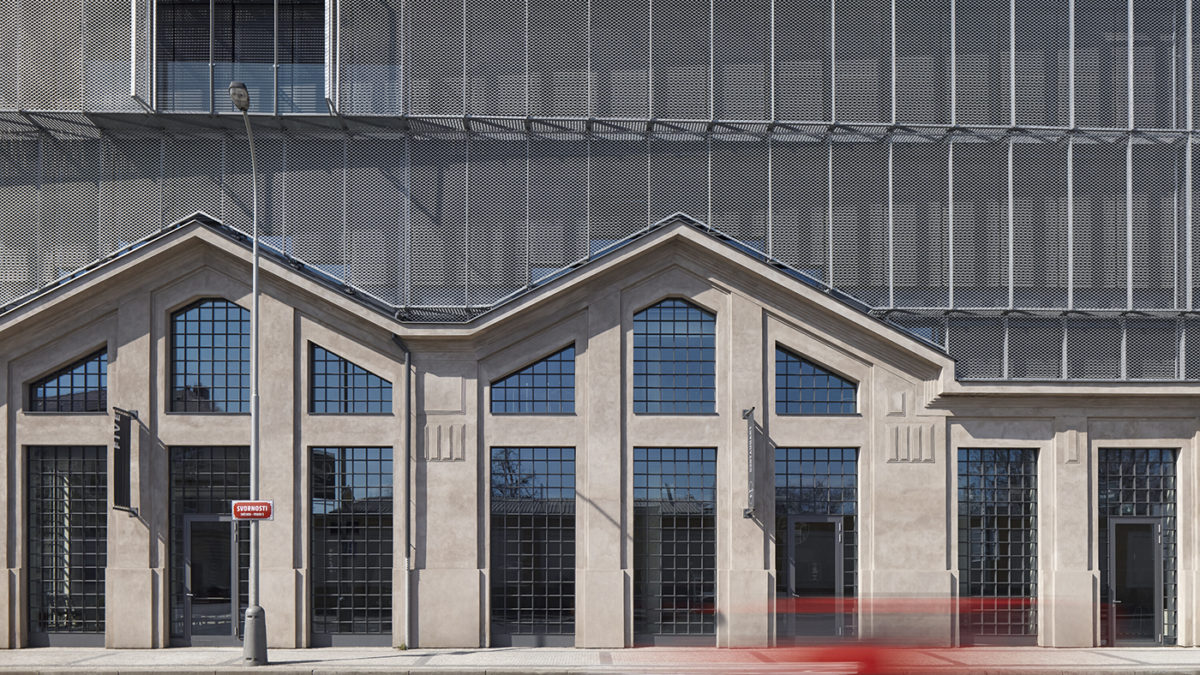 "History meets future" declares the fitting motto chosen for the project Five by Qarta Architecktura, previously on WeVux. Located in Prague 5 – Smíchov, a tram depot building occupied the project site, and it still looked almost exactly like when it was closed, years later when current renovations began…

FIVE relates directly to the site boundary. Its line is confirmed and underlined when the building reaches the line of the old block, or it's softened when the building steps back, easing off street fronts or corners. A top-floor setback reduces the perceived height, finding a balance and a new dynamic in the wider context. The program has two parts that both fit the locality and the demanding environment. Ground-floor shopping was finally introduced to the area, together with offices, which were unavoidable due to the heavy traffic on Svornosti street.

The original structure was not entirely replaced. Its architecturally valuable parts were incorporated and implemented in the new building. Both street fronts of the depot were kept in their entirety and opened up to pedestrians. This way the relics don't obstruct the new use, instead they play a key role in the organism of the new building. The unique industrial design, featuring a double-skin façade of perforated metal, architectural concrete, or exposed conduits visible on the ceilings, embodies both the local genius loci and all the preserved historical elements.

Similar approach was taken when incorporating restored historical frontages with the new use of contemporary buildings in Karlín and on the Republic Square, with good results, and fully embraced by the public. That amply shows that a new quality can return to a place when all connecting links and the whole context is taken into account. New, architecturally sound design can continue the local tradition. The strong unifying concept helps to redeem a place that lost its self-esteem, and confirms its rightful place in the city's urbanism. The new building design and program ensure a revitalisation of the area and bring residents of Smíchov major new opportunities.

Besides design quality, the occupants also appreciate the top floor terrace offering panoramic views to the most significant Prague monuments including the Prague Castle, the National Theater and Vyšehrad. There are plenty of seating options and relax zones for those who want to bring their laptop and work in the fresh air.
Text: David Wittassek, Jiří Řezák, Pavel Fanta
Photography by BoysPlayNice
c
Do you want to see your project featured on WeVux?
Feel free to send us an email at [email protected] to know more, or visit our website and click on "Send your project" at the bottom of the home page