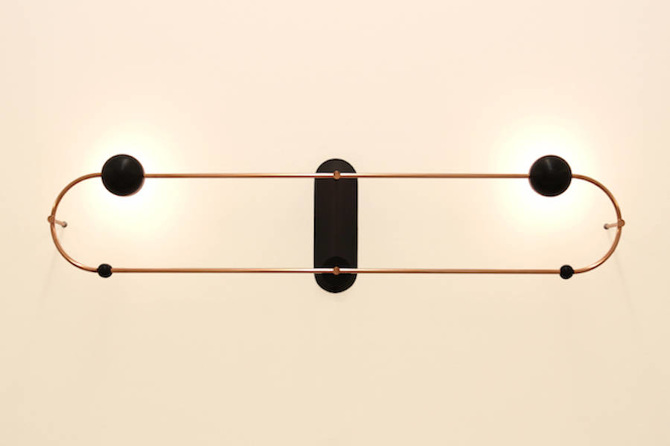 ODD MATTER is a Dutch design studio founded by Els Woldhek and Georgi Manassiev. After living and working for the last six years in London, where the two designers met during Design Products studies at the Royal College of Art, they have recently moved to Amsterdam. The studio works across a broad range of disciplines and tries to work with existing industries to create products, interiors, concepts or shop boards.
One of their latest products is the series of five sculptural lamps, entitled 'Node'. Inspired by the drawings of electrical diagrams, the lamp is designed to perfectly illustrate the process of opening and closing of an electrical circuit that generates light. Made of copper and acrylic resin (Jesmonite), these lights have arms that rotate, opening and closing the circuit. ODD MATTER explains on its website the reason for the choice of this particular design, "a lamp has an interesting transformation because it changes to offer something that is not initially there. It exists to provide light, but the light is not participating in the physicality of the object. This suggests that a lamp has a sculptural object when the light is not present and its function begins with its transformation towards the realization of the light. A lamp is therefore a medium between us and the light and the act on and off is essential as well as symbolic in relation to the object."

More projects on the website!
All Rights Reserved to ODD MATTER
(via osso mag)