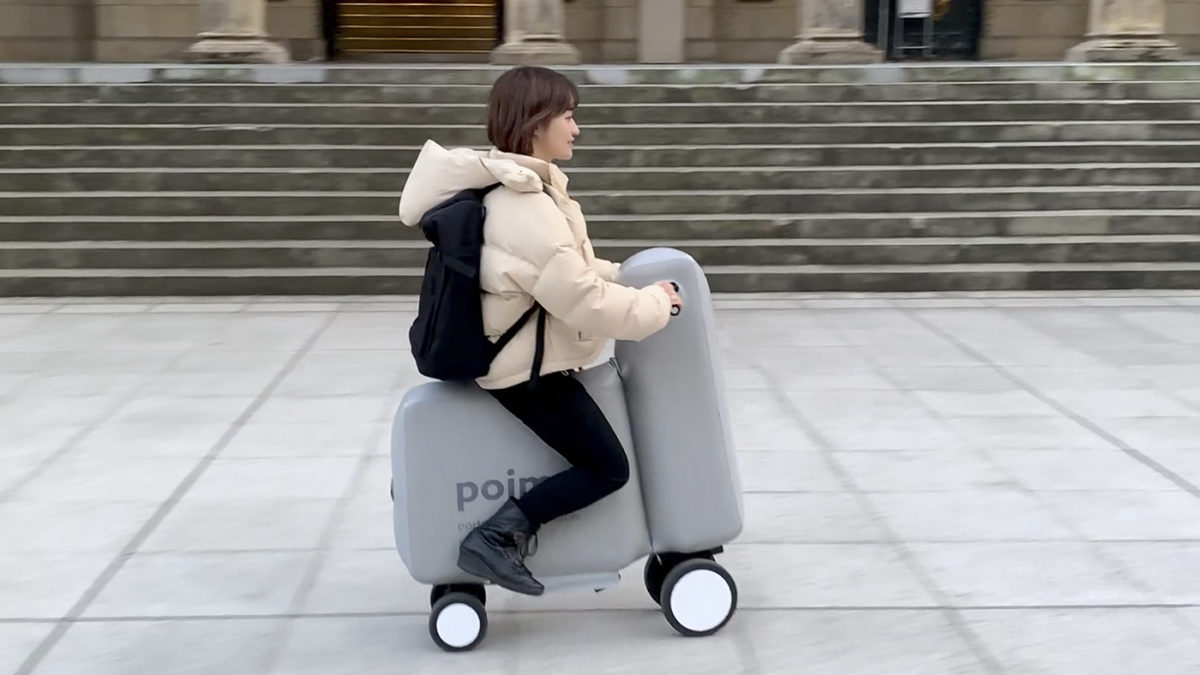 Poimo is an inflatable electric-scooter that riders can stash away inside their backpack. The "vehicle" comprises a body made from thermoplastic polyurethane (TPU) and detachable components including handles, wheels, a battery and motor. Its name, Poimo, stands for portable and inflatable mobility.
Designed for short trips around the city or last-mile journeys, the Poimo is light enough to be deflated, folded down and carried around in the user's bag, allowing them to get on and off anywhere they wish. The body of the scooter can be inflated within minutes using a small pump.
Researcher Ryosuke Yamamura from Mercari R4D developed the wireless scooter in collaboration with a group of students from the University of Tokyo – researchers Hiroki Sato, Young Ah Seong, Ryuma Niiyama and Yoshihiro Kawahara – and designer Hisato Ogata from Takram. Poimo was the result of developments in soft robotics technology and personal mobility – something the researchers call "soft mobility", designed to be soft, lightweight and inflatable.
While many other micro-mobility solutions such as electric bikes, scooters or skateboards are used for last-mile journeys from a train station or bus top to the user's final destination, these designs still encounter issues in regards to portability, safety, and price. This is down to their "rigid, heavy, and bulky properties", explained the Poimo designers. The rigid components of the scooter, which include two eight-inch front wheels, two six-inch rear wheels, a motor, a built-in wireless controller and a 70 by 110 millimetre-long battery, weigh around 5.5 kilograms in total.
The inflatable characteristic of the scooter also means it can be easily customised, say the researchers. As the body is made from "pasted together" fabrics, the user can make it into whatever shape they desire. While the scooter is currently just a prototype, Mercari R4D and the research team claim that the final product will be lighter and even more portable than at present.
Undoubtedly, this is an interesting solution that makes us rethink also the concept of mobility
c