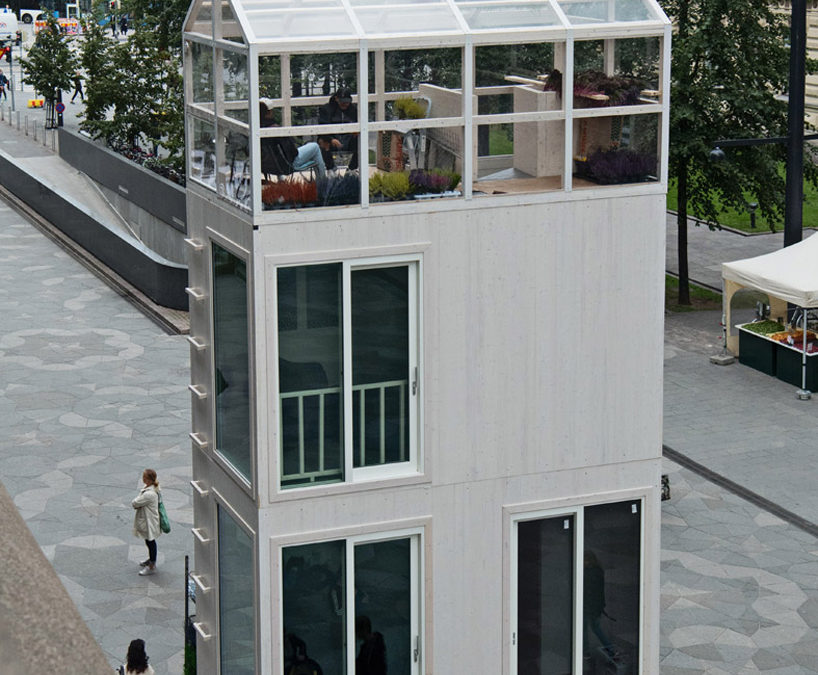 Led by architect Marco Casagrande, Casagrande Laboratory is a Finnish multidisciplinary architecture and innovation company that works in close cooperation with the Finnish CLT industry and environmental technology providers, universities and governmental institutions.
One of their project is TIKKU, a micro-apartment building with a foot-print of one car parking lot 2,5 x 5 meters. It is assembled out of CLT cross-laminated timber spatial modules and can be erected on site overnight at any car-city of the world. The project is a "safe-house for neo-archaic biourbanism, a contemporary cave for a modern urban nomad" and it will offer privacy, safety and comfort, all the other functions can be found in the surrounding city.
"TIKKU is a needle of urban acupuncture, conquering the no-man's land from the cars and tuning the city towards the organic. Many TIKKUS can grow side-by-side like mushrooms and they can fuse into larger organisms. Self-sufficient, it produces its own energy with solar panels and it has dry toilets. Fresh water is carried in. Showers, saunas, laundry machines and food is around. Modern man has to die a bit in order to be reborn."
CLT is 5 times lighter that reinforced concrete. With normal streets TIKKU does not require any foundation, it will just simply stand on the street. There is a sand-box in bottom balancing the building. 10 cm CLT is plenty for the structure and 20 cm CLT is sufficient even for cold winters. No added insulation is needed. The functions and combinations of the spatial modules are endless, For example: room, green-house, office, shop, kitchen, sauna, dojo, workshop, hotel-room, knitting etc.
All Rights Reserved to Casagrande Laboratory