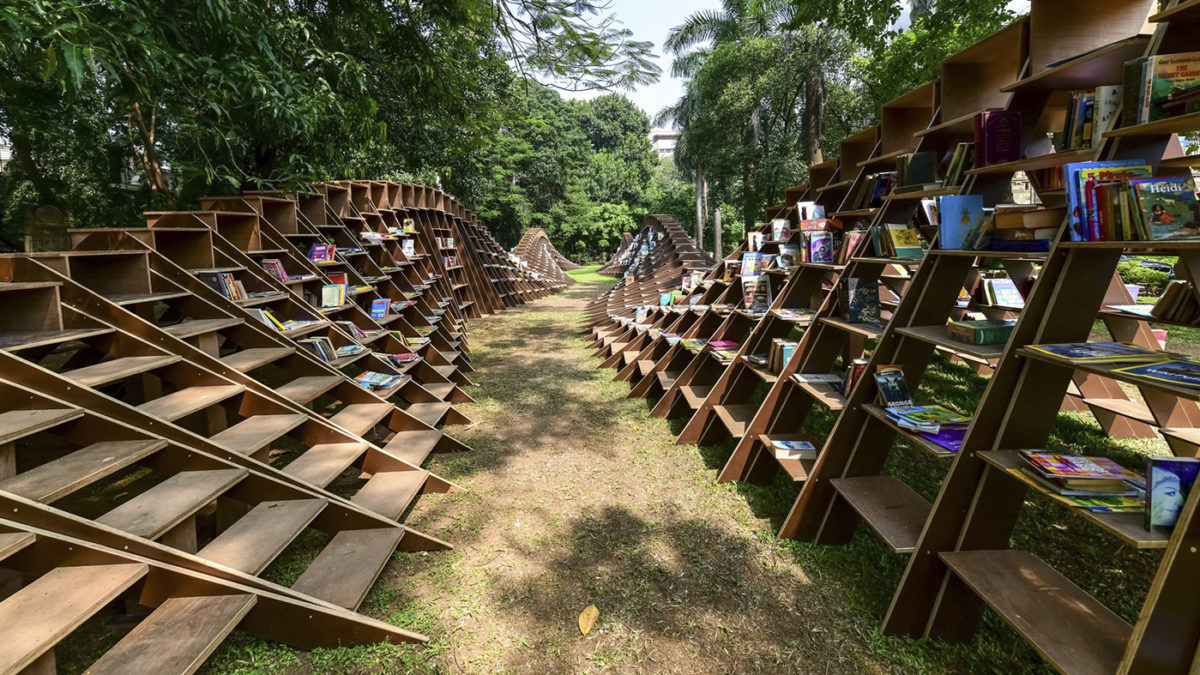 Founded by Nuru Karim, Nudes operates within the realm of cross-disciplinary cultures of art, architecture and computational design powered by digital "making" tools.
One of their latest project is the BookWorm pavilion, located in the gardens of the Chhatrapati Shivaji Maharaj Vastu Sangrahalaya (CSMVS) Museum in Mumbai.
The 35-metres-long pavilion winds its way through the museum gardens. It is made of two simple, modular structures based on wooden ladders that stretch outward to create undulating forms at either side of a central pathway. Built from around 3,600 wooden components, these ladders house both shelf and seating areas for storytelling sessions, offering unique views out across the museum gardens while providing space for approximately 12,000 books. Underneath, areas of shade are created by these bookshelves that enable the pavilion to be experienced from the "inside-out", creating more intimate and secluded reading spaces. The modular design, which was prefabricated before being constructed on-site in one week, was created to make the pavilion easy to demount and rebuild on different sites across India.
"We are hoping that the BookWorm travels across the country in both rural and urban areas, spreading the message of 'empowerment through education'" said the studio.
The pavilion was on display at the CSMVS Museum gardens until December 2019. Now all of the books will be donated to NGOs and children who would otherwise be unable to access reading material. The pavilion will source new books from its next location. The project was supported by the Priyarsi Art Gallery in Mumbai as well as the CSMVS Museum.
C
via dezeen