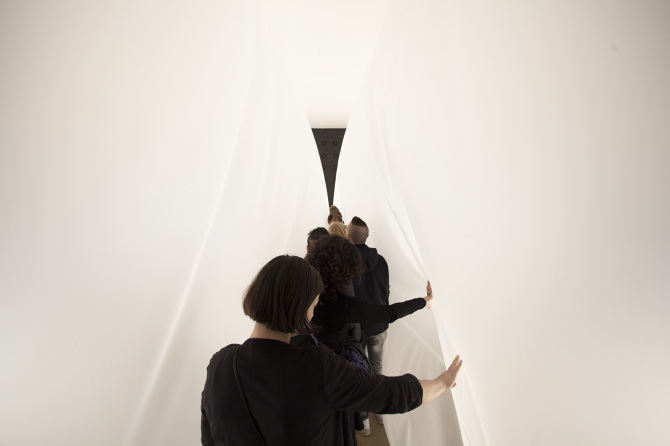 BREATHING VOLUME BY CANEVACCI AND BAROTTI
Breathing volume is a sound art project installed for "4 + 4 Days in Motion" in Prague, during last October.
With Breathing Volume, Marco Canevacci and Marco Barotti have developed a full immersive environment,  where the public has the perception of being inside a living organism.
The breathing white walls, constantly change their physical volume for approximately 5 minutes, thanks to four ventilators, that make the lungs breathe in the same way humans do, and sub-woofers to transform the pulsing bass frequencies into the soul of the organism.
Please, let us know your opinion!
See ya next saturday with music/sound design/visual art latest news!
Simone
Concept: Marco Canevacci, Marco Barotti
Set designer: Simone Serlenga
Team: Yena Young, Hugo Luque, Stephanie Grönnert
Thanks: Markéta Černá
Photos: Simone Serlenga