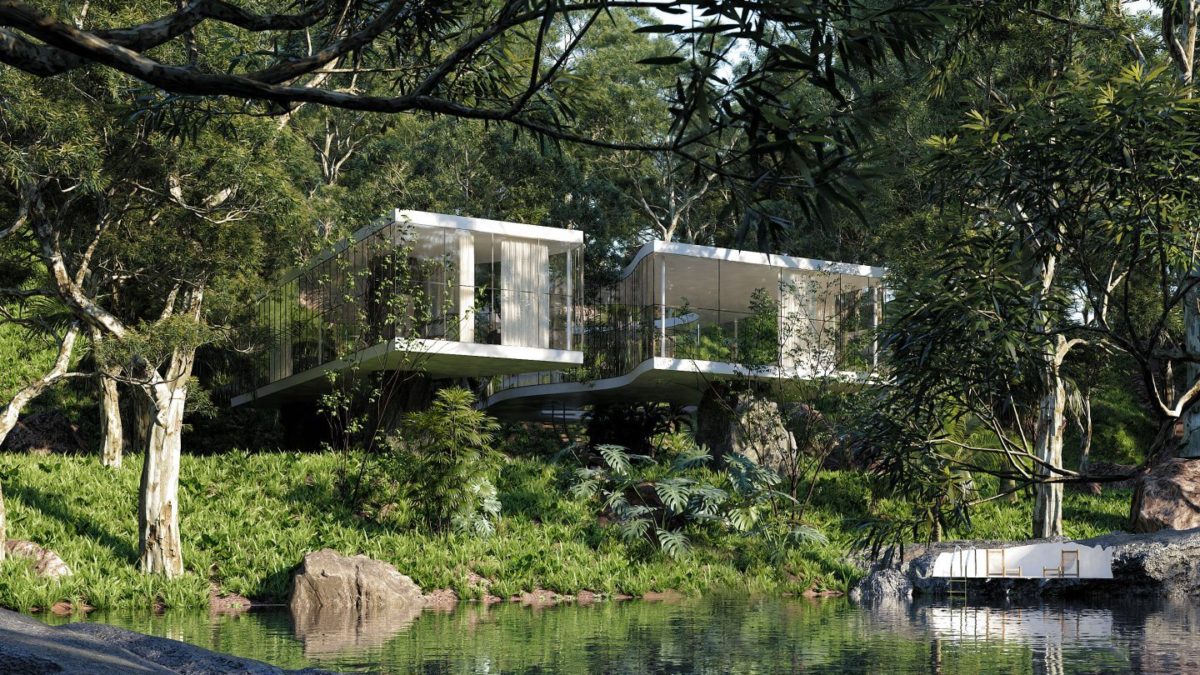 Casa Atibaia is a beautiful suspended modernist home, defined by gentle curves and fully enveloped by spectacular jungle views. Unfortunately it's only a rendering, designed by creatives Charlotte Taylor from Maison de Sable and Nicholas Préaud from NI.acki.
Located in the São Paulo forest and built on the banks of the Atibaia River, the residential project is a design experiment of the ideal modernist jungle home which embodies the feeling of living inside with the illusion of being outside. The design duo describes the project as a tribute to Brazilian modernism, directly inspired by 'Casa de Vidro', also known as 'Glass House', by architect Lina Bo Bardi. Following geometric modernist principles, the structure comprises a white concrete and glass volume, with ramps swirling around a central tree. The house is gently elevated by boulders jutting out from the terrain and acting as natural pilotis. Pre-existing rocks extend also into the interior, with spaces carved out of their forms.
Expansive glass windows and glazed walls soften the Brutalist nature of the structure's materials while an ample organic courtyard separating the private and communal quarters of the home bridges the gap between outside and inside. The project further adapts nature into its interior design with protruding boulders used as accent walls and furnishing elements—like bookcases or bed headboards. These coexist with a collection of antique pieces and contemporary additions from the likes of French designers Charlotte Perriand and Pierre Chapo.
Renders by © Charlotte Taylor and Nicholas Préaud
via ignant
C