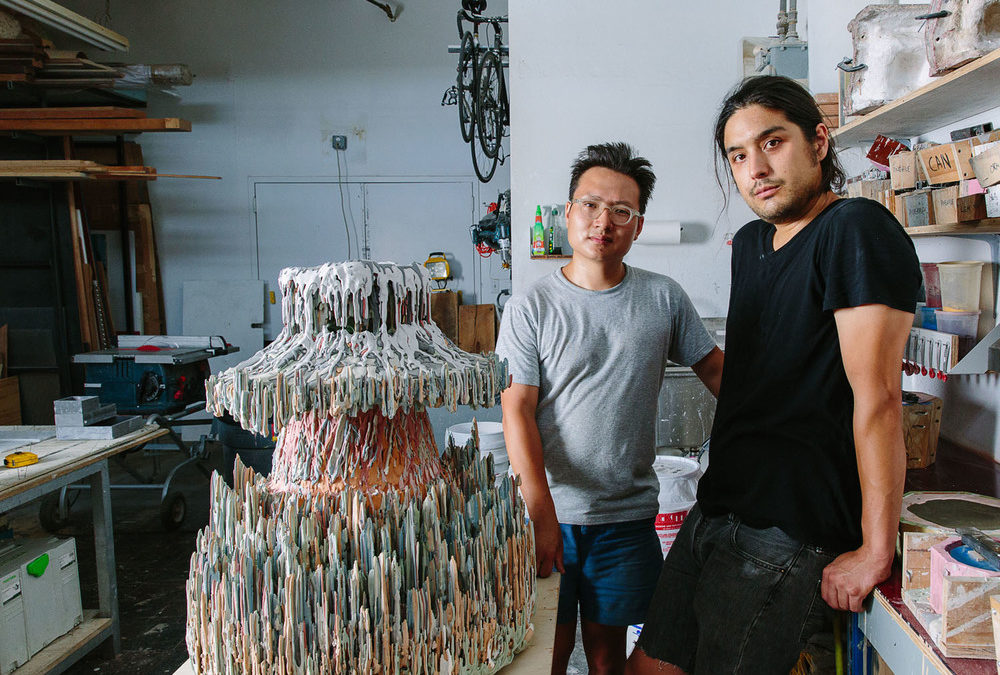 New York-based designers Chen Chen (Shanghai, 1985) and Kai Williams (New York, 1984) met in the early 2000's at Pratt Institute in New York. They have both the ability to design exploiting the unexpected part of a huge palette of materials. Since 2011 they've been working creating furniture, products, interiors and mixed materials in their Brooklyn studio.
Chen Chen emigrated from China when he was only six years old while Kai Williams grew up in New York City's Carnegie Hall. Williams had been working mostly with wood while Chen Chen was shooting fabric vases full of expanding foam and hanging the results at Moss. The duo loves to experiment with materials and their properties aiming to obtain a smart, eye-catching result. Their breakout project was a series of resin-coated studio scraps sliced into coasters that gradually evolved in rug and textile design. At a first glance, the objects that they produce can appear alien, extremely unusual and hard to understand. Recently they designed a trio of Mirror Masks based on emoji emotions. "We found it interesting that three abstract marks are instantly recognizable as a face…" says the duo. Masters of experimentation, their work moves beyond art and furniture with touches of delicacy and true daring.
See all of their products here!
All Rights reserved to Chen Chen & Kai Williams