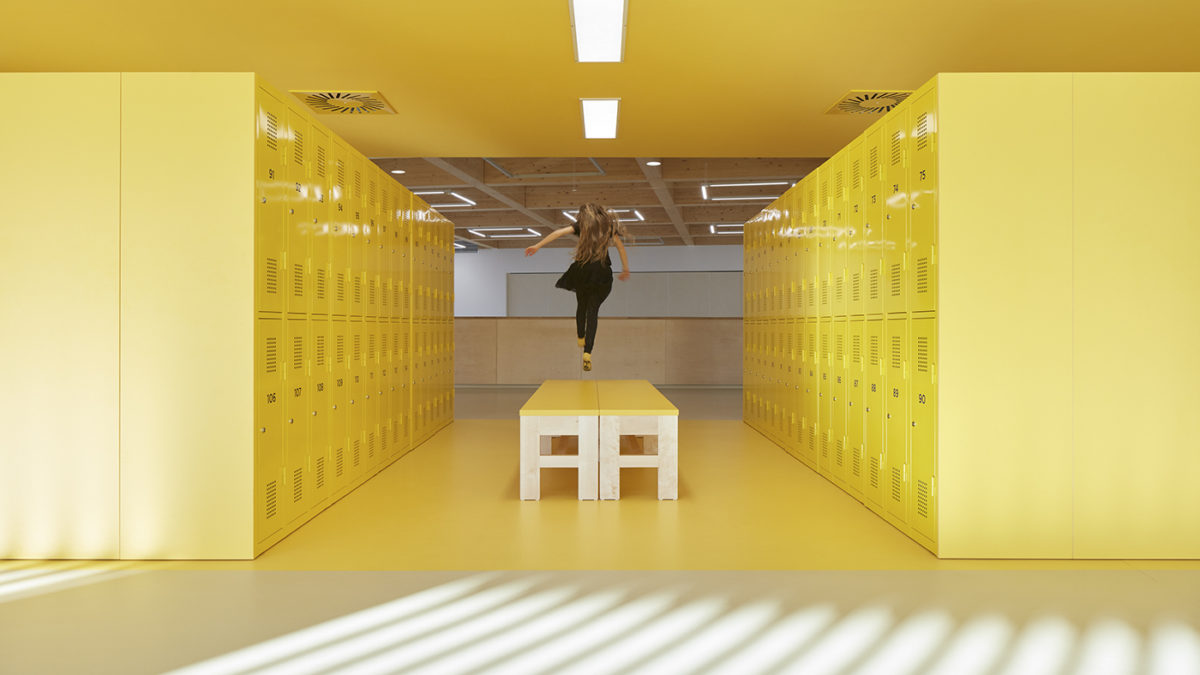 Prague-based studio SOA architekti was established in 2015 as a direct successor of RAP partners. The core of the studio consists of partners architects Ondřej Píhrt (1980), Štefan Šulek (1978) and Ondřej Laciga (1982). The original focus of the studio was interior design and residential projects, recently educational buildings and schools are coming to the foreground. An example is one of their latest project, the Elementary School Amos in Psáry, Czech Republic.
The new school campus creates within the municipality a place with its own identity. The community character of the building is visually supported by a public library situated in an exposed corner facing the village. The school is set in a mellow slope and the design works with different floor counts facing the entrance area on one side and the school grounds on the other one. The large building is divided into several structural volumes to adapt to the scale of the neighborhood at its most.   
The interior is designed as a "learning landscape", a light-flooded fluid space that creates naturally defined zones of different privacy levels according to the space use. The building is also used for after-school activities and as community center which is well reflected in the designed quality of common spaces both visual and functional.
Heart of the Amos school is the canteen situated in the central building. This double height multifunctional space continues into the entrance foyer and thanks to ingenious floor plan can be turned into auditorium for a stage placed in the adjacent small gymnasium behind large movable partition in the canteen wall. The outdoor terrace next to the canteen sheltered by a green land slope provides as part of the school grounds additional place for interaction and extends the teaching space of workshops on the ground floor at the same time.
Learning areas are situated in the adjacent white buildings organized in clusters around wide staircases. Each cluster consists of two or three classrooms and a central hall, has access to an outdoor space and its own colored identity. Thanks to visual connection of all spaces the cluster creates a naturally enclosed smaller unit within the large building allowing for multiple teaching concepts and variable use. The clusters can be easily adapted by the kids using walls with special magnetic and writable surface.
Woodwork present throughout the interior is very important for the ambience. Wood is used as structural material of the roof grid in the lobby and canteen, as wall cladding and for built-in furniture, window sills and facade cladding. Together with a playful graphical identity based on children's drawings the wooden elements give a warm and homelike feeling to the whole building.  
Visit
C