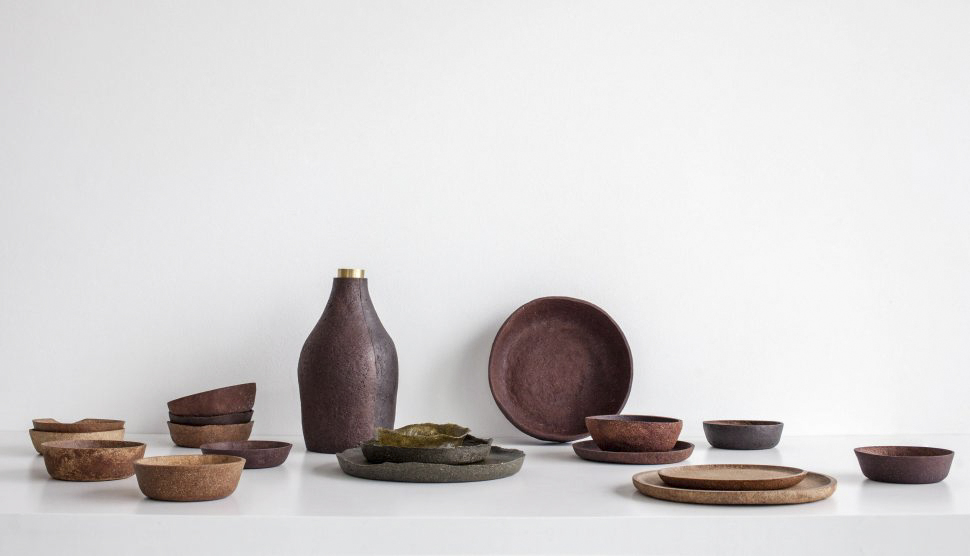 GIRIA – EVELINA KUDABAITÉ
Evelina Kudabaité is a product designer based in Vilnius, Lithuania. One of her ongoing project is Giria, which aim is to covey the sensations of the forest through material, to establish a connection between the user and the object.
GIRIA is a collection balanced between tactility, shape and color. This range of products is the result of an experimental process. The aim was to use materials which would become waste, such as tree barks and leaves, and transform them into sustainable designs through traditional crafts. It is a research on the alternative and unconventional ways to shape wood.
Collected from the sawmills, the bark scraps are dried, chopped, and mixed together with the powder of leaves from the forests. Then the mix is transformed into a paste and shaped by hand by Evelina herself. Dishes and bowls are coated with a non-toxic finish, have a shock resistance comparable to ceramics and are washable with a cloth, but not with a direct jet of water. Giria is not only a materic research project, it's also feeding a small circular economy that transforms forest waste into a new form of craftsmanship.
Materials: tree bark, leaves, natural binding substance
Photography: Justina Cha & Mantas Astrauskas
c