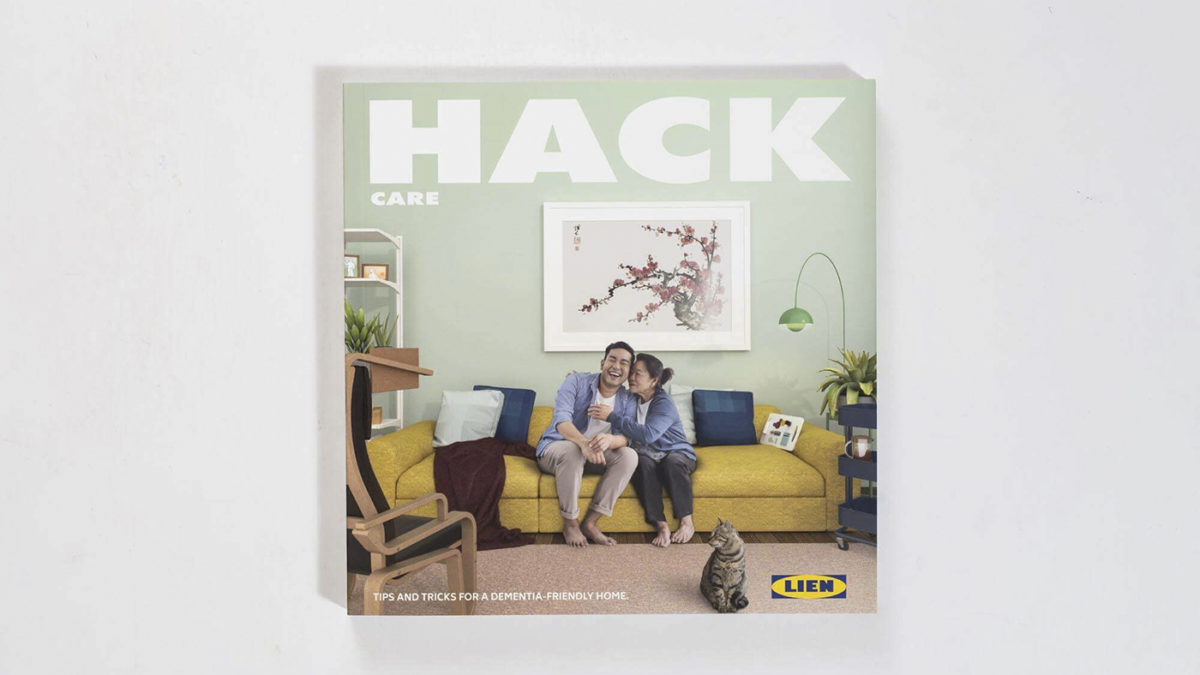 Caregiving can be tough and presents many challenges for carers and their loved ones as they adapt their lives to the changes that come with dementia. Being cared for in-home is considered the better option whenever possible. Hack Care seeks to make this a realistic option for more people, to inspire and empower caregivers improving the living environment and quality of life of dementia affected people.
The project is a collaborative effort: it was instigated by the Singaporean philanthropic organization, Lien Foundation, who brought on partners Lekker Architects and Lanzavecchia + Wai Design Studio.
Hack Care is a manifesto arranged around ten practical concepts. It is grounded in research and takes the form of the iconic IKEA catalogue. It goes through ideas like, 'Familiarity is comforting', 'Encourage decision making', and 'Do things together'.
The guide was three years in the making with a total of 240 pages. Lekker Architects' Ms. Ong Ker-Shing says that the idea was "to help non-designers think like designers, to think like hackers."
C
c
It shows how various 'micro-worlds', daily rituals, and activities can be hacked and lays out over 50 practical tips and tricks. Many are based on products from IKEA, but advice goes well beyond that. Stories and essays dive deeper and provide insight into the experiences of people with dementia, plus offer some personal perspectives on being a caregiver.
Simple instruction booklets have been created, including a guide for hacking the classic IKEA POÄNG armchair into a more upright and sturdy variation with a handy headrest for napping. The virtues of tactile sensations are discussed, and backed-up with instructions to make your own fidget board.
Hack Care very clearly declares its aesthetic as based upon the well recognized IKEA style. It takes this very seriously and has mimicked the style down to the smallest details. The logo is even hacked to "Lien", the name of the foundation. Just like an IKEA catalogue, it is packed full of photographic visuals, everything is labelled and prices are given.
Limited hard copies are being distributed free by Lien Foundation, and soft copies are available for download or can be browsed in digital version. The hardcopy of Hack Care comes boxed and labelled just as you would expect an IKEA product. Included are the hack instruction booklets, a fidget bag to be customized, plus some useful sticky notes to mark pages in the catalogue.
What emerges from Hack Care is that the arrangement of furniture, the use of color to highlight or obscure elements, placing items within easy reach or having furniture which is mobile, all make a difference and can improve wellbeing. The section of the catalogue devoted to room planning, 'The New Room', makes it clear that furniture arrangements need not be static over time. They can and should evolve as needs change.
This approach of Hack Care also recognizes that caregivers who know their loved one's specific needs are in the best position to make positive changes to the living environment, not only designers or architects.
Visit Hack Care to know more about the project and follow them on Instagram!
C
via designwanted