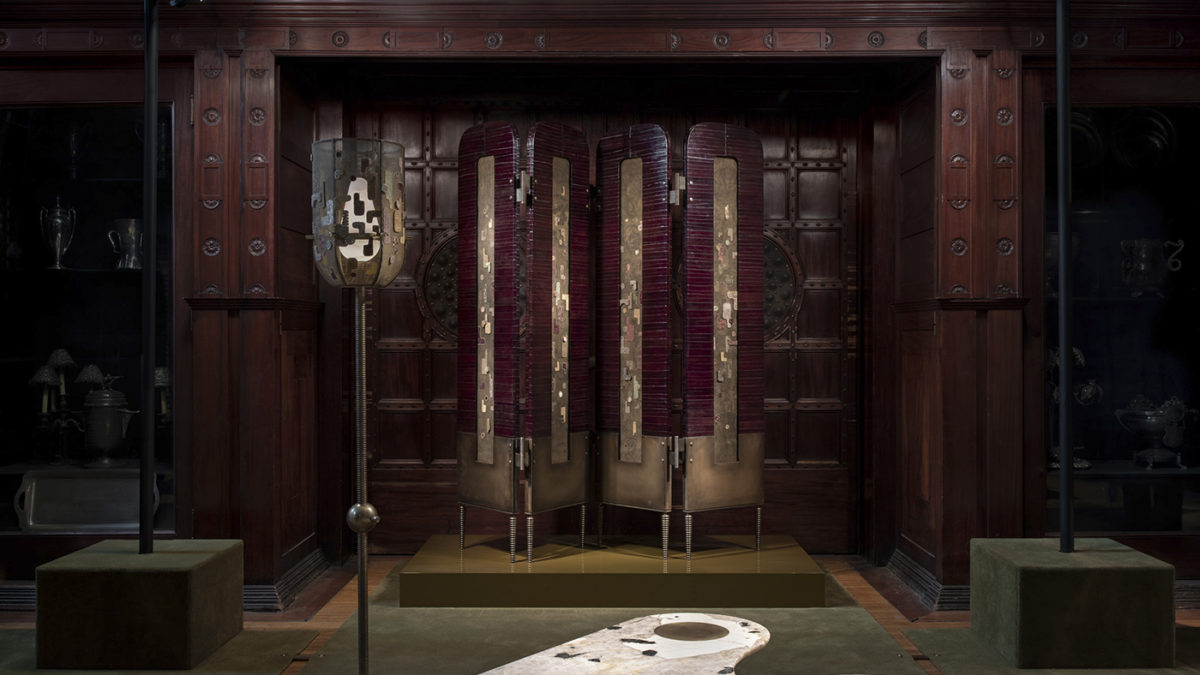 Apparatus was founded by Gabriel Hendifar and his partner Jeremy Anderson in 2012. The brand has showrooms in New York City, Milan and Los Angeles. Presented at this year's Salon Art + Design in New York, the elaborate collection Interlude was created to take on a host of musical references. "The collection is conceived as a suite of furnishings designed for an imagined, modernist concert hall," Apparatus said.
Throughout the series of limited-edition works, the use of materials and shapes are reminiscent of melodic symbols and pay homage to music. Examples include a pair of cabinets influenced by the music and composition techniques of Theme and Variation. They are crafted with a unique mix of dark materials including eel skin, carpathian burl, suede and bronze. Decorative embroidery, beading and threadwork was carefully integrated into the exterior of a brass mesh cage, which forms the light shade used on several of the light fixtures in Interlude. Musical shapes and symbols are sewn onto the pieces and employ a range of colours, textures and patterns.
Apparatus first unveiled Interlude collection during this year's Milan design week. The studio then presented the series at this year's Salon Art + Design in New York, which took place earlier this month, including news designs like the floor lamp. Apparatus was among sixty studios and galleries that showcased a mix of contemporary and mid-century art, furniture and design works at the event.
Photography is by Eric Petschek.
v