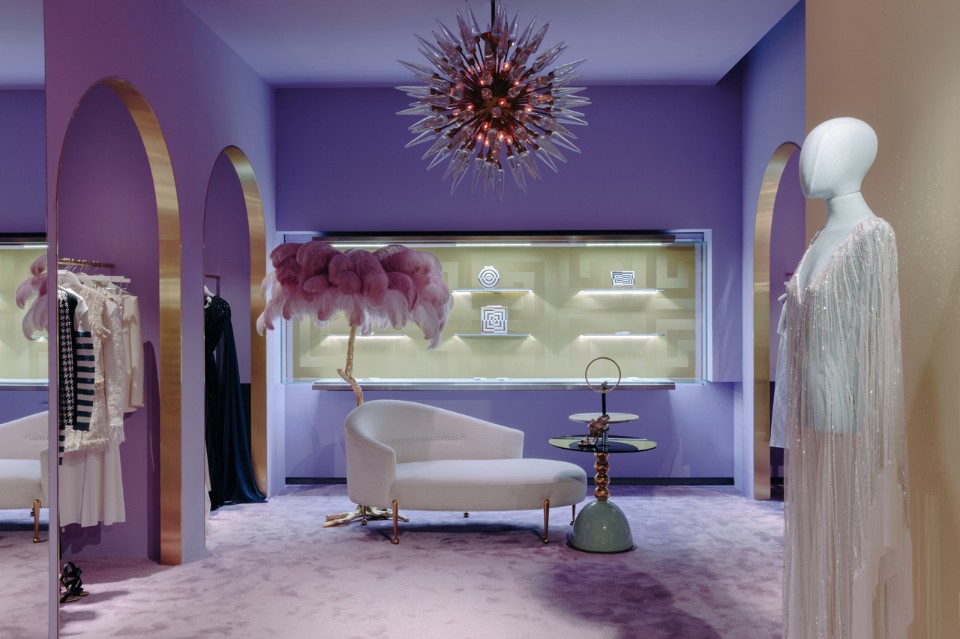 LUISAVIAROMA_ Sara Ricciardi
After the acclaimed set-up during the last Milan Design Week, Arcadia, Sara Ricciardi transformed LuisaViaRoma's showroom in Florence into EDEN. Eccentric as her works, the showroom is imbued with luxury and passion, the space is conceived as an idyllic and harmonious garden.
The interiors are populated by moving machines in brass and feathers made together with the Mazzanti company; arches in aubergine-colored tiles of the Italian company Ceramica Bardelli; botanical wallpapers printed by Decogenius and a series of sofas born from the collaboration between the Valencian company Houtique and Antico Setificio Fiorentino that provided the precious moiré fabrics. The atmosphere is completed by Bianco Bianchi's scagliola tables, golden palms designed exclusively for LuisaViaRoma by Duccio Conti Caponi, a chaise-longue inspired by the twenties by Jonathan Adler and ostrich feathers by the English company A Modern Grand Tour. At the center of the installation and realized in collaboration with Marioni, a fountain that pour rosy water. Symbol of life and fruitfulness, this element pays homage to Bosch's 'Garden of Delights'.

c
All Rights reserved to Sara Ricciardi
Photos by Marina Denisova
via domus