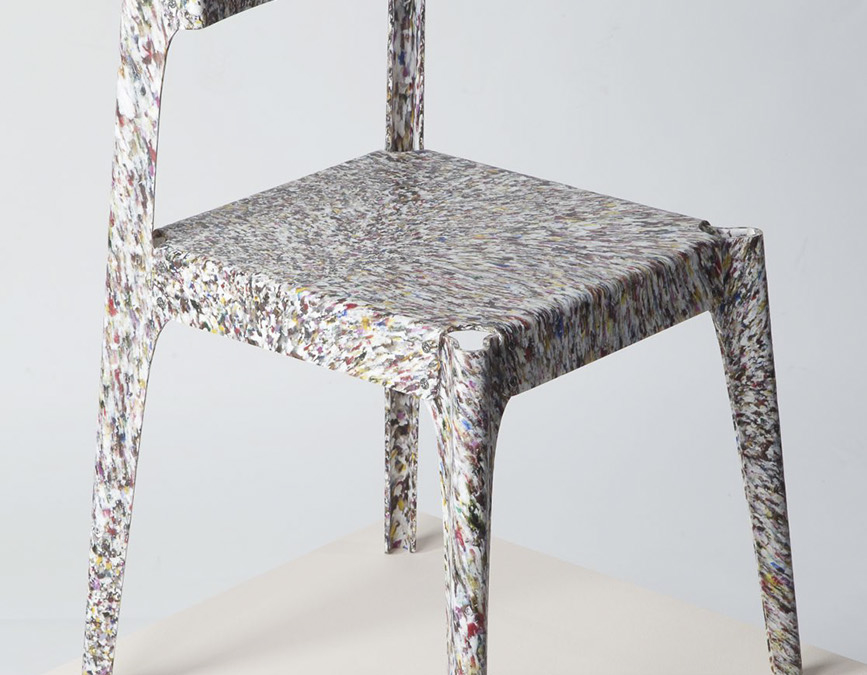 For the Milan Design Week 2019, Rossana Orlandi launched Ro Plastic Prize, in collaboration with Dezeen (editor-in-chief Marcus Fairs was a member of the prize jury). Each of the four winners of the Ro Plastic Prize received a prize of €10,000. The competition forms part of Orlandi's Guiltless Plastic initiative, which exists to champion the responsible use of the material. Orlandi, after having worked more than 20 years in fashion as a spin yarn consultant for labels such Giorgio Armani and Donna Karan, in 2002 she decided to transfer her passion for design as a private collector into an innovative gallery.
The winner of the design cathegory was Alexander Schul with his Substantial furniture collection. The pieces are made from sheets of recycled plastic (HIPS: high impact polystyrene). He writes on his website: "The form and structure of the furniture originate from the idea of combining efficient production methods, functionality and timeless elegance, with the formative possibilities that the material holds within itself…"
A really interesting project, except that the Substantial Chair looks like a copy of the Shell Chair by Barber&Osgerby (2004, manifactured by Isokon Plus).
v
Substantial Chair

Shell Chair
To copy or not to copy? This is just a provocative title, but apart from the concept and the material, these two projects are very similar, the result in terms of shape is almost identical. Contextualizing this case, we are talking about a competition launched by a gallery owner, but with an exceptional jury: as aforementioned, Dezeen editor-in-chief Marcus Fairs, alongside Philip Battin, Giulio Bonazzi, Giulio Cappellini, Li Edelkoort, Cristina Gabetti, Arthur Huang, Paul Rose, Ivy Ross, Marva Griffin Wilshire and Cuiming Yuan.
In the design industry (especially for products and furniture) we are more and more used to see this, the presence of "new" projects which look like/shamelessly copy other projects, historical pieces and not. Products that differ for few millimeters, exact reproductions made of different material, are we talking about design or styling exercises? Or even works of art? Where is the boundary between design and styling?
In many cases, the designer can justify these similarities by speaking of different dimensions (even in the scale of millimeters), presenting a different concept or a different material. The real question is, if I want to create and design a new product, is it enough to change the finish, or the material, or the length of an element?

Leaving open these questions and answers, for the moment, this case is just one example, you can find more at Twin Pix (previously on WeVux), in which two similar projects are visually compared. You can follow it also on Instagram
x
All Rights reserved to Alexander Schul and Barber&Osgerby
via dezeen