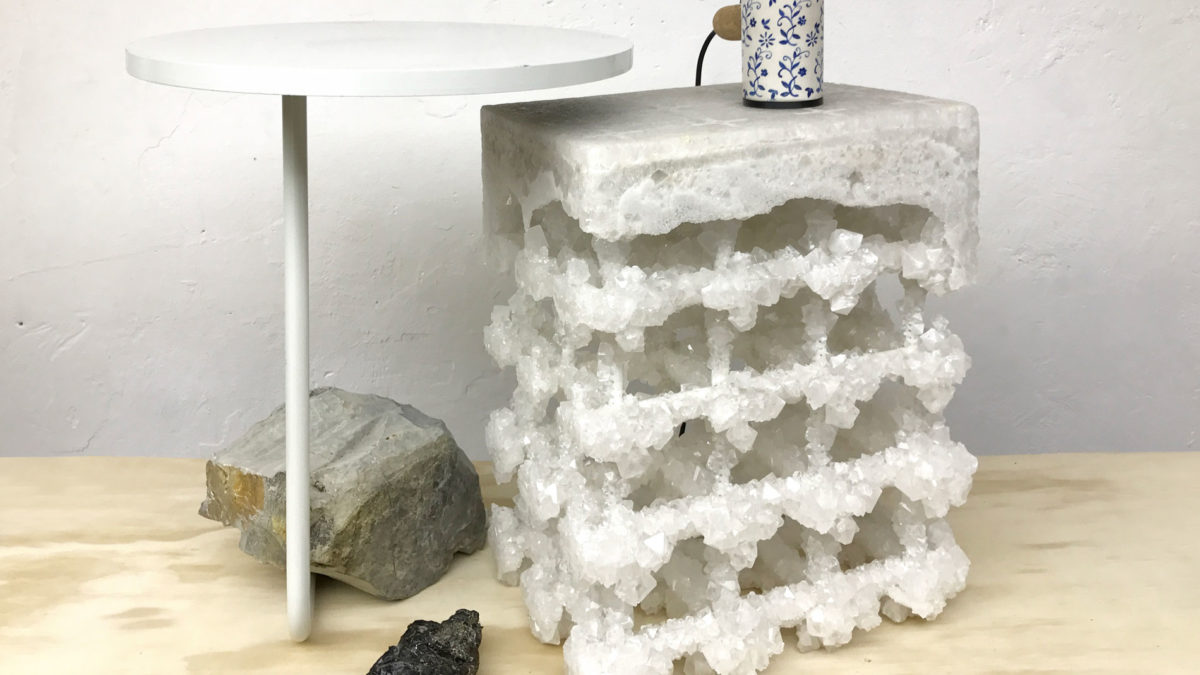 Subalterno1 is a design gallery in the heart of Lambrate district, V. Conte Rosso, directed by the architect Andrea Gianni. For Fuorisalone 2017 the space presented Anthropocene, curated by Stefano Maffei – and Marcello Pirovano as co-curator and art director – "a collection of products and experimental researches from Italian and foreign authors…thirteen selected projects help to define a special relationship between humans and the natural environment, taking inspiration from both natural and manufacturing processes. A pseudonaturalistic story that tells about advanced fossil, human traces and digital metamorphosis". Plus one artwork by photographer Armin Linke and a selection of Bruno Munari's works.
Designed by Tecnificio (M. Pirovano and P. Bolzan – Special thanks to D. Quetti + G. Nuzzo + A. De Iesi), The Dronozoi Series is the result of an aesthetic research that envisions three possible metamorphosis of the drones into hypothetical biomechanical beings. The materials used for this collection were electronic components lithium battery, 3D printed resin, organic material (e.g. natural feathers), wooden base, glass bowl.
Yesenia Thibault-Picazo is a French-born multidisciplinary designer and musician – she currently lives and works in London. For this event she presented Craft in the Anthropocene (2013-present), a speculative design project composed by The Anthropogenic Specimen Cabinet, a material library of future geology, and The Cumbrian Bone Marble an imagined future rock designed after a narrative developed in conversation with geologist Pr Jan Zalasiewicz.
Ami Drach & Dov Ganchrow's Design Studio presented BC-AD project, an experimental exploration started in 2012 in the field of Design, and more specifically, in the realm of toolmaking. "…Stone tools have been the means of our ancestors survival for over a 2.6 million years, magnifying our bodily
(teeth, fingernails, fists, etc.) capabilities of cutting/chopping, sawing and pounding…"
Gionata Gatto (Italy, 1982) is a designer currently living and working in The Netherlands. In Anthropocene he participated with Technofossils series, 2017: "starting from the research initiated with Geomerce, the project investigates the potential of a laboratory procedure called "Leaf-Clearing", which was introduced in Palaeontology to study the changes involved in the evolution of the planet's flora…" The process is explored through the use of LED light.
Carlo Contin, in collaboration with Sergio Rebosio, presented Fractus VR, 2016, an experimentation "with high-voltage electricity…to create "drawings" that
show its propagation on a surface…The designer used this feature to decorate a variety of everyday objects, like these simple vases. A couple of VR vases was exhibited by Subalterno1 design gallery during the last edition of miart, international fair of modern and contemporary art."
Lorenzo Damiani's 152 Collection, 2009, is a series of bowls "to convert and dispose hazardous waste reusing them like fragments of
memory. Blowing glass into bowls it's possible to place inside the transparent cavity some pieces of "cocciami" (broken parts of
Murano hand-crafted glasses): after a cleaning process they can become an integral part of the project…"
After the gallery seven more projects presented by Subalterno1!
One of the product on show was the table from the FurNATURE project (previously on Wevux) by Ernesto Iadevaia and Lorenzo De Rosa, Sovrappensiero Studio, Milan.

Nucleo is a collective of artists and designers directed by Piergiorgio Robino based in Torino, Italy. During Fuorisalone 2017 the studio was present with Extroflexed Crystal, 2016, unique piece, "a symbiosis relation between two different materials, a growing crystal of Potash Alum and a 3D printed modular frame. Nucleo inverts the fossilization process creating a crossover between past and present…"
A photographic print on alluminium with wood frame was the contribution by Armin Linke + Territorial Agency. "The work is part of Anthropocene
Observatory explores the destabilizing conditions entailed by the new geological epoch…"
n.4 Hair-Dryers by Andrea De Chirico is part of "SUPERLOCALS, 0 miles production is a system to produce daily life objects on a local base, using raw materials and manufacturing techniques within the area of a short bike ride." The 4 products are made respectively in the Netherlands, Italy and England. "We organize local productions, production tours and lecturers in order to teach to the public how daily life products are made."
Bruno Munari's The Imaginary Museum of the Aeolian Islands, the Fossils of 2000 and the Theoretical reconstructions of imaginary objects, derive from an experience in the archaeological site in the island of Panarea (Sicily). "…father and son started to play with History using its own instruments of analysis."
MOGU by Mycoplast di Federico Maria Grati e Stefano Babbini S.n.c. , looks into innovative materials and applications of waste, as alternative to traditional synthetics. "MOGU products rely on a technology that uses the root structure of mushrooms – the mycelium – to transform and bind agro/industrial by-products into performative functional composites, which are 100% compostable (Circular Economy)…"
Time, 2017, by Massimiliano Adami, is "a 'living' vase, born almost by chance, self-generating itself under the eyes of visitors, thanks to the power of water, the
pressure of the ice and the effects of oxidation on the iron dust"
All Rights are Reserved
Please seek permission before using