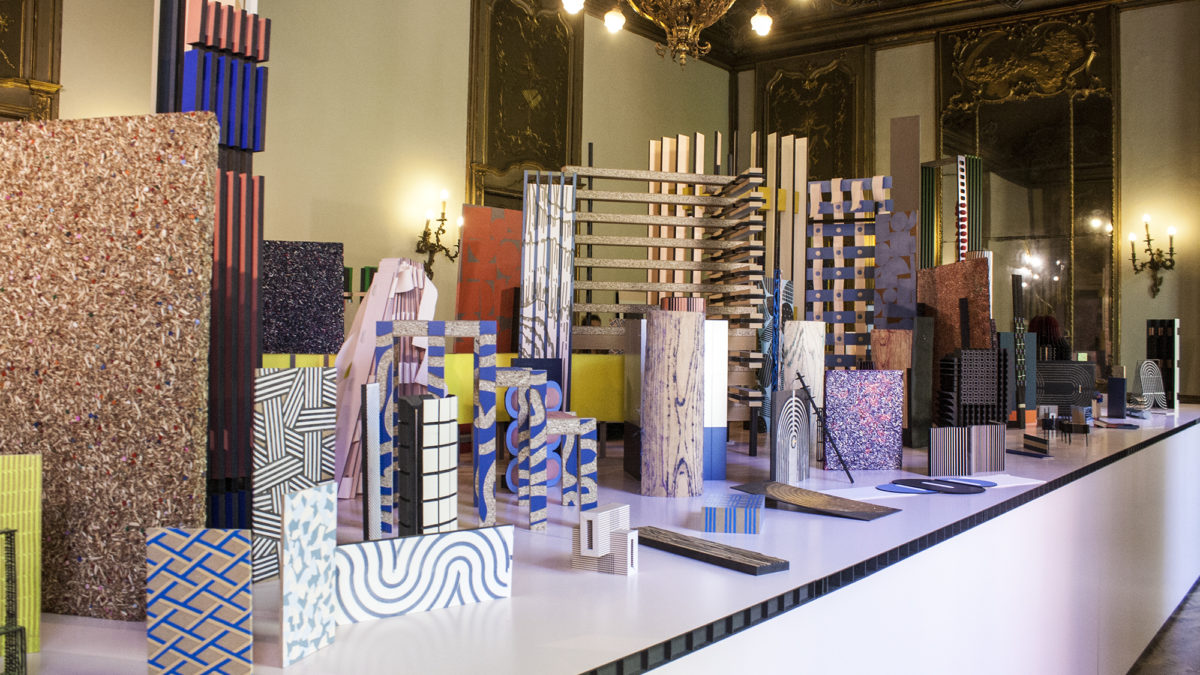 Atelier Clerici was the exhibition located in the beautiful 18th-century Palazzo Clerici, some minutes from Duomo Cathedral. This edition designers and institutions experimented "with new forms of production, collaboration, education, and media. "
Among the others, Design Academy Eindhoven presented DAE #TVClerici, "a live TV studio where media is presented in the making. Experimenting with facts and fiction, props and performance, and individual bodies and objects, we create an alternate reality for a world of designed fakery. The show is curated by Jan Boelen (head of the Social Design Master department) together with a selection of students and alumni."
After its debut in Milan last year, The Dutch collective Envisions collaborated with Finsa, one of the world's biggest wood manufacturers, to show an "experimental collaboration between designer and industry where the emphasis is not on the finished product but on possibilities uncovered along the way.
Space Caviar presented "HQB Lamps: Field Notes from a Research on Huaqiang Bei — part of their ongoing research into the design ecologies of Shenzhen as part of the M+ / Design Trust Research Fellowship. In the last six months Space Caviar has conducted field research on the incredibly fast and effective design ecosystem of the Pearl River Delta…The HQB lamps, selected from the hundreds of shops in the Huaqiang Bei Electronic Market, are a symbol of a network-based economy, fast production and open design…"
New Material Award – by Het Nieuwe Instituut in collaboration with Stichting DOEN and Fonds Kwadraat – focused on sustainability and the development and application of new materials and experimental techniques through the work of 18 designers, visual artists and fashion designers. "Het Nieuwe Instituut aims to illuminate and map a rapidly changing world while at the same time fostering the discussion of topics related to the vast field of design…"
Not to be missed also the MacGuffin Magazine — Issue Nº4 "The Sink", edited by Kirsten Algera & Ernst van der Hoeven with graphic design by Sandra Kassenaar and its installation. For those of you who don't know it, "MacGuffin is a biannual design & crafts magazine featuring fabulous stories about ordinary things. Each edition uncovers the personal and sometimes curious relationships we have with the stuff that surrounds us. MacGuffin Nº4 delves into the alluring lives of the sink, the object that speaks volumes about who we are and how we live…" Take a look at their page, it's definitely worth it
"…Atelier Clerici cuts a cross-section through the most forward-thinking work…" For its third edition the Atelier brought together different designers and practices showing an interesting and full programme, organised jointly by Space Caviar and Z33.
All Rights Reserved to Atelier Clerici and WeVux
Please seek permission before using