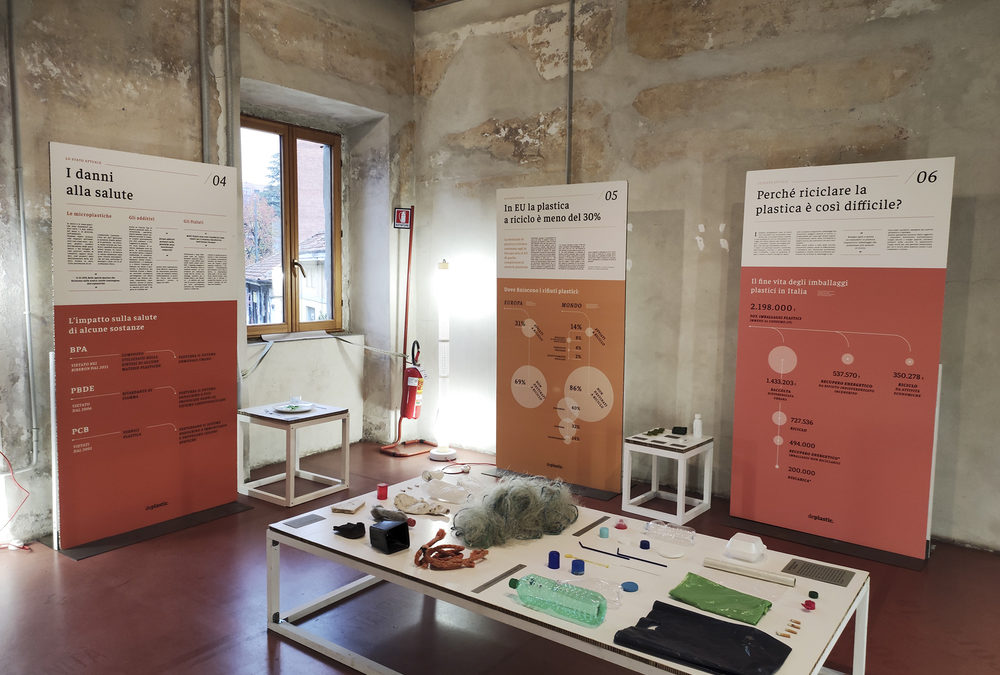 DEPLASTIC: actions and good practices against plastic abuse
Founded by the homonymous association, Giacimenti Urbani Festival returns to Cascina Cuccagna until 28 November. The main festival topics are bottom-up circular economy and the reduction of waste of resources. After the stop in 2020, the event returns with a week full of meetings, competitions for ideas, exhibitions, discussion tables, and much more, with the aim of raising awareness among citizens to become themselves actors of a more circular system. In addition to the extensive program, which you can see here, the festival hosts the exhibition Deplastic: actions and good practices against plastic abuse, absolutely not to be missed.
We are used to hear about the damage of plastic, its life cycle, its recycling… Deplastic takes stock of the situation in a simple, precise and effective way. The visitors enter the first room where they can find a first deepening on the material, which tries to answer questions like, how was it created? How is it used? What damage does it cause? But above all, how much plastic is really recyclable?
The second room shows the solutions, projects that respond to contemporary problems, from packaging in biodegradable plastic, recommended for fish, because if it ends up in the sea it's edible and gives nourishment, to the Ohmie lamp by Krill Design, completely biodegradable, which uses waste of oranges as a material. The third and last room presents a video of about 25 minutes that describes the exhibition panel by panel, explaining even better the contents just seen. Alongside, another panel gives visitors the opportunity to leave advice, suggestions and ideas in the form of post-it notes.
Don't miss Deplastic: actions and best practices against plastic abuse, until November 28th in Cascina Cuccagna, Milan. Curated by Giacimenti Urbani, with the patronage of the Ministry of the Environment and the European Commission. Exhibition and graphic design by Cono Design Studio.
c