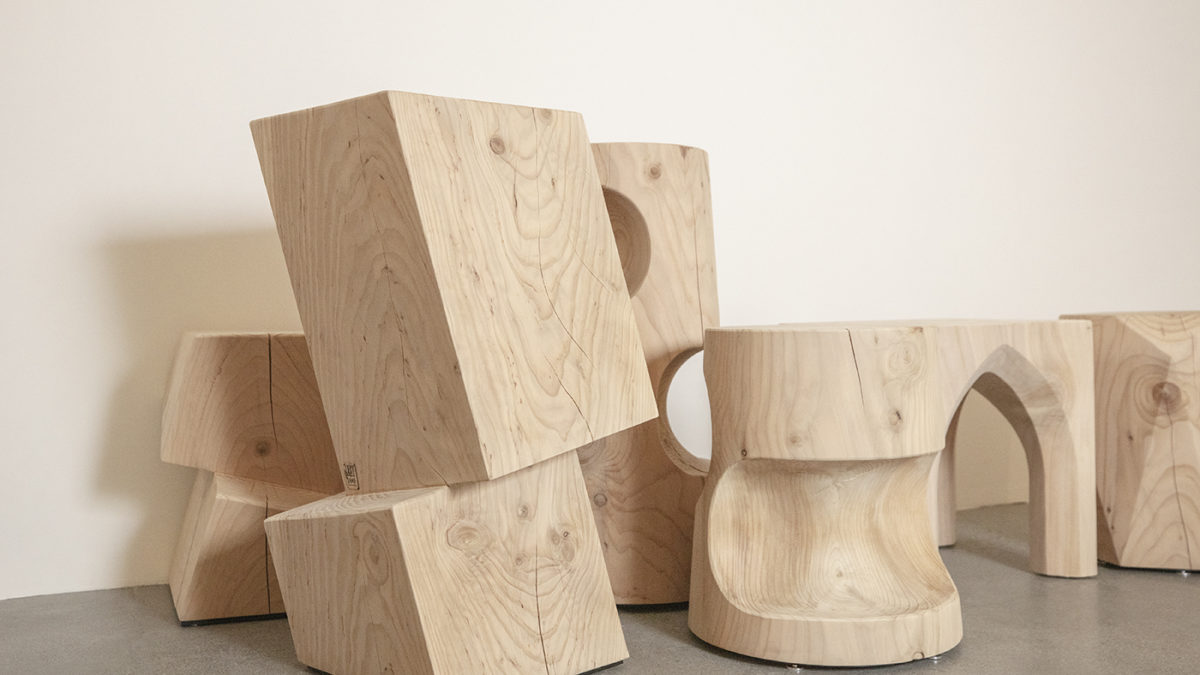 GIOVANNI TOMASINI for RIVA 1920
Riva 1920, a name of high importance in the field of wood design furniture, has just celebrated 100 years of activity, keeping its mission unvaried: "Produce honestly to hand down to future generations, making solid wood furniture able to challenge time while fully respecting the environment". The continuous commitment and entrepreneurial intuition of Riva's family led the company towards an important technological and stylistic evolution, new collaborations with famous designers and architects, and more sustainable production.
In its centennial, Riva 1920 has chosen to focus on the young Italian designer Giovanni Tomasini, to launch a new collection of cedar wood seats, 4 stools, and a bench. Born in 1985, Giovanni Tomasini is an Italian designer and art director, a creative who has made sustainable and green design his manifesto; he received several awards and acknowledgments for his projects and worked with companies in different sectors. In addition to designing and consulting, he currently holds the roles of Creative Director at Studio7B, Technical Director at the maker space "FabLab Brescia" and teacher at the LABA academy and the Foppa Group's high schools.
c
c
For Riva 1920, Giovanni Tomasini designed four stools and a bench, pieces with a simple aesthetic able to satisfy every taste: Slalom, Rotterdam, Diamond, Notre Dame, and Dolmen; all made of solid cedar wood that is a monobloc seat obtained from a single log. Rotterdam and Notre Dame are an explicit homage to architecture, the first inspired by the futuristic "cubic houses" of the homonymous Dutch town, the second by the sophisticated French Gothic. With Diamond, the designer wanted to enhance the value of a balsamic and fragrant wood like the cedar, by sculpting it like a precious stone. Slalom is based on a balance between solid and void, straight and curved lines that create a handle to move it easily and a comfortable footrest. The pieces weren't a simple stylish exercise and they required an in-depth ergonomic study and a wise distribution of all the volumes and weights to ensure comfort and stability; characteristics expressed through a minimal and extremely dynamic shape at the same time.
The refined solid wood cedar collection, which includes also Tomasini's pieces, represents the flagship of Riva 1920 company, all completely natural and finished by hand without adding any treatment. The cedar of Lebanon is an evergreen conifer whose wood is characterized by a heady strongly balsamic scent, given off by the resin which also has a natural anti-moth effect. A sustainable collection, because Riva 1920 uses only cedar trees that have fallen and salvaged following natural events or planned cuts carried out for safety reasons. Furnishings made with this wood are ideal also for outdoor use, thanks to cedar's great resistance to humidity and water, they don't deteriorate, on the contrary when exposed to atmospheric agents, they acquire a stunning "taupe gray" color.
Creativity and originality are distinctive qualities in each Riva 1920 piece, characteristics of this magnitude are rare to find in other furniture brands. Riva 1920 represents the Made in Italy open to young designers always looking to the future while remaining faithful to its principles; a successful experience consolidated for over a century, built on traditions, culture, creativity, and innovation. Visit Riva 1920's website to find out more! If you want to know more about the designer you can have a look at Giovanni Tomasini's portfolio or follow him on Instagram!
Ph. Credits: Riva 1920
c