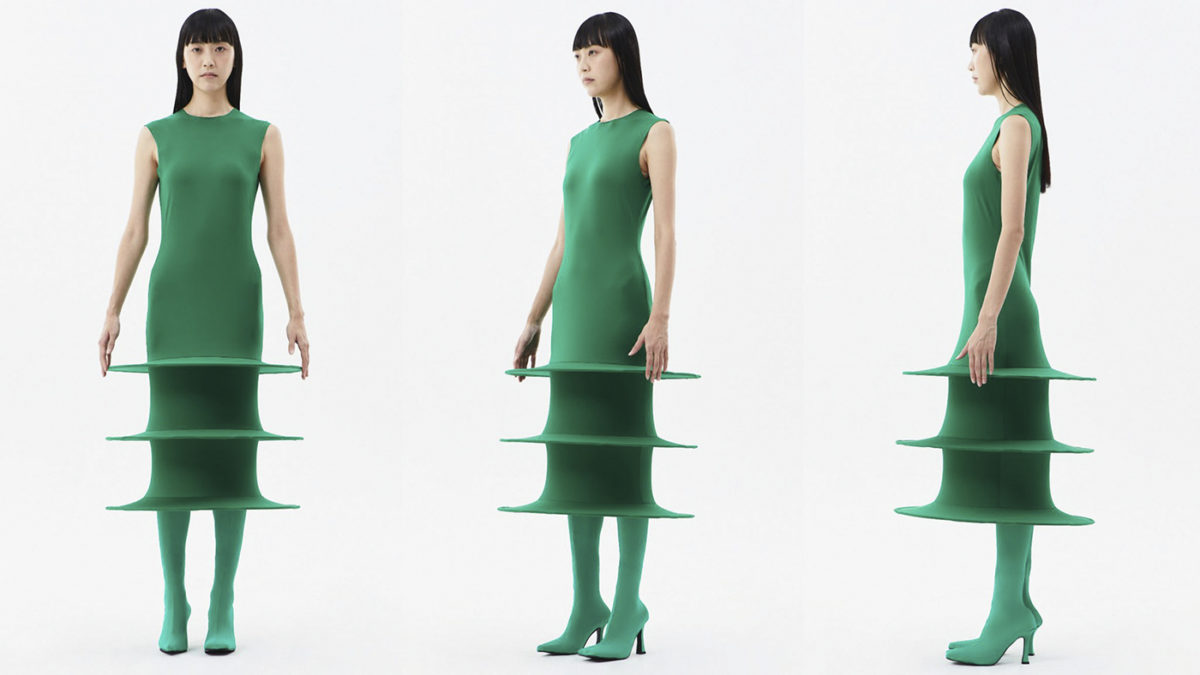 Graduated from Central Saint Martins in 2018, South Korean fashion designer Sun Woo Chang has unveiled her In Between collection, which explores clothes as "portable homes" that can offer the wearer a refuge from reality.
Across the 13 looks of the collection, ring-shaped details extend from otherwise minimal silhouettes encircling shirt sleeves, trouser legs and even an entire dress. The design looks like the one of a pop-up tent: the vibrantly coloured, voluminous pieces can also be collapsed into a flat plane and stored in a designated bag when they are not in use.
The designer said her fascination with tents stems from a sense of social alienation, which she has experienced since she was a child. She said this led her to try and distill the sense of belonging, for which she was yearning, into a wearable home that she can carry around wherever she goes to shield her from the outside world.
To create a skeleton that is flexible but still holds its shape, she covered pieces of steel wire with PVC tubes before feeding them into designated fabric tunnels that are integrated into each piece. Instead of determining the path of the wire in advance via sewing patterns, the designer took a more fluid, iterative approach: "I normally just drape onto the body and build up the shape with pattern paper or cardboard, this makes it much more interesting and can create unexpected outcomes, especially once the wire is inserted," she told Dezeen. "I would say it's more like an engineering method, putting the pieces together, rather than just pattern cutting."
The In Between collection is available via APOC store, an online retailer that hopes to give up-and-coming designers a platform to sell their work on their own terms, circumventing the creative and commercial restrictions and high barriers to entry often associated with traditional retail models.
C
via dezeen