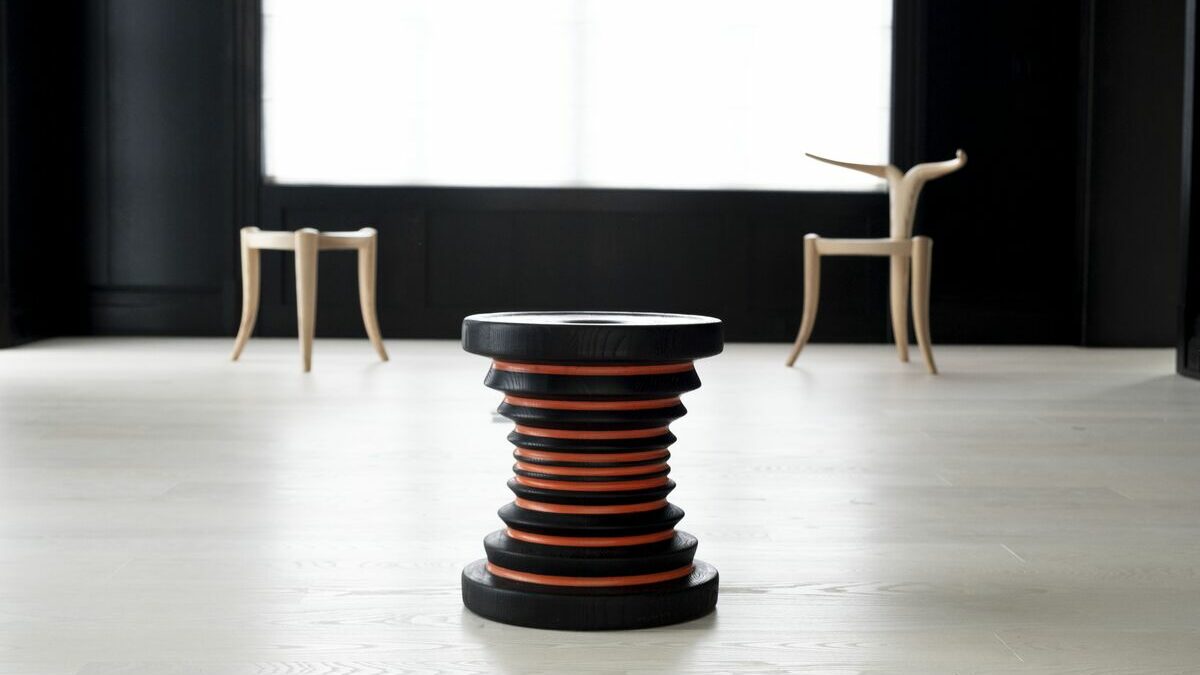 JOMO TARIKU and his African-inspired design, the interview
Ethiopian American artist and industrial designer Jomo Tariku is defining his own design language incorporating his African heritage. As a young boy growing up in Ethiopia he was always drawn to the eclectic art, souvenirs, and furniture pieces his father collected during his travels throughout Africa and beyond. Jomo's foray into hands on furniture work started as a young man while spending two summer breaks at a local builder in Addis Ababa, Ethiopia. He went on to study Industrial Design at the University of Kansas, U.S.A and completed his college thesis on Contemporary African Furniture.
Jomo's furniture includes a wide variety of artistic designs that synthesizes his own experience of the continents diverse culture, historical structures, architecture, traditional furniture, colors, artifacts, landscapes, wildlife, hair styles… Jomo's work has been published and shown globally and his Watatu Series stools as well as the Nyala Chair and Mukecha Stool were used as part of the set design for Marvel's Black Panther, Wakanda Forever movie released in November 2022.
c
c
In 2008 you and your partner shut down the studio and you began working as a designer and then data scientist for the World Bank in Washington DC. What was it like making this decision and then launching Jomo Furniture in 2017, nine years later? What has this "design break" brought you?
I think closing a business that one has poured their heart and soul into is always difficult but a combination of things happened throughout the years with the unexpected economic downturn in 2008 resulting in closing the studio.
In a weird way 2008 was our (myself and my business partner Henock Kebede) best and worst year. We had my work in a museum show for the very first time but at the same time our business was suffering and we were mentally fatigued as our team had put a lot of energy attempting to introduce our work to the market but weren't getting any traction.
Even though the studio part ended in 2008 and I stopped doing prototypes in the shop, I continued researching and developing new ideas mostly as sketches and 3D models. In 2015 author Tapiwa Matsinde reached out to me related to her upcoming book "Contemporary Design Africa" followed by an invitation from Addis Abeba Design Week (AADW) from Ethiopia that led to a show in Dubai. These two events slowly gave me the push that made me say the timing might be right now vs back in 2000-2008. Ever since then things have been happening at a rapid pace every year including being part of Salone Satellite's Africa/Latin America presentation in 2018 followed by many others after that.
c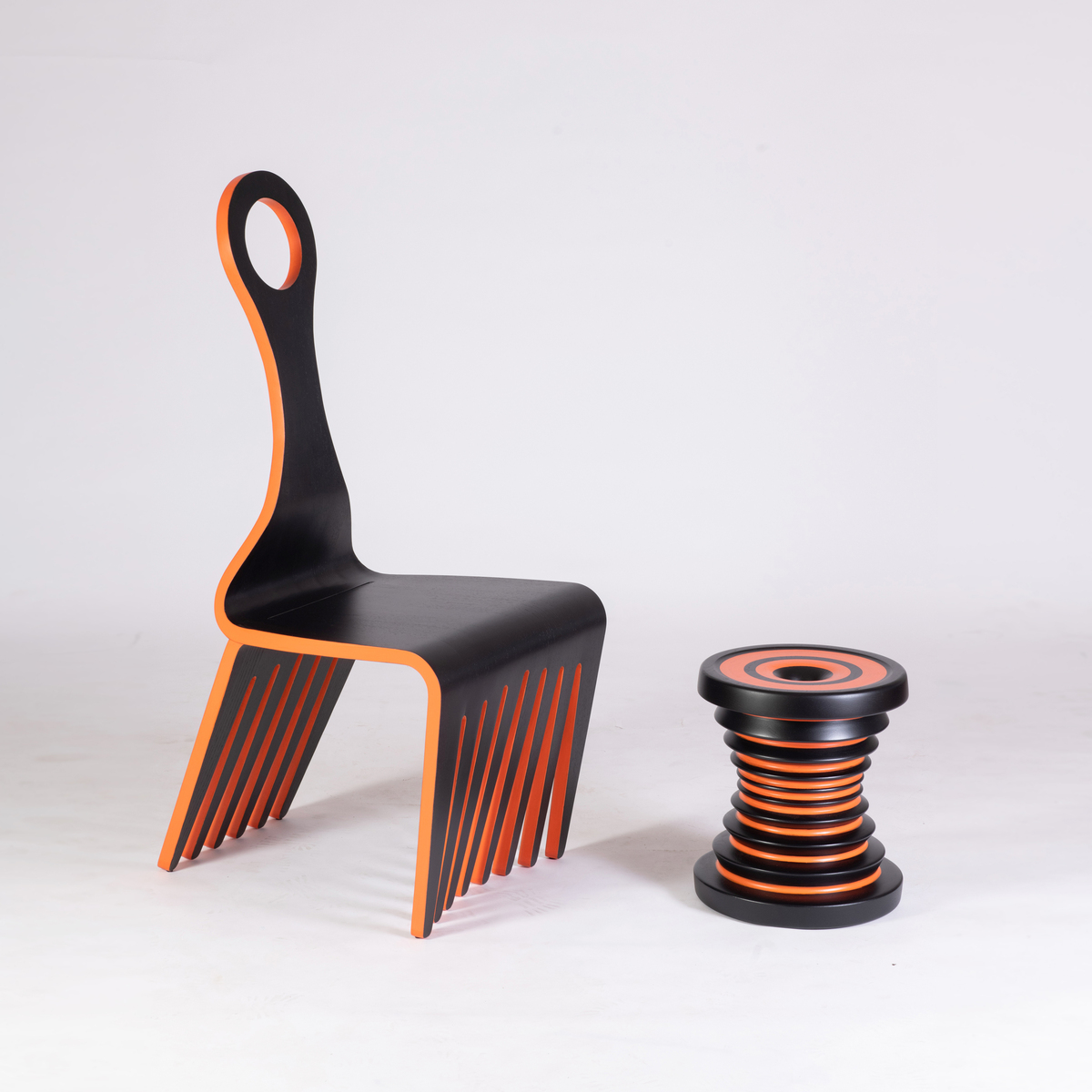 c
As you say in the beautiful video that explains the creation of the Nyala Chair, very often the set of different arts and cultures present in Africa is reduced – erroneously – to the idea of masks and animal prints. What do you want to convey with your products? Thinking about the West and the world of design, what can African art and culture teach us?
I have always said and reiterated that there is a wide gamut of work coming from Africans, including those who are part of the diaspora community whose works are influenced by masks and animal print. My objection has been that most works are being categorized into a narrow field instead of considering a kaleidoscope of contributions ranging from works of traditional craftsmen and women to self taught artists to college educated designers such as myself. For me the full story of African creativity and aesthetics can be found in this wide spectrum.
c
The Black Artists + Designers Guild is an inclusive, equity-driven space for people of all genders, sexual orientations, and beliefs. Can you explain how this project was born and what is it about?
The trigger for this was an event held in New York in 2018 under the banner of What's New What's Next where 80+ guest panelists and moderators were invited and no black designers were invited to be part of that dialogue. The event was also sponsored by major shelter magazines. For Malene Barnett, the founder of the Guild, and many of us in the realm of design, this was a practice of exclusion where our design thinking and esthetics was not part of any dialogue giving us the impetus to start an organization advocating for black artists and designers in the media and at various art and design events.
c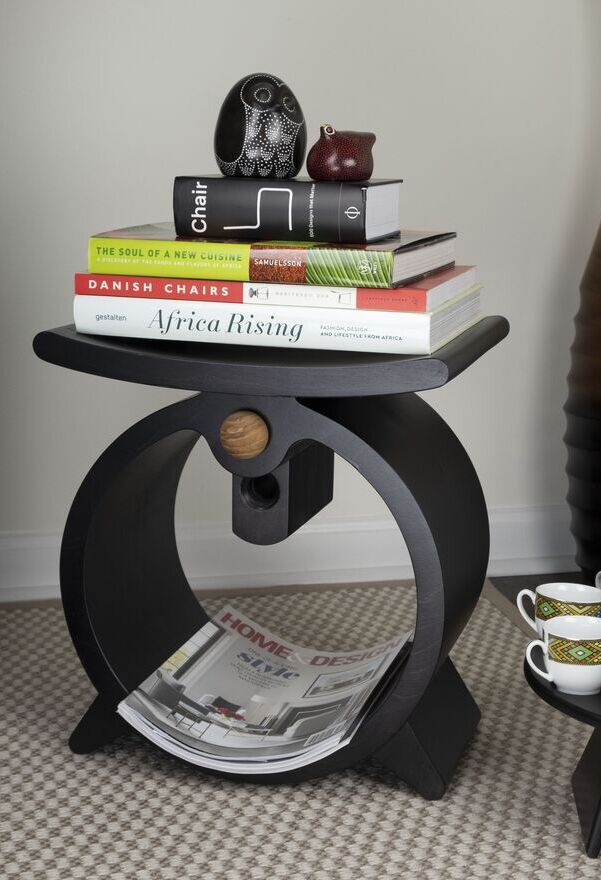 c
How do you create your products? Where do you get the inspiration for the shape and the choice of material?
I get all of my inspiration from Africa and I don't limit myself to looking at only pre-existing furniture designs but also look into objects, household items, historical structures, fashion, colors, artifacts, landscapes, wildlife and hair styles. Take for example the Nyala Chair which is inspired by an antelope, while the Meedo chair is inspired by an African hair comb, while my Ashanti stool is actually inspired by the well known seating of the same name from Ghana. My inspirations never come from one set of sources. This approach helps me be creative as well as learn about so many diverse contributions from Africa. It is an approach I try to encourage young designers to also apply in their work.
c
Alongside pieces in which decoration takes center stage, such as the Qwanta Totem Chair or the recent Meedo Chair, there are others – for example Nyala and MeQuamya – which are characterized by research for the essential, a clean but highly symbolic form. What does designing contemporary furnishings mean to you today?
I think the industrial design side of my brain always pushes me into creating clean line reinterpretation of objects that inspire me even though those inspirations are probably highly crafted or intricate. The intricacy of my design lies in the building process that is successfully hidden by the end result of the product.
c
After your experience, do you feel more like an artist or an industrial designer?
I feel I am a result of both with my industrial design side maybe having a slight edge. I strive to have a distinct artistic look but at the same time require my final work to be functional. For me this approach is similar to the duality of African objects I grew up with, like the Ethiopian Jebena which is made out of clay. It is used every day to make coffee on open fire to be put on a mantle as a decoration after its use.
c
What are you currently working on? Where will we see your products in 2023?
My work can be found at Wexler Gallery in the US and Foreign Agent Gallery in Switzerland. I am developing a series of tables and cabinets and hopefully I get to show them this year. This would be the first time seating design will take a backseat even though I will introduce one more chair design this year.
c
Thank you Jomo! Don't miss his works visit Jomo Furniture and follow him on Instagram!
c