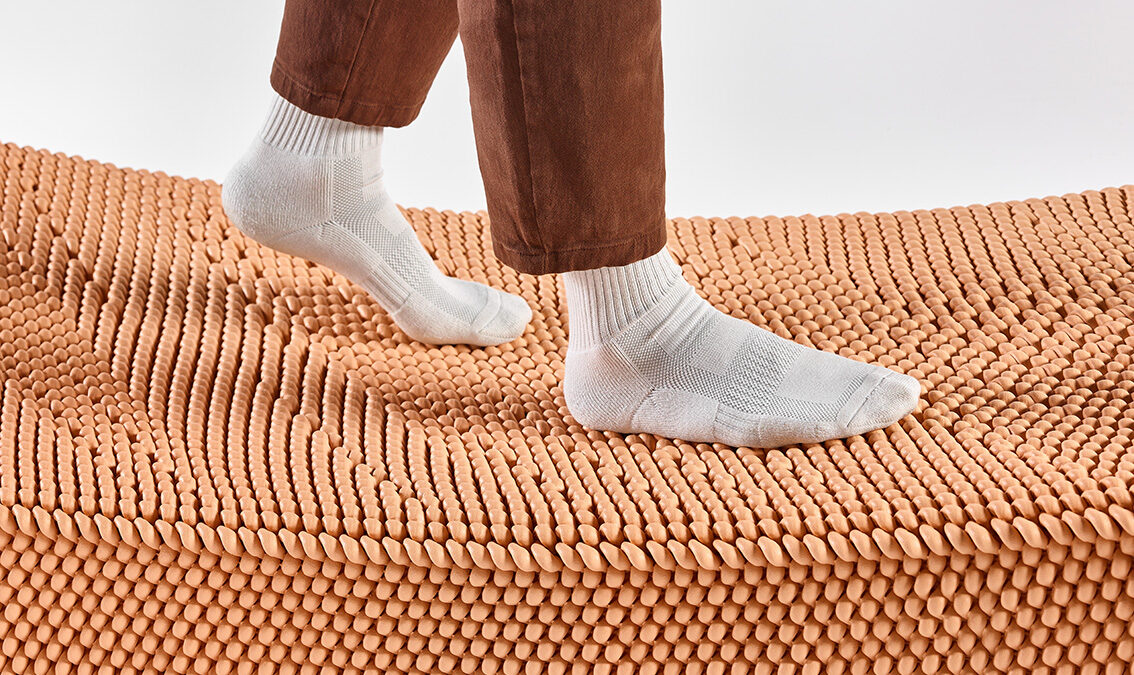 KNOTTY, The New Raw at Alcova 2023
The events not to be missed during Milan Design Week 2023 continue: we're back to Alcova to talk about the Knotty project by the Rotterdam-based design studio The New Raw. Founded by architects Panos Sakkas and Foteini Setaki, the studio will present from 17 to 23 April a collection of playful, bold and tactile-textured benches, on display in the vast and monumental spaces of the former slaughterhouse of Porta Vittoria – exhibition space: A12, Viale Molise 62 Milan. (Cover Mathijs Labadie)
Inspired by knitting techniques, the project treats plastic waste as a continuous thread of material that bends and twists to create an intriguing tactile surface that resembles textiles, and which invites users to touch it. Presented for the first time at Alcova 2023, the Knotty collection will consist of a family of benches produced in three different shapes and sizes (150x80x27cm; 150x60x40 cm; 80x60x40 cm; and 150x80cm; 150×60 cm; 80×60 cm) and two colors: mint and peach. Digitally crafted in the shape of bent and swinging blocks, their silhouette fosters interaction and invites spontaneous use.
c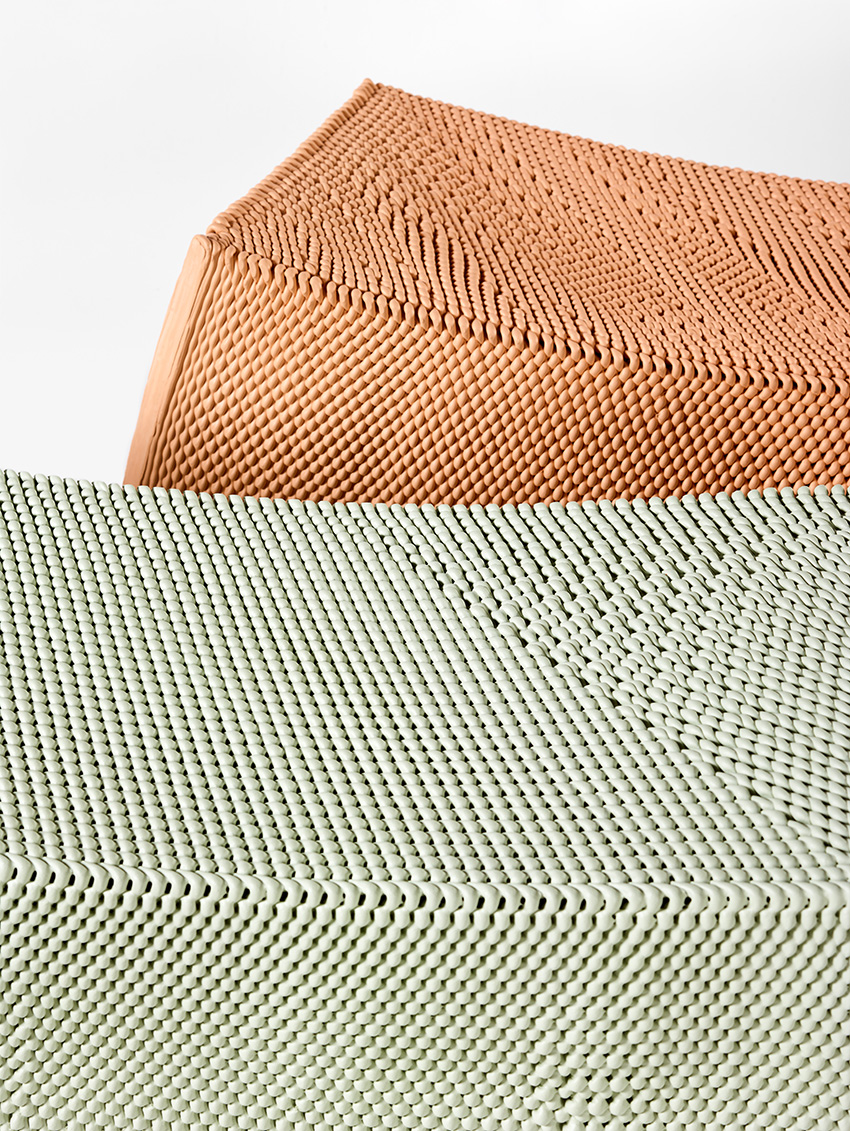 c
The material texture, consisting of thick and seemingly soft knots, creates a tactile, permeable and load-bearing surface type for outdoor and indoor or other architectural furnishings. The "knitted motifs", which allow water drainage and avoid the use of internal structures, can be enhanced by becoming a ornaments as well as a new typology of building units. During production, the rigid digital forms of the furniture are deformed due to the temperature and the mechanical properties of the material. These small deformations make each object unique, always slightly different.
Designed and developed by The New Raw, Knotty is a next step towards producing a new formal language of digital craftsmanship, combining traditional manual work with digital fabrication: "We use analogue knitting techniques in homage to the continuous thread of the manufacturing process, testing them out on large and hard furniture surfaces. With our work we want to tangibly express the transition from traditional to digital, and from virtual to physical, with a breakthrough." – explain Panos Sakkas and Foteini Setaki, co-founders of the studio.
Knotty is the latest evolution of the studio's on-going research, which started in 2017. Inspired by nature (seashells in their Second Nature statement pieces, geological layering in their Stratum entrance furniture) and craftsmanship (carving in their COMP mural), The New Raw relentlessly pushes the boundaries to transform recycled plastic through developing tools and new approaches which reinvent craft in the contemporary digital and automated context.
Don't miss Knotty at Milan Design Week 2023! For more information on The New Raw studio visit the website and follow Panos and Foteini on Instagram!
c