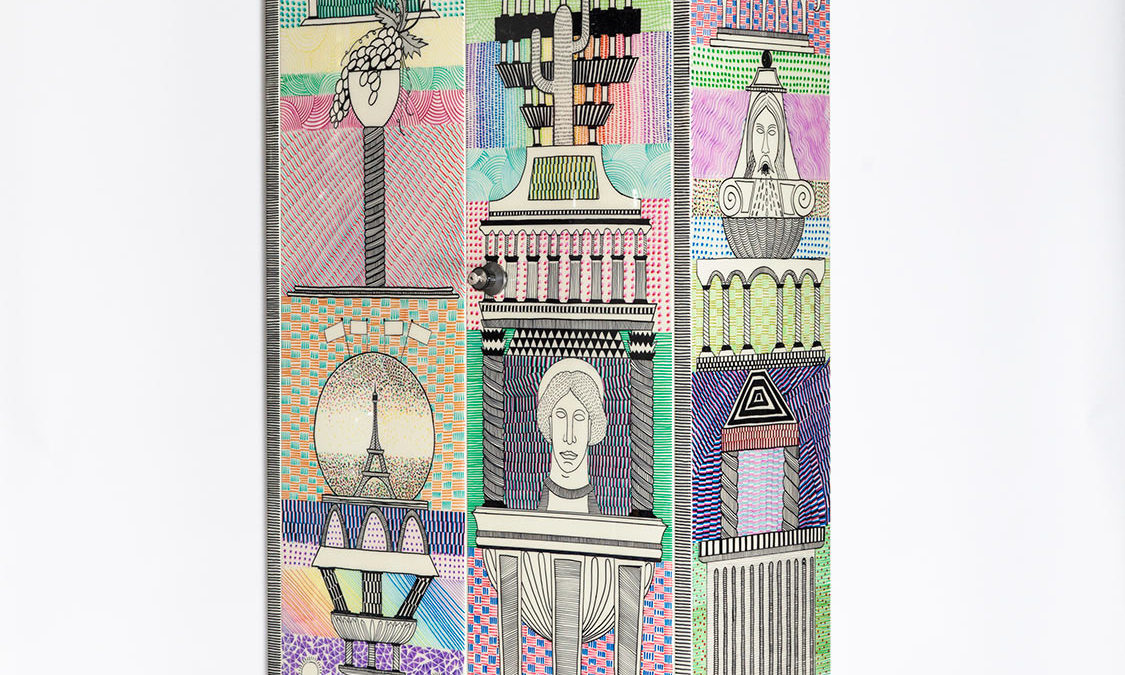 Nightshop is a Rotterdam-based design studio founded in 2010 by Ward van Gemert and Adriaan Van Der Ploeg – last year we talked about their carpet collection Showdown (here). They are "mainly interested in mixing elements of high culture and popular culture into their designs. Also, they're keen on investigating the boundaries between good taste and bad taste." This year WeVux found them in Milan during Fuorisalone, Ventura Lambrate district.
Some of the products exhibited were part of the "Business Furniture" collection. "Ward and Adriaan never worked in an office. Be that as it may, they do like office furniture due to the fact they're not only boring but also neutral." They spent an year  drawing on office furniture as an homage to "the scratched and blotted doors you find in high school toilets, bars and offices…". They created a collection – closets and tables – where each object has a peculiar pattern and a "thick layer of clear resin to preserve the fragile patterns…The end result is an exercise in patience as well as a declaration of love to the one emotion that binds us all: boredom."
The beauty and interesting aspects is that Nightshop's investigations on aesthetics free the designers from preconceptions, in this case the "richness" of traces in the aforementioned spaces is translated with the act of drawing, so dense that it gives almost a soul to the furniture. Visit their page to see the other projects and their techniques!

All Rights Reserved to Nightshop and WeVux