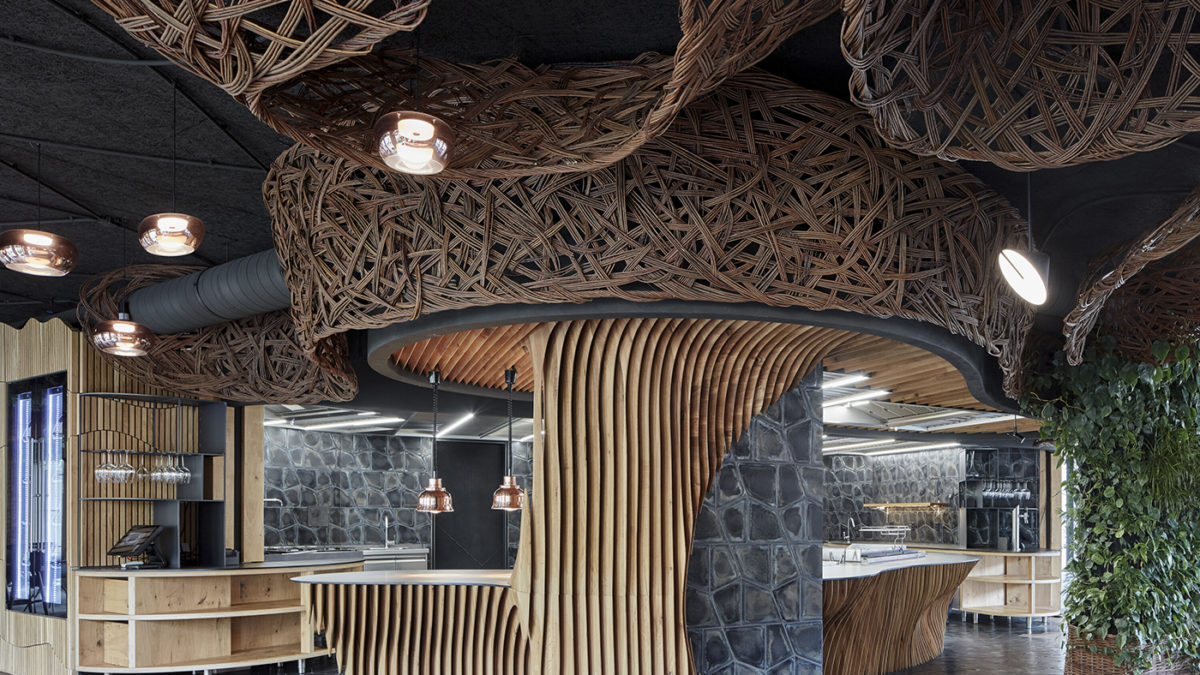 Based in Olomouc, Studio Komplits is composed by a team of architects, design and civil engineers, who take Pavel Kříž's fantastic universes from paper and transform them into reality. One of the studio's latest projects is STK Restaurant: spontaneity, raw materials, pristine nature and above all – meat, the best steaks in the city of Olomouc.

Ten years back, you would have come here to have your vehicle inspection certificate stamped. Now you can come for a juicy steak, you would eat seated at a solid wood table supported by raw steel legs. Greenery and nature come face to face with animal force. That's the core of Steak Restaurant's (STK) interior, housed in a former car repair shop which gave the steakhouse its name. 
STK emphasises simplicity and quality, both in its food and its interior. Instead of trying to deny and erase its greasy automobile heritage, the place embraces it. The 320 square metres of the restaurant authentically engage individual elements of its past. This is evident from the materials, which include raw metal sheets, black steel and rebars. Komplits even turned a seemingly problematic layout into an advantage, transforming bearing walls in narrow spaces into a vertical garden and a platform for a barbecue. 
Dominating the space are two huge steel bulls – the owner's wish and a clear message to guests about the type of cuisine they should expect. In STK, heavy elements merge with nature. Willow branches wrap themselves around the tables and climb the walls, rising up to the ceiling and over the bulls' heads. Formed from solid oak boards, the tables have a rough hewn appearance and irregularly shaped steel legs. Here and there, plants spring from the ceiling and walls, changing the interior's look with each new leaf that sprouts. Cowhide covering one of the walls and woven rope complete the signature style of the steakhouse.
Photography by BoysPlayNice
Text by Pavel Kříž
C