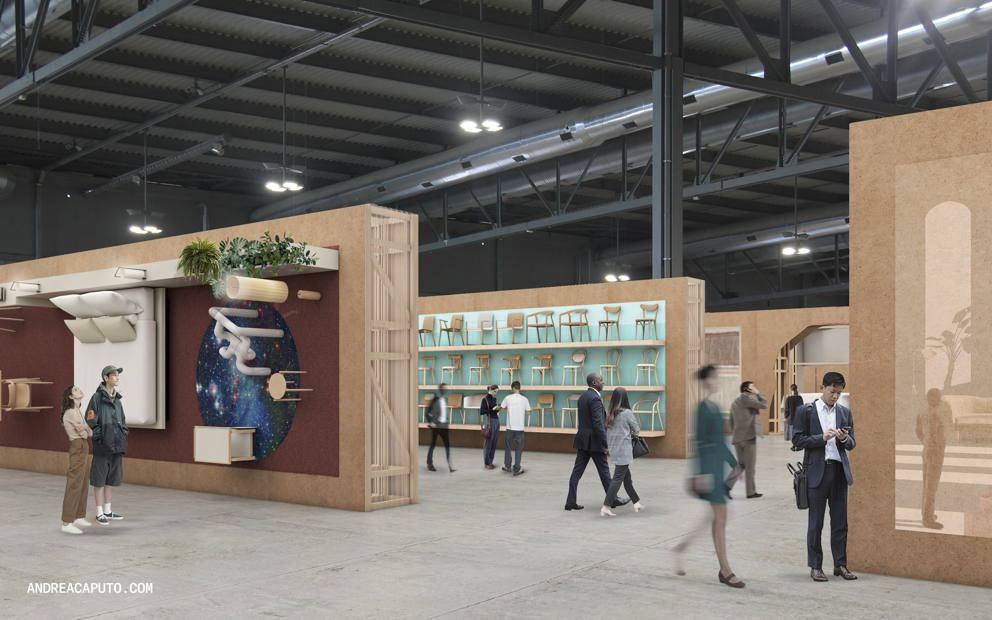 SUPERSALONE 2021 PREVIEW, pt 1
Less than a month before the Supersalone (5 – 10 September 2021), WeVux is back with more news about this special edition. There are many things to say and we have decided to divide the article into two parts, the second will be released this Thursday. Before going into details, one of the biggest news is that Maria Porro has been elected as the new President of the Salone del Mobile Milano. Always involved in the world of design, she is already Marketing and Communication Director at Porro s.p.a., the company founded in 1925 by her great-grandfather Giulio, and President of Assarredo 2020-2024. An important change that we will be able to fully appreciate next year, on the 60th anniversary of the Salone del Mobile.
Back to the Supersalone, 423 brands and 50 independent designers, 170 projects from 48 international design schools, 20 personalities from today's creative scene, 110 seats awarded by the Compasso d'Oro, but also some absolute novelties like 6 great chefs, 5 cinematographic works, and a forest (yes, a forest, a wood), will be distributed in four pavilions in Rho Fiera. As we said a few weeks ago, this edition is designed with particular attention to feasibility, both in economic and material waste terms, we finally see how: the set-up designed by Andrea Caputo, for the display of products, and by Stefano Boeri Interiors, for the lounge and relax areas, with the help of Lukas Wegwerth, will be composed of chipboard panels created with "made from 100% recycled timber will go back into the production cycle. The overall benefit from avoiding emissions of CO2 deriving from the use of post-consumer reclaimed material is a lower emissions figure of 1.125.000kg CO2eq. The same goes for the bricks used in The Lost Graduation Show installation, which are all reusable… the installation will be based around a single material, modular and locally sourced Ytong autoclaved aerated concrete blocks supplied by Xella Italia. Once disassembled, all the components will be ploughed back into the construction production cycle." (source salonemilano.it). If you want to see a spatial preview, we have shared a post by Andrea Caputo on our Facebook page, in which he showed how the Rho Fiera set-up is taking shape.
Of course, given the curatorship of the event, trees could not be missing. Forestami will in fact provide for a "forest" composed of around 100 trees at the East Gate entrance, and another 100 tall trees within the various exhibition and living areas. The selected trees – lime, ash, oak, flowering plum trees – will subsequently be planted in Milan's metropolitan area.
c
One of the long-awaited exhibitions of the Supersalone is The Lost Graduation Show, curated by Anniina Koivu, in which we will be able to see 170 graduation projects realized between 2020 and 2021, from 48 design schools in 22 countries. The projects were chosen from a total of almost 300 schools from 59 different countries. The exhibition will address very different themes, from furniture to mobility, from inclusive design to material research, and many others.
Below you will find the list of participating schools divided by country: Germany – Bauhaus Universität (Weimar), Hochschule für Technik und Wirtschaft (Berlin), HFG (Karlsruhe), UDK (Berlin), FHP University of Applied Sciences (Potsdam), ABK Staatliche Akademie der Bildenden Künste (Stuttgart), Weißensee Kunsthochschule (Berlin). Italy – IED, Free University of Bolzano, NABA, Milan Polytechnic, Polytechnic School of Design, UNIRISM (San Marino). Great Britain – Central Saint Martins, Falmouth University, Nottingham Trent University, Royal College of Art. France – Ecole des Arts Décoratifs, École Nationale Supérieure de Création Industrielle, Strate School of Design. Poland – Academy of Fine Arts (Warsaw), Uniwersytet SWPS (Warsaw), Academy of Fine Arts (Wroclaw). Spain – Catalunya School of Design and Visual Arts (Catalonia), University School of Design, Innovation, and Technology (Madrid), IE School of Architecture and Design (Madrid). Belgium – University College West Flanders, Ecole nationale supérieure des arts visuels de La Cambre. Switzerland – ECAL, Zürcher Hochschule der Künste. Finland – Aalto School. The Netherlands – Design Academy of Eindhoven. Sweden – Lund University. Canada – Emily Carr University of Art + Design, Université du Québec à Montréal. Mexico – National School of Architecture, Art and Design Tecnológico de Monterrey / Mexico City. USA – Pratt Institute (NY), Rhode Island School of Design. India – National Institute of Design, The Design Village. Indonesia – Bandung Institute of Technology. Israel – Shenkar Engineering. Design. Art. Japan – Musashino Art University. Qatar – Virginia Commonwealth University. Russia – Moscow State Stroganov Academy. Singapore – LASALLE College of the Arts. South Korea – Hanyang University.
Despite a large number of European schools, we are confident about the final selection that will be exhibited at the supersalone. However, it is an interesting event that will give us the opportunity to see many contemporary projects and the different themes on which students and universities have focused in the last two years.
c
Another exhibition not to be missed will be Take Your Seat / Prendi posizione – Solitude and Conviviality of the Chair / Solitudine e convivialità della sedia, curated by Nina Bassoli, in collaboration with ADI/Premio del Compasso d'Oro. Alongside Compasso d'Oro award-winning chairs, we will be able to see more than 80 honorable mentions, distributed in the four pavilions of the supersalone, in Rho Fiera. The exhibition will describe the most iconic object of design through four thematic sections, (Take a stand; Working, Learning, Producing; Cooking, Appearing, Sharing; Going out: Entering the public space), plus an extra section inside the ADI Design Museum (The fifth quarter). The pieces on display will go from 1954 to today and this selection will illustrate how the different designs have marked the great changes we have seen in the last 70 years, social, cultural, technical but not only. The set-up is designed by Alessandro Colombo and Perla Gianni.
On Thursday we will explain in detail another widespread exhibition and the other news: the program of events and the new Identità Golose Food Court concept. If you want to know more or to buy tickets visit salonemilano.it
c