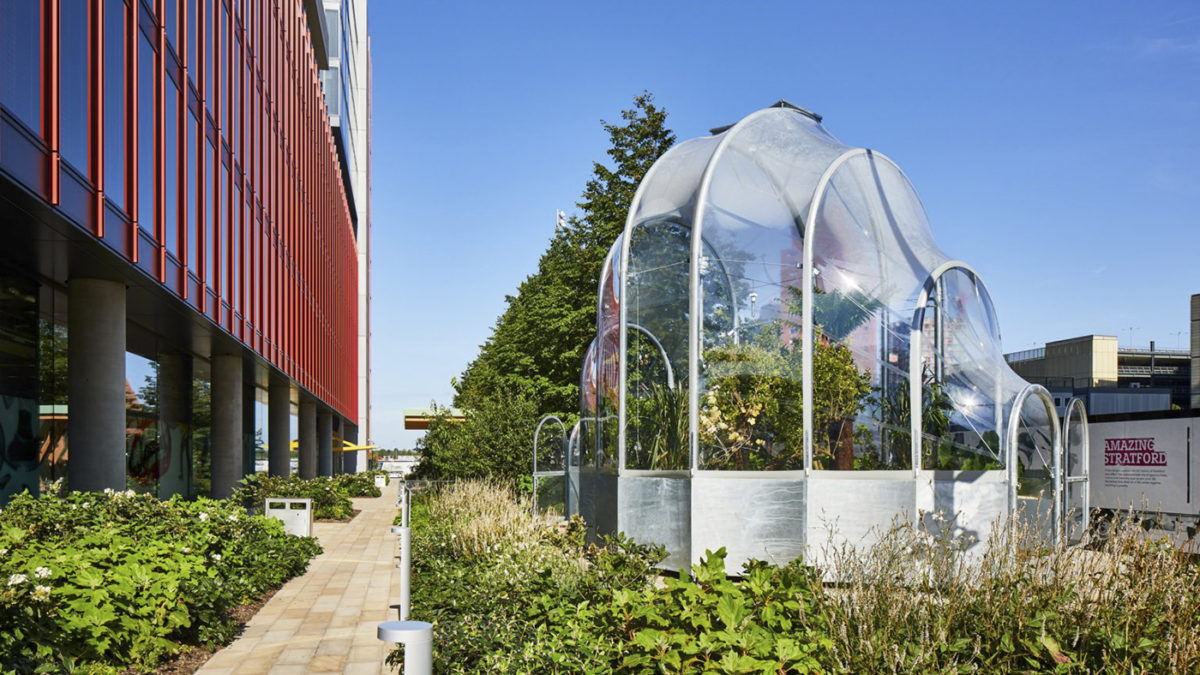 HOTHOUSE, A GOOD EXAMPLE TO FOLLOW
Designed by Studio Weave for London Design Festival 2020, HotHouse is the perfect example to talk about an important issue for WeVux: the role of installations during public design events.
Studio Weave is an award-winning RIBA Chartered Architecture Practice based in London. One of their latest project, designed as part of this year's London Design Festival 2020, is the Hothouse: a pavilion created to draw attention to rising temperatures caused by climate change.
The idea behind the project is to show the types of plants that we will be able to easily grow in London gardens by 2050. The aim is to remind people of the relationship we have with nature and plants. The greenhouse-like structure is located in Redman Place near the Queen Elizabeth Olympic Park in Stratford. The structure pays homage to the area's previous history as an edible fruit-growing hotspot. Its planting was designed by landscaper Tom Massey and includes numerous tropical plants. The seven-meters tall structure was made from a series of galvanized-steel arches that are supported by steel tension cables. Hothouse was built with no permanent foundations and was designed to be de-mountable. It will remain in Stratford for the next year before being dismantled and moved to an, as yet undetermined, permanent location. (continues)
c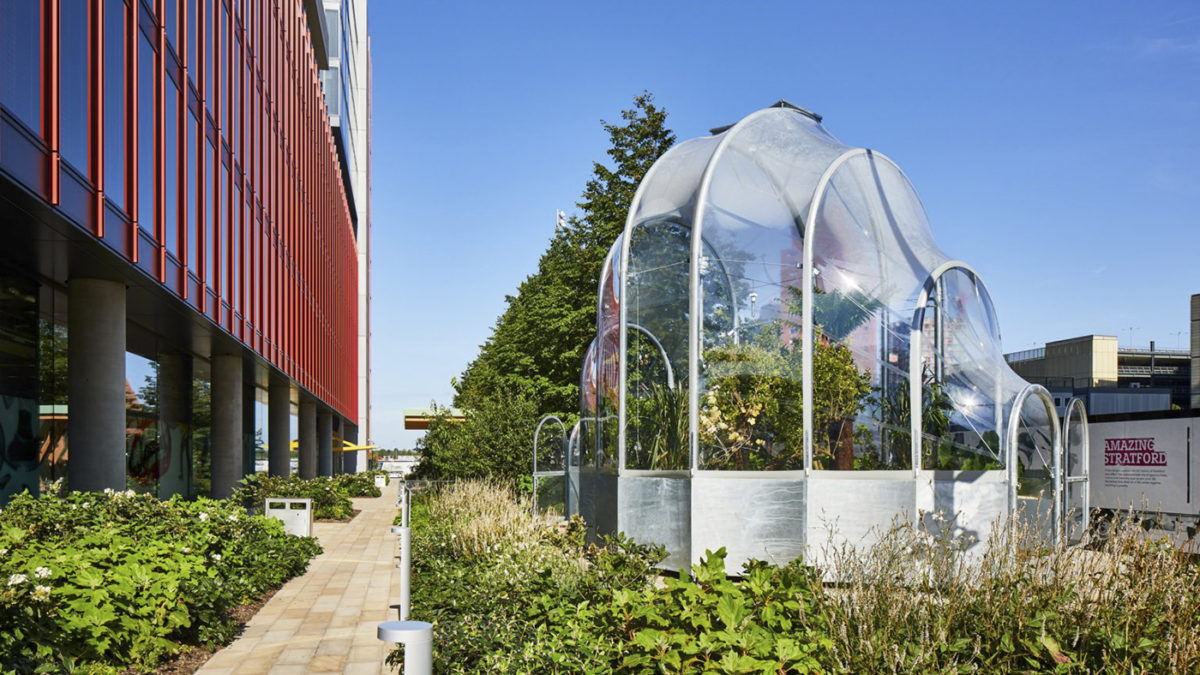 c
Although it is a project of a few months ago, I believe it's important to share it for two reasons: it's not a a mere decorative structure, it shares a message, important and super contemporary, and has an educational function. Events such as London Design Festival, Dutch Design Week, but above all Salone del Mobile and Fuorisalone, are increasingly exploited by non-professionals to speculate. Years ago everything became design, just for marketing purposes, design became an expedient to sell any product. These are the words of Margriet Vollenberg, Ventura Projects' and Organisation in Design's founder, interviewed in 2017 (here the article).
As Bruno Munari says for art, when everything is art, nothing is art, so, when everything is design, nothing is design. The clear example is Fuorisalone 2019, which we talked about here: quality is declining. On one hand the presence of horrible instagrammable installations, completely out of context. On the other, the increasingly widespread participation of fashion brands, with the best installations and exhibitions of the event – even better than those of design brands. There were few interesting and contemporary projects able to communicate a message, and not just visibility to a particular brand.
This is a decline perceived by those working in the design sector: the high turnout is an important factor to prevent a company from being there and being seen. Unfortunately, however, this visibility is sought through the instagrammability of the presentation / installation, designing something with the ultimate aim of being easily published on Instagram, forgetting the message, the goal.
On the contrary, this project is an example of what we would like to see more often during those events. It makes no sense to propose only instagrammable installations for the public: once the photo is taken, interest will go to the next post or the next story. In this case the pavilion has an educational function and that is to raise the user's awareness on climate changes. The pandemic and the quarantine help us to understand (at least theoretically) that our previous normalcy is no longer sustainable, that we need to restore value to authenticity, as Giorgio Armani wrote in his letter to WWD.
The possibility of designing installations and interventions during events such as Fuorisalone should be used to entertain, as well as to educate and raise awareness on contemporary issues.
During next Salone del Mobile and Fuorisalone, moved to September 2021, there will certainly be some novelties – I hope not another immersive installation to get some likes. This crisis is a challenge for design companies: they need to rethink how to create, how to present themselves and how to entertain, but they must do it in a critic way, above all thinking of the context in which they are operating. Therefore, I hope in September 2021 to be able to see again some of the quality that has characterized Salone del Mobile and Fuorisalone and which has been almost completely lost over the last few years.
As mentioned in the introduction, HotHouse project is one of the many examples that I could cite, another one is Living Nature, Fuorisalone 2018. The pavilion, designed by Carlo Ratti Associati studio, had the aim of highlighting how design, creativity and innovation can integrate with nature and be reconciled with respect for the environment, control of consumption and the use of sustainable, renewable and non-polluting materials and techniques.
C